Canadians have figured out that when it comes to Netflix, they're getting a bit of a raw deal.
Americans and Canadians pay roughly the same price for the video-streaming service, but U.S. customers get more than twice the titles. The situation is the result of a complex licensing environment for movies and TV shows. But it seems many Canadians are unwilling to accept this state of affairs.
An untold, but significant, number of people are turning to virtual private networks (VPNs) to mask their IP addresses and trick Netflix, and other geo-blocked services, into believing they reside in the United States.
A quick look at some analytics from Google shows that there has been a steady uptick in searches for how to use VPNs for just this purpose since Netflix was introduced to Canada in 2011.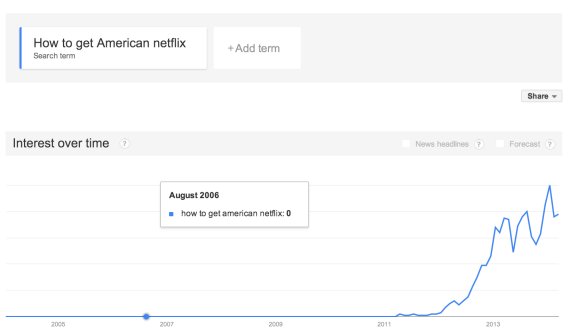 On average, there are thousands upon thousands of searches each month in Canada aimed at figuring out how to gain access to Netflix's American library.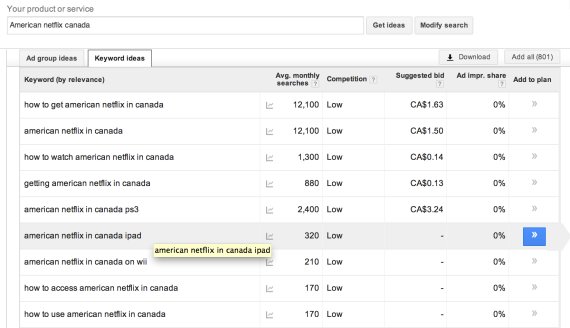 A bevy of new services have rushed to meet the demand. Canadian companies SurfEasy and Unblockus are two of the most prominent, but there is a whole slew of businesses offering to help you get around geographical restrictions. There are thousands of YouTube tutorials to help guide you through the process.
But, unless you're willing to use pirated VPN codes that will likely be unreliable, you'll have to pay. The average fee per month comes in at around $5, nearly doubling the $7.99 price for Netflix. But many Canadians seem to think it's worth it.
A quick look at the content that's only available to U.S. users explains why.
Story continues below slideshow
Loading Slideshow
30 Rock

*This list of <a href="http://www.huffingtonpost.ca/2013/09/06/netflix-canada-best-movies-tv-shows_n_3882581.html" target="_blank">titles available on U.S. Netflix but not in Canada</a> is based on data from early September 2013.

A Fish Called Wanda

Ally McBeal

An Inconvenient Truth

Apocalypse Now

Bad Boys II

Seriously?!? You give us the original and not the sequel?

Being John Malkovich

Beverly Hills Cop

Bottle Rocket

Breakfast at Tiffany's

Capote

Cheers

Conan the Destroyer

Days of Thunder

Desperate Housewives

Do the Right Thing

Downfall

Dr. No

Drive

Elegy

Everybody Loves Raymond

Face Off

Family Ties

Felicity

Flashpoint

Irony...

Footloose

Frasier

Friday Night Lights

From Russia with Love

Ghost

Glengarry GlenRoss

GoldenEye

Goldfinger

Good Will Hunting

Gossip Girl

Grey's Anatomy

Half Baked

Hannah Montana

Happy Gilmore

Hawaii Five-O (1968)

Heroes

High School Musical

Highlander (1992-1997)

Hotel Rwanda

Hustle & Flow

Igby Goes Down

In the Name of the Father

Indecent Proposal

Into the Wild

It's Always Sunny in Philadelphia

Jarhead
Netflix doesn't condone VPNs and using one clearly violates the company's terms of service agreement. Nevertheless, Netflix doesn't seem to be doing anything to stop consumers from using a services that spokesperson Jenny McCabe said are "like pirating."
But so far, it seems that using VPNs is legal in Canada.
"I don't think they're an obvious copyright infringement," said Canadian professor and internet expert Michael Geist. "If it gets bigger we may see efforts to restrict it."
"I guess my view would be: so long as it remains a relatively small part of the market it will fly below the radar screen even if people are aware of it," he added.
Geist, who works as an advisor to SurfEasy, said VPNs are an important tool in ensuring the internet remains a tool for promoting freedom.
"I first starting using a VPN when I travelled to China and was seeking to circumvent their firewall," he said. "These tools are important for protecting privacy, they're important for free-speech issues, and so any attempt to regulate would have to take that into account."
But it seems most Canadians are using VPNs to gain access to the ever-increasing bounty of video content available online. And VPNs aren't just for Netflix, they can also be used to access Hulu, music-steaming service Spotify and all the rest of the content protected by geo-blocking.
And it doesn't stop with the United States. Many VPN companies will hook you up with an IP address for a number of different countries. The United Kingdom, for example, has its own unique Netflix catalogue.
Once a VPN is set up (changing the DNS settings on your home router makes the most sense for the majority of users), you can usually change your location via your service's website. This makes switching back and forth between countries easy.
For many, however, the technical details may prove daunting. Enter VPN browser extensions, perhaps the easiest way to get an American IP. While sometimes unreliable, these easily downloaded add-ons for Chrome and Firefox make using a VPN much easier.
But giving up on Canadian Netflix entirely doesn't make much sense. Many excellent titles are actually only available in Canada. Check out the slideshow below for some examples.
Loading Slideshow
127 Hours

*This list is based on the titles available on Netflix in early September 2013.

12 Monkeys

(500) Days of Summer

Abraham Lincoln: Vampire Hunter

Across the Universe

Air Force One

Alpha Dog

American Psycho

An Education

Battle: Los Angeles

The Beach

Being Erica

Beverly Hills, 90210

Bowling for Columbine

Boyz N the Hood

Broken Embraces

Catfish

Children of Men

Closer

Community

Cruel Intentions

Cube

Das Boot

Dazed and Confused

Degrassi Junior High

Degrassi High

Dexter

Diff'rent Strokes

Dirty Dancing

Dragons' Den

Dr. Strangelove

Eat Pray Love (OK, maybe this is a reason to get U.S. Netflix)

Election

Enemy at the Gates

The English Patient

Fahrenheit 9/11

Fargo

Fear and Loathing in Las Vegas

The Fifth Element

Finding Neverland

The Firm

The Fog of War

Food, Inc

The Freshman

Frida

Gattaca

Ghostbusters

Ghostbusters 2

Glory

The Great Escape

The Greatest Movie Ever Sold
With files from previous stories.
Related on HuffPost: