Walk-Up Songs Of The 25 Most Promising Major League Baseball Players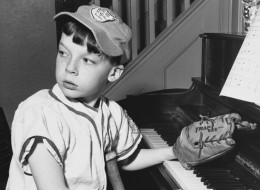 After the winter of our discontent, you can tell it spring because the boys of summer have finally stepped back up to the plate.
So to ease you into being exposed to sunshine and the need to yell at millionaires from the 500 section, we've compiled a list of the walk-up songs that will soundtrack this season's 25 most promising MLB players as they approach said plate. (Sadly, there are no Blue Jays, but the beautiful thing about baseball is that within only a couple of weeks that could totally change. We believe in you, guys.)
Alas, MLB has instituted a new rule that says batters can only play 15 seconds of their chosen song to get themselves into their zone, but we've got the full-length tunes here for your listening (and pretend-batting) pleasure.
Oh, and if we left out any of your favourite players, or your favourite walk up songs by your non-favourite players, let us know in the comments.
Team: Los Angeles Angels Career batting average: .314 Song: "H.A.M.," Jay Z and Kanye West Year: 2011 Arguably, Trout goes "H.A.M." (hard as a, er, word we can't use) on every pitch thrown his way, so of course he's chosen an anthem that epitomizes both his batting average, and approach to the game.

Team: Detroit Tigers Career batting average: .321 Song: "Mercy," Kanye West Year: 2012 "Mercy," as in Cabrera shows none – which explains why he ended 2013 with the highest batting average in the MLB (.348).

Team: Los Angeles Dodgers Career ERA: 2.59 Song: "We Are Young," Fun. Year: 2011 In a cruel twist of fate, Kershaw has just been placed on the disabled list for the first time in his career. But he is young – just like his walk-up song dictates – so we can only hope for the fastest of recoveries.

Team: Pittsburgh Pirates Career batting average: .296 Song: "Outta Your Mind," Lil Jon (feat. LMFAO) Year: 2010 On March 31, Barry Bonds presented center fielder Andrew McCutchen with the National League MVP award before the Pirates faced off against the Chicago Cubs. How did the crowd respond? By getting out of their minds (which might explain the boos Bonds received).

Team: Seattle Mariners Career ERA: 3.20 Song: "I'm the King," Six Def Year: 2013 His seventh start for the Mariners on opening day broke a club record, which officially stole the crown (get it?) from current record holder Randy Johnson. Thus, Hernandez is now literally the king around there.

Team: Cincinnati Reds Career batting average: .314 Song: "Paint It Black," Rolling Stones Year: 1966 Canadian Joey Votto originally hails from Toronto. So, despite him being born six years after Rolling Stones' surprise show at El Mocambo in 1977, we'll assume "Paint It Black" is a tribute to the city's flair for live entertainment. (Yeah. That's it.)

Team: Seattle Mariners Career batting average: .309 Song: "Te Prendo," Chimbala Year: 2012 Chimbala may pump up the crowd, but considering Cano is now being represented by Jay Z and Roc Nation Sports, you can't help but wonder why he didn't opt for "Dirt Off Your Shoulder." (Especially since he cared so little about former agent Scott Boras that Cano announced his new union via Twitter to Boras' surprise.) .

Team: Texas Rangers Career ERA: 3.34 Song: "Crank That," Soulja Boy* Year: 2008 Most MLB sites haven't listed Darvish's current walkout song (Soulja Boy is merely the most recent), so let's hope that as soon as his neck pains subside and he takes the mound, he's inspired to replace a song that could, ironically, cause a lot of neck damage.

Team: San Francisco Giants Career batting average: .308 Song: "Hell On Wheels," Brantley Gilbert Year: 2010 Every so often, it's a baseball player's duty to remind the crowd that country music is a staple of the MLB. Enter: Buster Posey, whose Georgia roots are more than exposed by his choice of pump-up jam. Yee-haw, y'all.

Team: Detroit Tigers Career ERA: 3.41 Song: "Till I Collapse," Eminem Year: 2002 2014 also marks a record seventh opening day start for Tigers' Justin Verlander, who we can only assume will keep going until he, too, collapses.

Team: Miami Marlins Career ERA: 2.19 Song: "Sexo Sudor Y Calor," Nejo Y Damatia feat. J Alvarez Year: 2011 21-year-old Jose Fernandez will be the youngest National League pitcher to make an Opening Day start since Dwight Gooden in 1985, so why wouldn't he use reggaeton to remind the audience what youth can accomplish.

Team: St. Louis Cardinals Career batting average: .284 Song: "Sigan Bailando," Wisin Y Yandel Year: 2011 And with every at-bat, Molina represents his native Puerto Rico proudly via an award-winning duo that hails from the same country. (Before earning even more career highs, Golden Gloves, and a Silve Slugger award, of course.)

Team: Detroit Tigers Career ERA: 3.67 Song: "Forgot About Dre," Dr. Dre feat. Eminem Year: 1999 Scherzer knows his audience: while he himself may be from Missouri, he honours Detroit through Eminem. (Even though I'm pretty sure that if he really loved Detroit, he wouldn't have turned down a six-year contract to become a free agent at the end of this year.)

Team: Tampa Bay Rays Career batting average: .275 Song: "Down and Out," Tantric Year: 2008 It's loud, it's commanding, it's a song that works with a .275 career batting average. Let's just hope for his sake, his career never relates to the song title.

Team: Tampa Bay Rays Career ERA: 3.19 Song: "Finally Moving," Pretty Lights Year: 2010 Let's be honest: Price's song goes hand-in-hand with his transition between last year and this one: while the pitcher thought he may have been out, the Rays have given their ace the most expensive single season contract in franchise history, proving his career is – wait for it – finally moving. (YEAH.)

Team: Arizona Diamondbacks Career batting average: .290 Song: "It'z Just What We Do," Florida Georgia Line Year: 2012 Since being called up to the majors in 2011, Goldschmidt has proven that hitting, catching, and attending the All-Star game are all things that he does. Florida Georgia Line, however, does not know how to spell, "it's."

Team: Colorado Rockies Career batting average: .295 Song: "Public Service Announcement," Jay Z Year: 2003 And in the end, the greatest public service announcement of all was Tulowitzki's climbing average.

Team: Chicago White Sox Career ERA: 2.97 Song: "Come Sail Away," Styx* Year: 1977 Like Darvish's, Sale's theme is not 100% confirmed, but considering his abundant competitiveness, it's only fair he enlists a song of empowerment as he makes his start. (That, or he's promising to bring Chicago with him to the World Series.)

Team: Washington Nationals Career batting average: .272 Song: "Flower," Moby Year: 2000 Honestly, you don't need a "look at me!" anthem when you've been voted to the National All-Star game two years in a row by the age of 21. And so when he takes to the plate, all the crowd needs to do is nod in recognition of youngest major leaguer to hit two home runs in an opening game (2013). The loudest one in the room is the weakest one in the room, after all.

Team: Boston Red Sox Career batting average: .302 Song: "Still D.R.E.," Dr. Dre feat. Snoop Dogg Year: 1999 If you're talking to a Jays fan, Pedroia is just as controversial as Dre used to be circa 1999 (or, according to Dre enemies, disliked). But Pedroia will always be Pedroia, and Dre will always be Dre, so all Toronto can hope for is that for some reason, this player takes a hiatus, too.

Team: New York Mets Career batting average: .301 Song: "Jump Around," House of Pain Year: 1992 Considering the Jays just swept the Mets in Montreal, the other New York team needs as much energy as they can get. See: David Wright's walkup music.

Team: St. Louis Cardinals Career ERA: 3.11 Song: "Song of the South," Alabama Year: 1988 2014 was the first year Adam Wainwright won an opening day game, and to keep the momentum he's enlisted the spirit of St. Louis and his hometown state (Georgia). May the south be with you (but only the politically correct kind).

Team: Texas Rangers Career batting average: .282 Song: "Pa' Que Retozen," Tego Calderon Year: 2003 Texas needs a break from a constant stream of country music, so its fans can thank Beltre when Calderon reminds them of what it's like to dance outside the lines.

Team: Milwaukee Brewers Career batting average: .312 Song: "We Still in This Bitch," B.O.B. Year: 2013 After missed games last season, Ryan Bruan is returning to the Brewers' lineup, raising hopes of Milwaukee residents everywhere (or more specifically, Milwaukee) thanks to his steady average. So remember, fans, regardless of injury or suspension, some players will always be in this bitch.

Team: Atlanta Braves Career ERA: 1.39 Song: "Welcome to the Jungle," Guns 'N Roses Year: 1987 As a relief pitcher, there is no better way for Kimbrel to describe any game he enters other than as a jungle.