Duchess Of Cambridge's New Zealand Outfit Reflects Princess Diana's Style (PHOTOS)
The Duchess of Cambridge is known for paying tribute to her late mother-in-law, Princess Diana, so it was no surprise when she arrived in New Zealand wearing an outfit that channeled Di's style 30 years prior.
On Day One of her three-week trip Down Under, Kate Middleton sported a red Catherine Walker coat with military-esque buttons and a matching pillbox hat.
Back in 1984, Princess Di sported a strikingly similar scarlet coat, also by Catherine Walker, and a matching pillbox hat as she and Prince Charles arrived at Birmingham Airport in the UK on Feb. 29.
This wasn't the only time Catherine channeled the late Princess of Wales' style: when Kate presented Prince George to the world just a day after giving birth, the Duchess sported a blue-and-white polka dress by Jenny Packham that was a tribute to the frock that Di wore when she left the very same hospital after giving birth to William in June 1982.
It just goes to show that Di's fashion never goes out of style.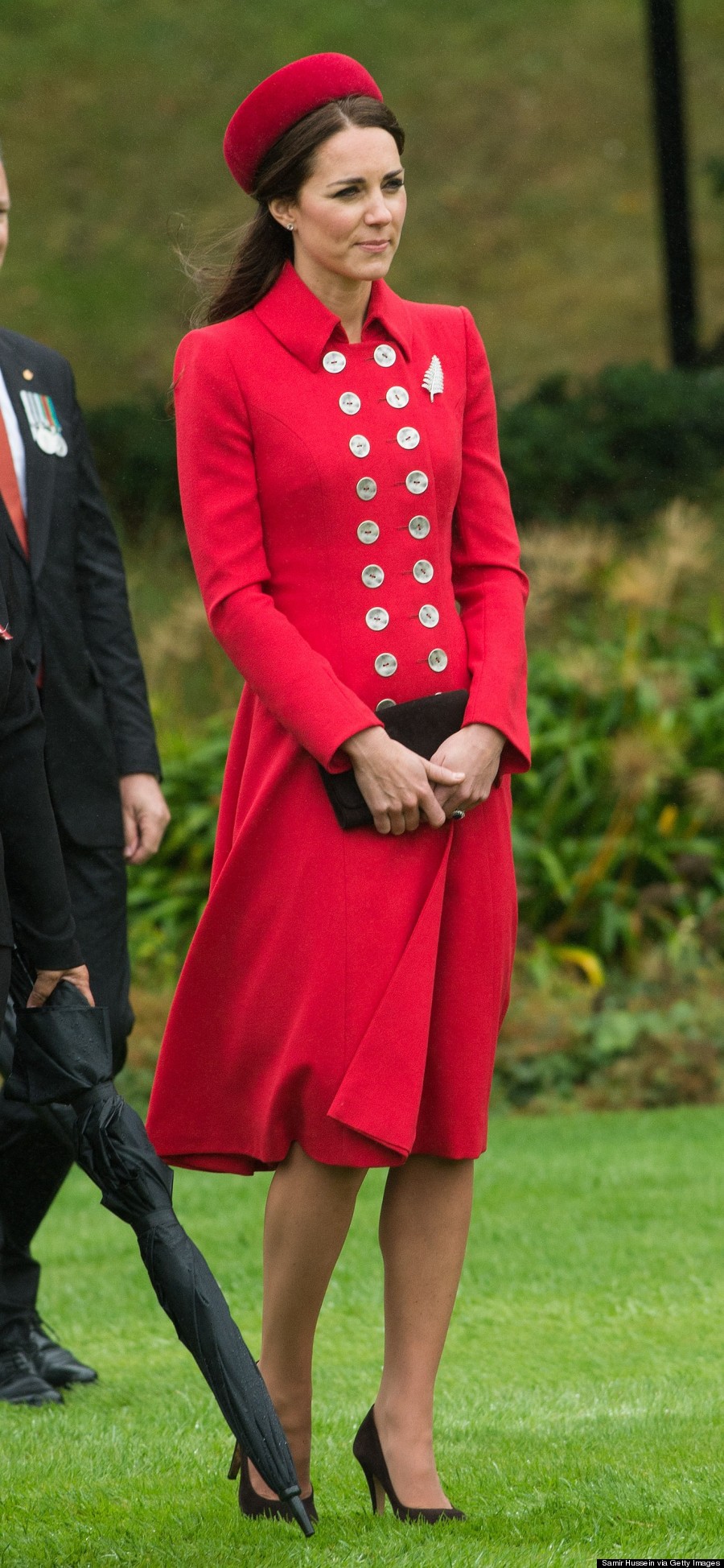 Princess Diana in 1984: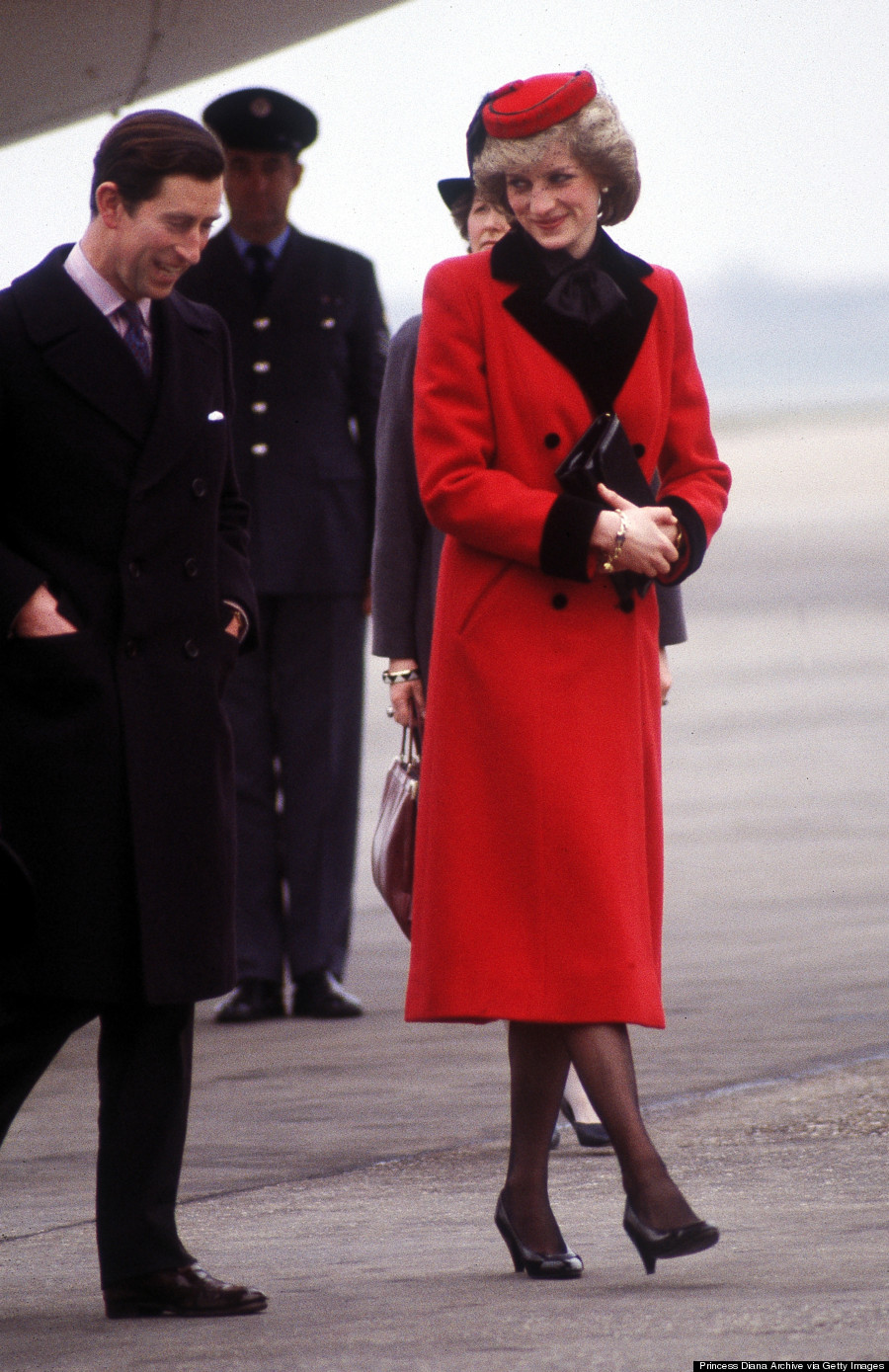 See all the photos from Kate and William's tour Down Under:
Kate Middleton In New Zealand And Australia
Britain's Prince William (C) and his wife Catherine (L) meet a Maori warrior during a welcoming ceremony at Government House in Wellington on April 7, 2014. Britain's Prince William, his wife Kate and their son Prince George are on a three-week tour of New Zealand and Australia. AFP PHOTO / MARTY MELVILLE (Photo credit should read Marty Melville/AFP/Getty Images)

Catherine (L), the Duchess of Cambridge, receives a 'hongi', a traditional Maori greeting, by a Maori elder during a welcoming at Government House in Wellington on April 7, 2014. Britain's Prince William, Kate and their son Prince George are on a three-week tour of New Zealand and Australia. AFP PHOTO / MARTY MELVILLE (Photo credit should read Marty Melville/AFP/Getty Images)

WELLINGTON, NEW ZEALAND - APRIL 07: Catherine, Duchess of Cambridge and Prince George of Cambridge arrive at Wellington Military Terminal on an RNZAF 757 from Sydney on April 7, 2014 in Wellington, New Zealand. The Royal Family have arrived in New Zealand for the first day of a Royal Tour to New Zealand and Australia. Over a period of three weeks the Royal trio will visit 12 Cities in New Zealand and Australia taking part in activities as wide ranging as a yacht race in Auckland Harbour, paying their respects to victims of the 2011 earthquake in Christchurch and visiting Ayres Rock in Australia. (Photo by Chris Jackson/Getty Images)

Catherine (L), the Duchess of Cambridge, meets a Maori warrior during a welcoming ceremony at Government House in Wellington on April 7, 2014. Britain's Prince William, his wife Kate and their son Prince George are on a three-week tour of New Zealand and Australia. AFP PHOTO / MARTY MELVILLE (Photo credit should read Marty Melville/AFP/Getty Images)

Britain's Prince William (L) and his wife Catherine (2nd L) meet the Governor-General of New Zealand Lt. Gen. Jerry Mateparae (R) with his wife Janine (2nd R) during a welcoming ceremony at Government House in Wellington on April 7, 2014. Britain's Prince William, his wife Kate and their son Prince George are on a three-week tour of New Zealand and Australia. AFP PHOTO / MARTY MELVILLE (Photo credit should read Marty Melville/AFP/Getty Images)

WELLINGTON, NEW ZEALAND - APRIL 07: Catherine, Duchess of Cambridge, Prince William, Duke of Cambridge and Prince George of Cambridge arrive at Wellington Military Terminal on an RNZAF 757 from Sydney on April 7, 2014 in Wellington, New Zealand. The Royal Family have arrived in New Zealand for the first day of a Royal Tour to New Zealand and Australia. Over a period of three weeks the Royal trio will visit 12 Cities in New Zealand and Australia taking part in activities as wide ranging as a yacht race in Auckland Harbour, paying their respects to victims of the 2011 earthquake in Christchurch and visiting Ayres Rock in Australia. (Photo by Chris Jackson/Getty Images)

WELLINGTON, NEW ZEALAND - APRIL 07: Catherine, Duchess of Cambridge and Prince George of Cambridge arrive at Wellington Airport on April 7, 2014 in Wellington, New Zealand. The Duke and Duchess of Cambridge are on a three-week tour of Australia and New Zealand, the first official trip overseas with their son, Prince George of Cambridge. (Photo by Hagen Hopkins/Getty Images)

WELLINGTON, NEW ZEALAND - APRIL 07: Catherine, Duchess of Cambridge and Prince George of Cambridge arrive at Wellington Military Terminal on an RNZAF 757 from Sydney on April 7, 2014 in Wellington, New Zealand. The Royal Family have arrived in New Zealand for the first day of a Royal Tour to New Zealand and Australia. Over a period of three weeks the Royal trio will visit 12 Cities in New Zealand and Australia taking part in activities as wide ranging as a yacht race in Auckland Harbour, paying their respects to victims of the 2011 earthquake in Christchurch and visiting Ayres Rock in Australia. (Photo by Chris Jackson/Getty Images)

WELLINGTON, NEW ZEALAND - APRIL 07: Catherine, Duchess of Cambridge and Prince George of Cambridge arrive at Wellington Airport on April 7, 2014 in Wellington, New Zealand. The Duke and Duchess of Cambridge are on a three-week tour of Australia and New Zealand, the first official trip overseas with their son, Prince George of Cambridge. (Photo by Hagen Hopkins/Getty Images)

WELLINGTON, NEW ZEALAND - APRIL 07: Catherine, Duchess of Cambridge and Prince George of Cambridge arrive at Wellington Military Terminal on an RNZAF 757 from Sydney on April 7, 2014 in Wellington, New Zealand. The Royal Family have arrived in New Zealand for the first day of a Royal Tour to New Zealand and Australia. Over a period of three weeks the Royal trio will visit 12 Cities in New Zealand and Australia taking part in activities as wide ranging as a yacht race in Auckland Harbour, paying their respects to victims of the 2011 earthquake in Christchurch and visiting Ayres Rock in Australia. (Photo by Chris Jackson/Getty Images)

WELLINGTON, NEW ZEALAND - APRIL 07: Catherine, Duchess of Cambridge, Prince William, Duke of Cambridge and Prince George of Cambridge arrive at Wellington Military Terminal on an RNZAF 757 from Sydney on April 7, 2014 in Wellington, New Zealand. The Royal Family have arrived in New Zealand for the first day of a Royal Tour to New Zealand and Australia. Over a period of three weeks the Royal trio will visit 12 Cities in New Zealand and Australia taking part in activities as wide ranging as a yacht race in Auckland Harbour, paying their respects to victims of the 2011 earthquake in Christchurch and visiting Ayres Rock in Australia. (Photo by Chris Jackson/Getty Images)

WELLINGTON, NEW ZEALAND - APRIL 07: Prince William, Duke of Cambridge, Catherine, Duchess of Cambridge and Prince George of Cambridge arrive at Wellington Airport on April 7, 2014 in Wellington, New Zealand. The Duke and Duchess of Cambridge are on a three-week tour of Australia and New Zealand, the first official trip overseas with their son, Prince George of Cambridge. (Photo by Hagen Hopkins/Getty Images)

WELLINGTON, NEW ZEALAND - APRIL 07: Catherine, Duchess of Cambridge and Prince George of Cambridge arrive at Wellington Military Terminal on an RNZAF 757 from Sydney on April 7, 2014 in Wellington, New Zealand. The Royal Family have arrived in New Zealand for the first day of a Royal Tour to New Zealand and Australia. Over a period of three weeks the Royal trio will visit 12 Cities in New Zealand and Australia taking part in activities as wide ranging as a yacht race in Auckland Harbour, paying their respects to victims of the 2011 earthquake in Christchurch and visiting Ayres Rock in Australia. (Photo by Chris Jackson/Getty Images)

Catherine (L), the Duchess of Cambridge, meets a Maori performance group during a welcoming ceremony at Government House in Wellington on April 7, 2014. Britain's Prince William, his wife Kate and their son Prince George are on a three-week tour of New Zealand and Australia. AFP PHOTO / MARTY MELVILLE (Photo credit should read Marty Melville/AFP/Getty Images)

Britain's Prince William (3rd R) and his wife Catherine (3rd L) are talked through the presentation by Maori elders during a welcoming ceremony at Government House in Wellington on April 7, 2014. Britain's Prince William, his wife Kate and their son Prince George are on a three-week tour of New Zealand and Australia. AFP PHOTO / MARTY MELVILLE (Photo credit should read Marty Melville/AFP/Getty Images)

WELLINGTON, NEW ZEALAND - APRIL 07: Catherine, Duchess of Cambridge and Prince George of Cambridge arrive at Wellington Airport on April 7, 2014 in Wellington, New Zealand. The Duke and Duchess of Cambridge are on a three-week tour of Australia and New Zealand, the first official trip overseas with their son, Prince George of Cambridge. (Photo by Hagen Hopkins/Getty Images)

Britain's Prince William (C) and his wife Catherine (R) meet local schoolchildren during a welcoming ceremony at Government House in Wellington on April 7, 2014. Britain's Prince William, his wife Kate and their son Prince George are on a three-week tour of New Zealand and Australia. AFP PHOTO / MARTY MELVILLE (Photo credit should read Marty Melville/AFP/Getty Images)

WELLINGTON, NEW ZEALAND - APRIL 07: Catherine, Duchess of Cambridge and Prince George of Cambridge arrive at Wellington Military Terminal on an RNZAF 757 from Sydney on April 7, 2014 in Wellington, New Zealand. The Royal Family have arrived in New Zealand for the first day of a Royal Tour to New Zealand and Australia. Over a period of three weeks the Royal trio will visit 12 Cities in New Zealand and Australia taking part in activities as wide ranging as a yacht race in Auckland Harbour, paying their respects to victims of the 2011 earthquake in Christchurch and visiting Ayres Rock in Australia. (Photo by Chris Jackson/Getty Images)

WELLINGTON, NEW ZEALAND - APRIL 07: Catherine, Duchess of Cambridge and Prince George of Cambridge arrive at Wellington Military Terminal on an RNZAF 757 from Sydney on April 7, 2014 in Wellington, New Zealand. The Royal Family have arrived in New Zealand for the first day of a Royal Tour to New Zealand and Australia. Over a period of three weeks the Royal trio will visit 12 Cities in New Zealand and Australia taking part in activities as wide ranging as a yacht race in Auckland Harbour, paying their respects to victims of the 2011 earthquake in Christchurch and visiting Ayres Rock in Australia. (Photo by Chris Jackson/Getty Images)

WELLINGTON, NEW ZEALAND - APRIL 07: Catherine, Duchess of Cambridge, Prince William, Duke of Cambridge and Prince George of Cambridge arrive at Wellington Military Terminal on an RNZAF 757 from Sydney on April 7, 2014 in Wellington, New Zealand. The Royal Family have arrived in New Zealand for the first day of a Royal Tour to New Zealand and Australia. Over a period of three weeks the Royal trio will visit 12 Cities in New Zealand and Australia taking part in activities as wide ranging as a yacht race in Auckland Harbour, paying their respects to victims of the 2011 earthquake in Christchurch and visiting Ayres Rock in Australia. (Photo by Chris Jackson/Getty Images)

Britain's Prince William (C) and his wife Catherine (centre L-red coat) are talked through a presentation by Maori warrior (R and far L) by Maori elders during a welcoming ceremony at Government House in Wellington on April 7, 2014. Britain's Prince William, his wife Kate and their son Prince George are on a three-week tour of New Zealand and Australia. AFP PHOTO / MARTY MELVILLE (Photo credit should read Marty Melville/AFP/Getty Images)

Britain's Prince William (C) and his wife Catherine (L) meet a Maori performance group during a welcoming ceremony at Government House in Wellington on April 7, 2014. Britain's Prince William, his wife Kate and their son Prince George are on a three-week tour of New Zealand and Australia. AFP PHOTO / MARTY MELVILLE (Photo credit should read Marty Melville/AFP/Getty Images)