If you've ever doubted how serious Thailand handles their water fights, you need to stop by during Songkran.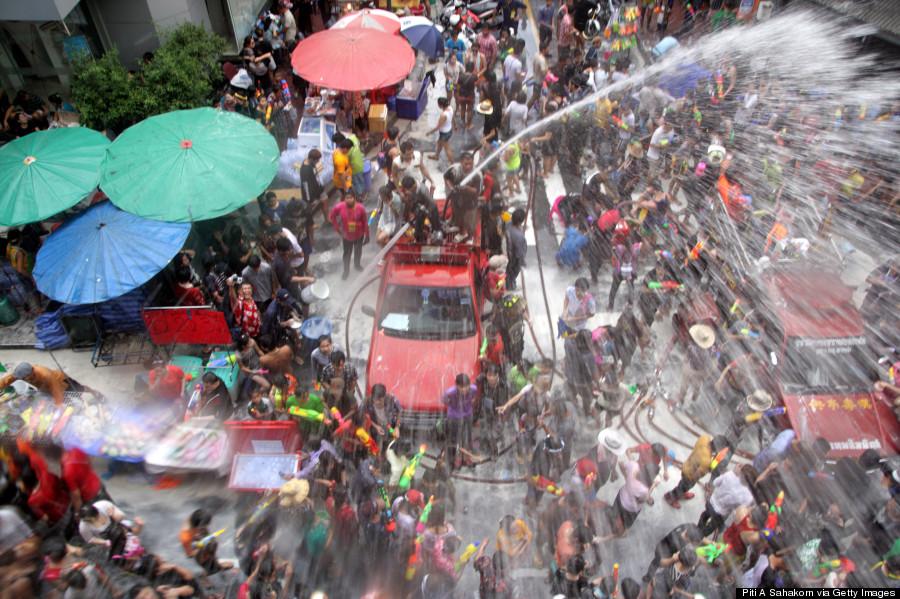 Fire fighters soak the crowd with their fire hoses during Songkran, Thailand's New Year festival on Silom road.
For locals, Songkran is known as Thai New Year. It also marks the end of the country's dry season and welcomes the start of the rainy season. For everyone else, it's a national holiday and this year it runs from April 13-15. It's the country's longest holiday according to the festival's official website with festivities lasting as long as a week in cities like Chang Mai.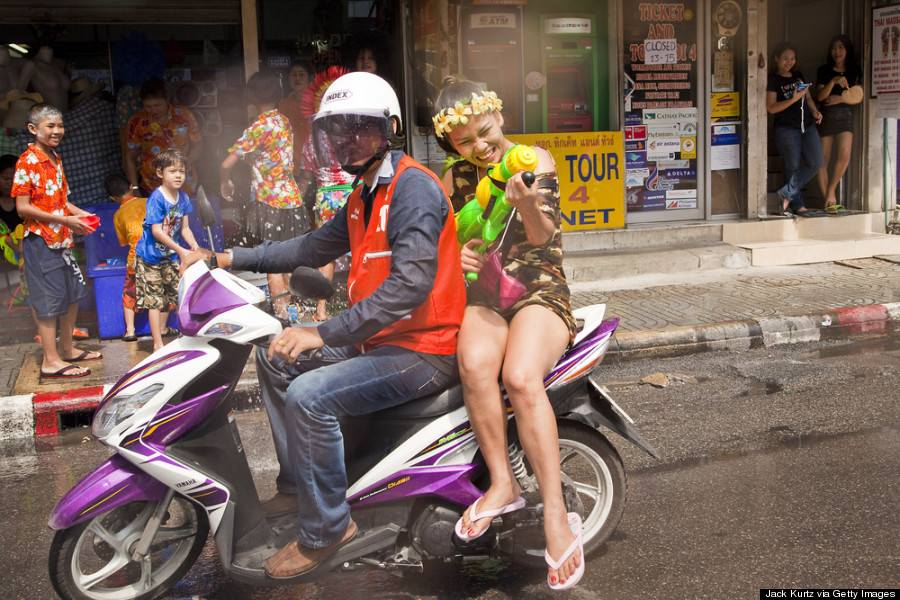 A Thai woman on a motorcycle taxi participates in a waterfight during the Songkran water festival on April 14, 2013 in Bangkok, Thailand.
The holiday is steeped in Buddhist traditions and is supposed to give Thais a moment to reflect spirituality and pay respect to their elders. As a result, you'll see lots of people making their ways to local temples to pray and cleaning Buddhist figurines and statues in order to bring good luck for the coming year. A woman pours water over a Buddha statue at the Songkran and Thai Food Festival held at Wat Buddharangs.
But that's only part of the festival. The main attraction tourists will likely witness is the massive water fights. During this part, everyone is a fair game for a soaking either by hose, water gun or by buckets filled with ice-cold water. The water fights are meant to symbolize the cleansing and rejuvenation of the body.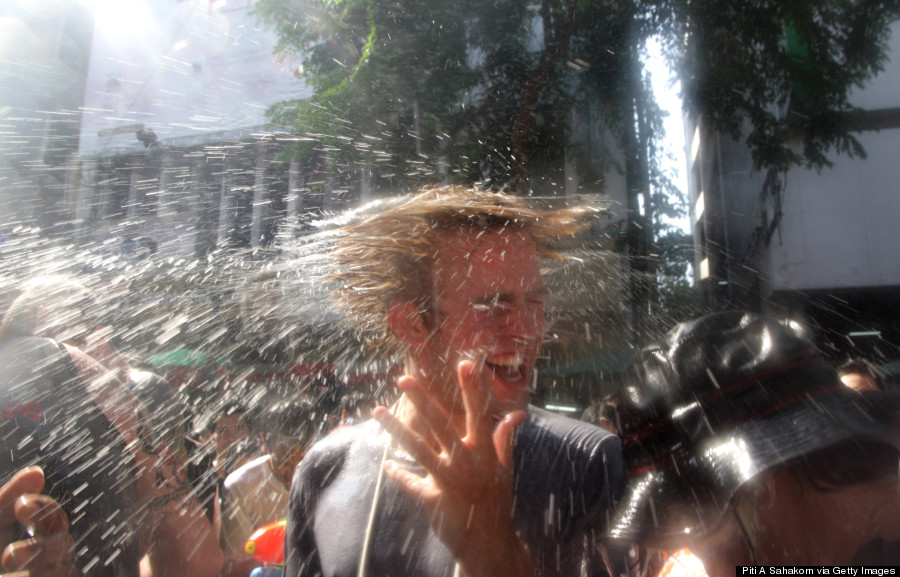 A foreigner gets soaked by a big splash of water during Songkran, Thailand's New Year festival on Silom road.
Tourists are especially targeted by locals so it's best to bring clothes you don't mind getting wet in. Cameras and electronics will also need to be stashed safety as no one is really safe from a drive-by-soaking. Traveller's looking for a good city to take part in Songkran can't go wrong with a trip to Chang Mai.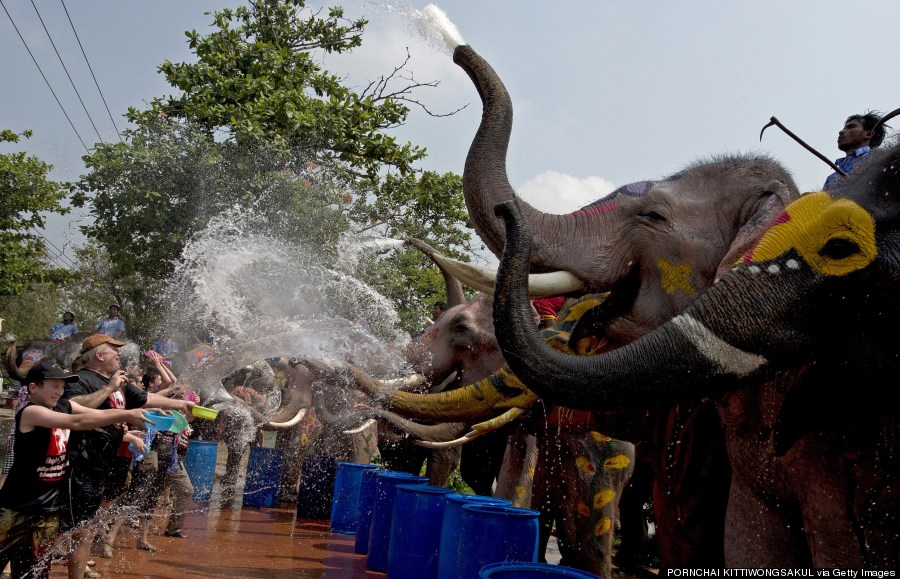 Tourists (L) splash water at elephants as people celebrate ahead of the Songkran Festival for the Thai New Year with water battles in Ayutthaya province on April 9, 2014.
It's regarded as the premier spot, trumping cities like Bangkok and Phuket for fun. That's partially do to the moat located in the Old City, an area dotted with ancient Buddhist temples according to Fest3000.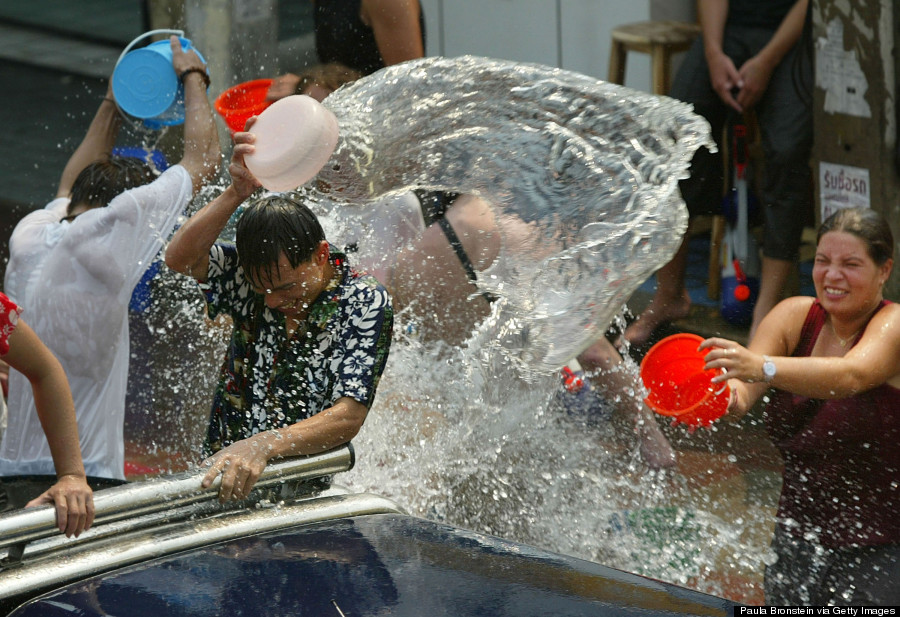 A Thai and a foreigner both get attacked with buckets of water on the third day of Songkran, the Thai new year or 'water festival'
Can't make it to Thailand this year? Not to worry, smaller and more localized versions of Songkran are also scheduled to take place in Cambodia, Laos, Burma and parts of southern China, according to the Daily Telegraph.
Like this article? Follow us on Twitter Follow @HPCaTravel
Related on HuffPost:
Loading Slideshow
Amsterdam

Amsterdam is the perfect April destination. Not only does it mark the start of the city's spectacular tulip season, but the last Saturday of the month is also when locals <a href="http://www.holland.com/global/tourism/article/queens-day-will-be-kings-day.htm" target="_blank">celebrate King's Day</a>. It'll be a first for the country as King's Day replaces Queen's Day, which celebrated the birth of Queen Wilhelmina back in 1885. But not to worry, the name and date may be slightly off, but the festivities and street parties will be just as grand.

New Orleans

Make sure you're in the Big Easy from April 25 to May 4 for the 45th anniversary of the <a href="http://www.nojazzfest.com/" target="_blank">New Orleans Jazz & Heritage Festival</a>. This year's lineup — including Eric Clapton, Arcade Fire, the Avett Brothers and Bruce Springsteen & the E Street Band — will play at venues across the city known for its musical heritage and great eats. <em>Stevie Nicks, left, Mick Fleetwood, centre, and Lindsay Buckingham, are seen on stage as Fleetwood performs at the New Orleans Jazz and Heritage Festival in New Orleans, Saturday, May 4, 2013.</em>

Thailand

Want to cool off without actually taking a dip? Then get ready for the world's biggest water fight at Thailand's Songkran New Year Water Festival, which runs from April 13 to 15. One of the most important events for Thai people, the festival is part of Thailand's traditional New Year celebrations, where water is sprinkled on elders out of respect and also to pay respect to Buddha.

The Galápagos Islands

April is ideal for those who want to visit the Galápagos Islands, where Charles Darwin's theory of evolution was born. April is considered<a href="http://www.galapagosislands.com/galapagos-travel-information/when-to-go.html" target="_blank"> low season</a> for the area, meaning prices will dip to attract more visitors. There's a greater chance for rain but the <a href="http://www.galapagosexpeditions.com/islands/best-time-to-visit-galapagos-islands.php#april" target="_blank">water temperatures are warmer</a>, making it a good time for swimming and snorkelling. Wildlife seekers will be happy to know the archipelago of volcanic islands is still home to many unique and beautiful creatures, including manta rays, dolphins and innumerable species of birds, including flamingoes and frigates.

Chile

April is also a great time to visit Chile's Atacama Desert (pictured), when the worst of the southern hemisphere summer heat has died down and crowds of tourists have gone home. The desert has something for everyone, from horseback riding through the Valle de la Muerte, to mountain biking or hiking through the Valle de la Luna, to relaxing in the El Tatio hot springs.

Zambia And Zimbabwe

Make sure to visit both these African countries if you want to get a full view of one of the seven natural wonders of the world — Victoria Falls — <a href="http://www.namibia-tours-safaris.com/destinations/victoria-falls/best-time-to-visit-victoria-falls.htm" target="_blank">at its peak</a>. Known as "Mosi-oa-Tunya," which is literally the "Smoke that Thunders," the falls are in flood in April, making this month prime viewing time to see it form the largest sheet of falling water in the world.

Hawaii

Whale watching is <a href="http://ultimatewhalewatch.com/faqs.html" target="_blank">best done in April</a>, and those lucky enough to be in Hawaii might be able to catch a glimpse of humpback whales. They tend to head into warm waters around Maui to breed or give birth before leaving in May in search of food.

Vanuatu

Those who want something a little off the beaten track can witness the original bungee jump in the South-Pacific island nation of Vanuatu. Boys and men on Pentecost Island<a href="http://www.airvanuatu.com/home/travel-information/vanuatu-islands/pentecost-island.aspx" target="_blank"> attach vines to their feet and jump from a 30-mete-high tower between the months of April and June.</a> And all in the name of fertility and in celebration of the yam harvest.

Australia

Australia might seem like a summer destination, but experts say April is actually <a href="http://cairnsdiveadventures.com/cairns-diving-trips/dive-seasons-in-cairns-month-by-month-guide/" target="_blank">a good time to visit the Great Barrier Reef.</a> Located in a typically unpredictable area for weather, the natural wonder is an easier target in April because of the month's mild to warm temperatures, sparse rain showers and regular blue skies.

England

Tinsley Green might not be on everyone's list of must-sees (you might not have even heard of the area in the Borough of Crawley), but for anyone who played marbles as a kid, this is where you can finally win back everything you lost. \ That's because the World Marbles Championship is held each year on Good Friday (April 18 this year) in the parking lot of a West Sussex pub called The Greyhound. Make sure to bring your A Game so you don't go home empty-handed.

Up Next: Where To Go In March

Bali

For a much more low-key and rejuvenating festival experience, visit Bali from March 19 to 23 for the Bali Spirit Festival. Health and wellness presenters from around the world will inspire and energize participants that come to the Indonesian island town of Ubud (made famous by Elizabeth Gilbert's<em> Eat, Pray, Love</em>) from over 50 countries. And while yoga is a fundamental part of Bali and the festival, it's not the only healing experience you can have there. At both the daytime Dharma Fair and the Night Market, you can treat yourself to a cranial sacral treatment, Chakra balancing and Balinese traditional healing, among other practices that will help you lead a healthier life.

Catemaco, Mexico

Halloween lovers will want to be in Catemaco, Mexico's capital of witchcraft, on March 7, 2014 for the Noche de Brujas (Night of the Witches). Dating back centuries, traditions of witchcraft in this part of Mexico mix the beliefs of the indigenous with Spanish medieval traditions and West African voodoo practices. In 1970, a local brujo (shaman) decided to hold a witchcraft convention, and the idea stuck. The event now plays host to shamans, witches and healers from all over Mexico, but floods of visitors also attend in order to get a glimpse of their future in a tarot reading, see a black-magic ceremony or to buy amulets on sale at the booths set up on a hill known as Cerro Mono Blanco.

Austin, Texas, USA

For the music, film and tech lover, Austin is the place to be from March 7 to 16, when the city is taken over by a series of music, film and interactive festivals that make up <a href="http://sxsw.com/" target="_blank">South by Southwest</a> (SXSW). The largest of its kind in the world, the music portion of last year's festival saw more than 25,000 people come to watch 2,278 acts, most of them up-and-coming. This year's handful of big names includes Dum Dum Girls, Melissa Etheridge and Band of Skulls.

Ivrea, Italy

You've probably heard of Spain's La Tomatina festival — basically just a giant tomato food fight — but chances are you have yet to hear about Italy's equivalent:<a href="https://www.facebook.com/battagliadellearance" target="_blank"> Battaglia delle Arance</a> (Battle of the Oranges). From March 2 to 4, teams celebrate the townspeople of Ivrea rising up against an oppressive ruler by recreating the orange attack with 500,000 kg of the fruit. Foreigners are usually allowed to take part in the event, but only if they pay a fee of about $120.

Bath, England

March in England might seem like a bit of a soggy idea, but the Independent <a href="http://bathfestivals.org.uk/literature/" target="_blank">Bath Literature Festival</a> is worth a wet sock or two. From Feb. 28 to March 9, you can take a seat in one of the town's many historic buildings and hear some of your favourite authors and intellectuals from around the world in debate. The festival has already played host to the likes of Margaret Atwood, Doris Lessing and poet laureate Andrew Motion over the last 17 years.

Osaka, Japan

If you want something a bit more outside the box, make your way to the first-ever official <a href="http://osaka-pop.com/en" target="_blank">OSAKA-POP Cool Japan Awards</a>, happening March 21 to 30 in the event's namesake city. This Japanese pop culture awards show and festival is open to "pop culture fans from around the globe that would like to be a part of this <em>kawaii</em> and <em>omoroi </em>OSAKA-POP,'" according to its website. Award categories include manga, anime and gaming, and other events tied to Japanese pop culture will be held throughout Osaka.

Auckland, New Zealand

If you've wished you were an islander and want to learn more about the laidback lifestyle, head to Auckland on March 8 and 9 for Pasifika Festival, a two-day extravaganza in Western Springs where you can delve into island culture. Make your way through markets of handcrafted carvings and have a taste of Samoan-style pork roasted over hot rocks while you watch bands play live at this celebration of all things Pacific. If it ends up being a trip you'll never forget, you can even get a traditional Polynesian tattoo that will help you remember.

India

Ready to say goodbye to winter in style? Then head to India (or Nepal or Sri Lanka) on March 17 for this year's Holi. During the last lunar cycle of winter, known as Phalguna, throngs of people fill balloons with bright coloured powder and liquid dye to throw at each other in an all-out celebration war. You'll get hit from every angle and be covered in an explosion of pink (India's colour of hospitality), yellow, blue, green, purple, orange and every other colour you can think of, so it's best to wear clothes you don't mind leaving behind. Or better yet: wear white and bring home a souvenir.

Brazil

One of the most famous celebrations in the world, Carnival all across Brazil is hard to beat as a winter escape. This year's pre-Lent party will take place from Feb. 28 to March 4, satisfying both those who like to samba, with streets parties known as blocos, and those who prefer to watch others dance the night away, with competitions at the famous Sambódromos in Rio and São Paulo. Not that those are the only places worth visiting for over-the-top costumes and shows. Make sure to check out northeastern cities like Recife and Salvador for their own individual brand of extravagant fun.

Dublin, Ireland

If you're feeling lucky — or maybe are in need of some — Dublin should be your destination of choice for St. Patrick's Day. While we're all used to wearing our shamrock-covered garb on March 17 while downing pitchers of green beer, the celebration in Dublin is much more than that. Celebrations in the country's capital consists of <a href="http://www.stpatricksfestival.ie/" target="_blank">a festival</a> for the whole family taking place from March 14 to 17 that includes treasure hunts, street performances, an Irish craft beer and food market, as well as a city lit up in green lights.