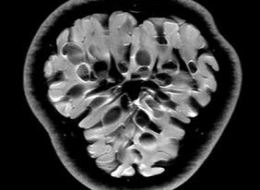 If you don't like eating a particular fruit or vegetable, this science-meets-art mash up is about to blow your mind.
Constructed by MRI technologist Andy Ellison at Boston University Medical School, Inside Insides is a collection of MRI images of foods, veggies and flowers turned into mesmerizing animated pictures, or gifs to be exact.
From banana flowers to tomatoes, Ellison's work was recently featured on the Discovery Channel Canada's "Daily Planet" show. Around since 2012, Ellison's site uses a Philips 3 Tesla MRI to take a deep look inside common foods we eat, according to io9.
And if the science behind the gifs isn't cool enough, the art portion is equally outstanding. From resembling body parts you see in an ultrasound to exploding fireworks, Ellison's work illuminates the true beauty of everything we eat.
Are you lost in the kohlrabi yet? Let us know in the comments below: