Chia Pudding: 17 Easy Chia Seed Recipes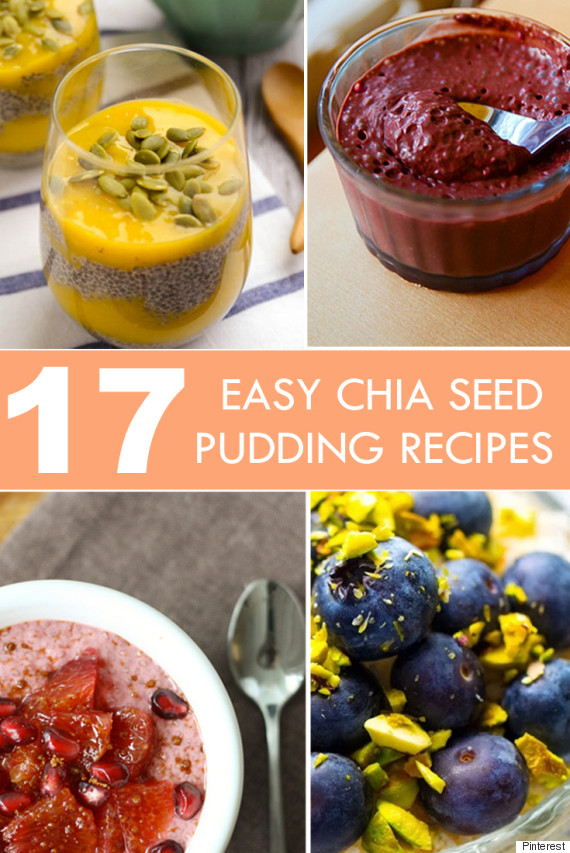 You've read about chia, and you know why you should add this healthy little seed to your diet. But finding ways to eat this seed on a regular basis can get tricky. Sprinkling a bit of chia on a salad is fine, if not a bit boring, and chia frescas are refreshing but not very filling.
That's why chia pudding recipes are best of both words: with a basic formula, you can make an endless variety of treats that help you get some chia seeds into your diet, and also provide a healthy breakfast or snack. As a bonus, many chia pudding are vegan, raw, gluten-free, or paleo friendly — or even all of the above.
The 17 recipes below are all a great way to enjoy chia seeds, but we challenge you to get creative: think about your favourite breakfast or dessert foods, then work on turning those into a chia pudding recipe of your own.
17 Tasty Chia Pudding Recipes
This chia pudding tastes like summer, thanks to the fresh mango cream it's made with. Get the recipe from Blissful Basil here.

With chia pudding, you can use the flavours of your favourite desserts to have a healthy treat. This recipe tastes like apple pie. Get the recipe from The Skinny Fork here.

Fact: You would never guess this chocolately pudding is made with avocados. Get the recipe from The Iron You here.

This pudding is definitely healthier than a red velvet cupcake, and still is a good source of protein.

This chia pudding tastes like a gourmet ice-cream sundae. Get the recipe from Goodness Green here.

You can also make chia puddings with vegetables — like carrots, for example, to give you a boost of vitamin A. Get the recipe from Kiss My Broccoli Blog here.

Chia puddings don't have to be sweet either. This recipe with blended cashews would be a great addition to an Indian-inspired meal. Get the recipe from The Kitchn here.

Having a dinner party? Wow your guests with this dessert made with healthy blood oranges and pomegranate seeds. Get the recipe (and others like it) from Buzzfeed here.

The worst thing about chia pudding is waiting for it to set. The seeds plump up as they absorb liquids, but they need a little time to get the right consistency (it can take up to a 8 hours in the fridge overnight). This clever recipe uses blended chia seeds and almond milk ice cubes to drastically reduce the time needed for setting. Get the recipe for Oh She Glows here.

Breakfast cereals are a yummy way to start the day, but not always a healthy one. Many of them have more sugar than you'd suspect. You can get similar flavours with better nutrition by replacing cereal with chia pudding that has ingredients like raisins. Get the recipes from Tasty Yummies here.

Look at those gorgeous colours! This pudding treat is made with blueberries and green pistachios. You can make this recipe without toasting the coconut, but it really adds a great finishing touch. Get the recipe from Lunch Box Bunch here.

If you like tart flavours, this chia pudding recipe will hit the spot. Get the recipe from Go Go Healthy here.

This cherry chia pudding is great with chocolate chips or cocoa sprinkled on top. Get the recipe from Nutrition Stripped here.

It seems kind of silly to make pumpkin pie in the middle of spring —but if you've got a craving, this chia pudding recipe will make your day. Get the recipe from Krisscarr.com here.

Here's a recipe to save for when strawberries are in season. It tastes like an indulgent strawberry shortcake, but it's actually raw, vegan, and gluten-free. Get the recipe from Fettle Vegan here.

If you ever see exotic tropical fruits in the grocery store and wonder what you can make with them, chia pudding is a great solution. This recipe uses passionfruit, but you could try it with guava, mangosteen, starfruit, or anything else you find. Get the recipe from One Green Planet here.

Who says chia pudding has to be a pudding? We love this healthy take on classic pudding pops. This recipe uses raspberries and coconut milk, but don't be shy to get creative with your own ingredients. Get the recipe from Skinny Taste here.