Neil Young Warns There Will Be 'Hell To Pay' At Anti-Keystone Protest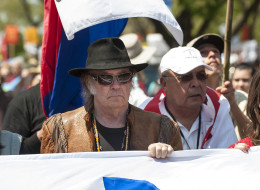 After making controversial comments last year in Washington, D.C. where he compared Fort McMurray to Hiroshima, Neil Young was in the U.S. capital again over the weekend to show his opposition to the Keystone XL pipeline and call out the Canadian government.
The Environment News Service reported Young was joined by thousands, including actress Daryl Hannah who also opposes the pipeline. The protest, which also included ranchers, farmers and tribal leaders, took place along the National Mall as part of a five-day "Reject and Protect" protest on the mall organized by the Cowboy Indian Alliance.
"We stand with you, we are with you," Young said, as seen in the YouTube clip above of his short speech on Saturday, April 26. "We're with the farmers, we're with the ranchers, we're with the Indians in the U.S.A., we are with the First Nations people of Canada. We say honor the treaties, honor our agreements, honor your word, keep your word. My mother always said to me, 'Keep your word and clean up your mess, Neil.'
"So this is what we want the government of Canada to do: keep your word, don't let this happen. It's on First Nations land, they have the right to stop it. Let them speak. Don't bowl over them like they weren't there because they are there and there will be hell to pay."
Young then referred to an ancient story of a black snake that threatens the First Nations people across North America and how pipeline is essentially that snake. "This is it," he said. "It stretches from the tar sands of Alberta to the Gulf of Mexico. And it carries this poison that is going to do incredible damage to mother Earth."
Young then cited how there was three times the amount of carbon dioxide emissions using this oil as any other oil on the planet. "It turns a Toyota Celica into a Chevy Suburban if you burn gasoline in it," he said before saying the oil would be shipped to other countries.
"Our grandchildren will be trying so hard to dig themselves out of the hole that we're digging right now just to make a few bucks over the last few years of the fossil fuel age," Young said. "We need to end the fossil fuel age and move into something better."
Young then steered his address to President Barack Obama. "This is your defining moment in the history of the world. Make your statement and make a statement that is good for all time. It's a change, the change is coming. Why not give it a push? Why not stand up and put America on the right side of history?"
Earlier this year, Young staged a four-city Honor The Treaties tour aimed at helping the Athabasca Chipewyan First Nation's legal defence fund in their battle with governments and oil companies regarding the tar sands projects and oil exploration.
Keystone XL Pipeline Report Highlights
From the U.S. State Department's report on the Keystone XL pipeline, Jan. 2014. Drivers of oilsands development are global and any single infrastructure project is unlikely to significantly affect the rate of extraction in oilsands areas.

Cross-border pipeline constraints have a limited impact on crude flows and prices.

East-west pipelines to Canada's coasts would be used to export oilsands crude to growing Asian markets.

If east-west and cross-border pipelines are at capacity, oilsands crude could reach U.S. and Canadian refineries by rail.

Keystone XL would result in fewer greenhouse gas emissions than the alternative of shipping oil by rail.

U.S. jobs supported during construction: 16,100 direct and 26,000 indirect.

U.S. jobs once completed: 35 permanent employees and 15 temporary contractors.

Total estimated property tax from pipeline: US$55.6 million spread across 27 counties and three states.

Up Next: Reaction To The Keystone XL Report

"This has been a lengthy and thorough review process. The benefits to the United States and to Canada are clear. We await a timely decision on this project." — Natural Resources Minister Joe Oliver.

"There is a simple question that needs to be answered: Is this pipeline in America's national interest. From our perspective, from an environmental perspective, we continue to believe that the answer is undoubtedly yes." — TransCanada chief executive Russ Girling.

"The final supplemental environmental impact statement is an important step toward approval of a pipeline that will build our economic partnership with our friends in the U.S. and help foster North American energy security and independence." — Alberta Premier Alison Redford.

"This State Department report, I think, should cause some optimism. But at the end of the day, it is a decision that rests with the president." — Saskatchewan Premier Brad Wall.

"Technically there's no deadline." — State Department spokeswoman Melanie Harf on when Secretary of State John Kerry will make a recommendation to the president.

"If President Barack Obama truly wants to be able to tell his kids he did everything he could to combat climate change, then he must reject this pipeline because it is a fuse to one of the largest carbon bombs on the planet." — Mike Hudema, a Greenpeace Canada climate and energy campaigner.

"President Obama says he will only approve Keystone XL if it does not significantly worsen carbon pollution. By that standard, Keystone XL is not in the U.S. national interest." — Clare Demerse, federal policy director at the Pembina Institute.

"Mr. President, no more stalling, no more excuses. Please pick up that pen you've been talking much about and make this happen. Americans need these jobs." — Senate Minority Leader Mitch McConnell (R-Ky).

"Piping the dirtiest oil on the planet through the heart of America would endanger our farms, our communities, our fresh water and our climate. That is absolutely not in our national interest." — Susan Casey-Lefkowitz, international program director, Natural Resources Defence Council.