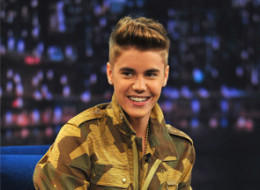 If Justin Bieber's inner circle can't persuade the musician to change his ways, perhaps another spat with The Black Keys' drummer Patrick Carney will do the trick.
In an interview with Rolling Stone on May 9, Carney described the pop star as a "fucking irresponsible asshole" for the way he responded to their initial dispute dating back to the 2013 Grammys.
Following those awards, Carney was asked about Justin Bieber being snubbed with zero Grammy nominations. "Grammys are for music, not for the money, and he's making a lot of money," Carney said at the time. "He should be happy."
Bieber responded the following day with this twitter missive.
the black keys drummer should be slapped around haha

— Justin Bieber (@justinbieber) February 12, 2013
"Justin Bieber, like a fucking irresponsible asshole, sicced 40 million Twitter followers on me because I paid him a compliment he didn't understand," Carney told Rolling Stone. "I'm saying that he should be grateful that he has a fucking career in music. And he shouldn't be fucking telling his followers to slap me, and then also be doing anti-bullying bullshit. It's so irresponsible."
After engaging with "Beliebers" after his original 2013 comments, Carney also told the publication he was being called a "f----t" with Bieber's fans "saying all of these things that are actually wildly inappropriate." But Carney didn't mince words regarding his thoughts on Bieber.
"I mean, Justin Bieber is a fucking moron," he told the publication. "And that's the gist of what I was saying." Carney, who said he feels "bad" for Bieber, also said everybody working with him "should be fucking embarrassed that they don't....No one is doing him any favors, you know?" The Black Keys drummer also added while he doesn't listen to Bieber's music the singer should be grateful for his success. "Like, really, you make millions of dollars playing music, you should feel fucking lucky."
Carney's final parting shot concerned Bieber's manipulative ways regarding his fan base and how Bieber responds to his string of questionable actions. "He's feeding them the Kool-Aid more and more," Carney said. "He pours it on heavy, though. It's so manipulative! And whoever taught him that that was OK, whoever's watching him and is like 'that manipulation is acceptable,' should really be ashamed of themselves."
On Friday evening Carney took to Twitter to comment regarding his statements on Bieber. Here's what he had to say:

@patrickcarney

Patrick Carney

@patrickcarney

Patrick Carney

@patrickcarney

Patrick Carney
I will troll you till you love me.
The Black Keys, who just announced an extensive North American tour for later this year in support of their new album "Turn Blue," play a "Live On Letterman" webcast Monday, May 12 and appear on The Late Show with David Letterman the same night. The duo will appear on The Colbert Report the following evening.
Seth Rogen has been badmouthing his fellow Canadian for months, most recently explaining his animosity after a meeting backstage at a German talk show where Bieber requested a meeting and then apparently acted 'like a bit of a motherf---er." Bieber responded with a non-apology apology, tweeting "sorry i didn't bow down to you."

Courtney Love and former Nirvana drummer Dave Grohl have been feuding over the rights to Nirvana's music since Kurt Cobain killed himself in 1994. Though they hugged it out at the band's recent rock hall of fame induction, back In 2011, Courtney explained why she hates the Foo Fighters frontman. "What I was saying, is Dave makes $5 million a show, he doesn't need the money. His mother's a banker, his father's a stock broker and he's making $5 million a show. Why the f**k then does he have a Nivana Inc. credit card and I don't? And last week he bought an Aston Martin on it," she said.

Quite simply, LeAnne stole Brandi's husband, Eddie Cibrian, and made him her own. Since then, the Real Housewife has been getting her public revenge (book included), and the feud between the two women just keeps making headlines.

It's quite the saga with these three, really: It all started when Kelly Osbourne called Gaga a"Butterface," then jokingly asked if the singer is pregnant when she gained weight. Gaga's loyal fans took it to heart, apparently, and in an interview later on, Osbourne said they bullied her and called them "the worst." In response (and in her Little Monsters defense), Gaga wrote an open letter to the young Osbourne and said her work "is rooted in criticism, judgment." That's when Kelly's mother, Sharon Osbourne, jumped in and called Gaga a "publicly seeking hypocrite and an attention seeker." Two days later, Gaga replied to Sharon and urged the Osbournes to cease fire and make the world a better place.

When Lawrence's "The Hunger Games" came out, it was naturally compared to "Twilight," both huge YA franchises. Rumors circulated at the time that "Jennifer really wants to overthrow Kristen as Hollywood's young darling," and that Stewart called Lawrence "plain" in response. But after the two beauties chatted it up at the Oscars (Lawrence inquired about Stewart's crutches, Stewart cheered on when Lawrence won best actress), the rumors subsided. Until the sequel?

Take two Disney starlets and one prepubescent popstar and you have a recipe for one of the most discussed celebrity feuds of the 2000s. Back in 2002, Aaron Carter reportedly broke up with or cheated on Hilary Duff, who he was dating for two years, to hook up with Lindsay Lohan. The 15-year-old Casanova then left Lohan to get back together with Duff. Though the girls should have been furious with Carter, they instead turned on each other. Their feud played out in the pages of magazines with both actresses taking shots at each other for years. By 2007 the girls put their past behind them and made up. "We are both adults and whatever happened, happened when we were young," Duff told People. "It's over."

"Mad Men" star Jon Hamm recently made some unflattering comments to Elle UK about celebrity culture, putting reality TV queen Kim Kardashian in his crosshairs. "Whether it's Paris Hilton or Kim Kardashian or whoever, stupidity is certainly celebrated. Being a f**king idiot is a valuable commodity in this culture because you're rewarded significantly," he told the magazine. Kim responded on Twitter, writing: "I just heard about the comment Jon Hamm made about me in an interview. I respect Jon and I am a firm believer that everyone is entitled to their own opinion and that not everyone takes the same path in life. We're all working hard and we all have to respect one another. Calling someone who runs their own businesses, is a part of a successful TV show, produces, writes, designs, and creates, 'stupid,' is in my opinion careless." When asked about his comments, Hamm told E! News, "It's surprising to me that this has become remotely a story. I don't know Ms. Kardashian. I know her public persona. What I said was meant to be more on pervasiveness of something in culture, not personal, but she took offense to it and that is her right."

Disney starlets do not play nice. In 2008, teen queen Miley Cyrus went head to head with Selena Gomez and Demi Lovato. BFFs Selena and Demi used to make goofy videos they would post to YouTube, much to the chagrin of Miley as it turned out. Miley and her BFF Mandy made a parody video where they mocked the other girls, making fun of their makeup and the gap in Demi's front teeth. The feud appeared to come out of nowhere. "To be honest I don't know what happened," Selena told MTV. "I though we were okay, but to be honest, I don't even know [Miley and Mandy]. And Demi has never met Miley. It's interesting -- that's all I'm going to say about it." They all eventually made up and became friends. Miley addressed the feud in a YouTube video in 2009: "So everyone's thinking there's a big feud between me and Selena and Demi. Actually, I'm going to have meatloaf with Demi tonight. I'm riding my bike to Demi's house. So I'm going to be partying with Demi 'cause we're friends, and I love her and she is always there for me. She is one of my bestest friends."

There are many celebs who have feuded with Donald Trump, but his ongoing fight with Rosie O'Donnell remains the most memorable. In 2006, Rosie criticized Trump for not dethroning Miss USA Tara Conner after her drug scandal and she called him a "pimp" and "snake oil salesman." Never one to take things lying down, Trump responded by calling her a "big, fat pig" and a "loser." Their feud dragged on until no one wanted to hear what either of them had to say and it unfortunately started up again. In December 2011, Trump tweeted, "Same last name, same bad ratings - @lawrence and @rosie," and linked to a YouTube clip of himself ranting about how neither of their talk shows were doing well. Rosie tweeted back, "How many billionaires sell ties and have crappy non reality shows -- none - go back to selling snake oil #bankruptmuch?" Neither will spare the public of their immaturity and their feud continues today.

Gossip blogger Perez Hilton was confronted by the Black Eyed Peas at the Much Music Video Awards in 2009 and began hurling insults at Will.i.am and the rest of the band. Perez was punched in the face by Will.i.am's manager and the blogger later tweeted, "I was assaulted by Will.i.am of the Black Eyed Peas and his security guards. I am bleeding. Please, I need a police report. No joke." Will.i.am later denied Hilton's claims and Hilton shot back with a 12-minute video blasting the Black Eyed Pea as a "disgusting human being" and "a fucking liar." Perez later sued Will.i.am's manager and a settlement was reached.

Who needs enemies when you have friends like Brandon Davis? Back in 2006, Lindsay Lohan was pals with Paris Hilton, until Paris accused her of trying to steal her boyfriend, Greek shipping heir Stavros Niarchos. Once Lindsay was on the outs with her socialite friends, oil heir Davis took it upon himself to brand Lohan with a nickname. While drunk in LA one night, Davis was filmed ranting about Lohan, dubbing her "fire crotch," and making other rude and disgusting claims.

These ladies need to learn to keep their comments to themselves. Back in the day, Christina Aguilera apparently used to call Kelly Osbourne fat, and now that Kelly has slimmed down and Christina has gained a few pounds the tables have turned. Osbourne made sure to call attention to the singer's weight gain, not once, but twice in 2011. "Maybe she is just becoming the fat bitch she was born to be. I don't know. She was a c**t to me. And she bought my house," Osbourne said during an episode of "Fashion Police" that aired in August. "She called me fat for so many f***ing years, so you know what? F**k you! You're fat too." Then in October, the singer was again the topic of discussion on the show: "Lady Marmalade got into the peanut better again," quipped co-host Joan Rivers when criticizing Aguilera's too-tight outfit. "She called me fat for years, I was never that fat," Osbourne said and later added, "Trust me, I'm a 2/4. That is not a 2/4."

Shannen Doherty has a reputation as Hollywood's bad girl and feuded with nearly all of her "Beverly Hills, 90210" castmates, and yet it was her feud with Alyssa Milano that will go down as the worst. The "Charmed" co-stars began fighting on set during the third season and it was reported that Shannen was jealous of Alyssa's popularity. Tension ran high on set and things grew so heated, producers had to bring in a mediator to resolve their issues. When they couldn't work things out, Shannen left the show.

Is there anyone Eminem hasn't feuded with? Eminem and Mariah Carey began to spar after he claimed that they used to have a sexual relationship. Mariah denied the relationship, telling Larry King, "I hung out with him, I spoke to him on the phone. I think I was probably with him a total of four times. And I don't consider that dating somebody." Mariah later mocked his claim in her video for "Obsessed," which featured an Eminem look-alike who was obsessed with her. The rapper retaliated with a number of songs that mentioned Carey and threatened to release nude photos of the singer as well as voicemails to prove they dated. In the song "The Warning" he raps: "Shut the fuck up before I put up all the phone calls you made to my house when you were "Wild N' Out" before Nick, when you was on my dick and give you something to smile about."

When Charlie Sheen lost his mind in 2011, he dug his own grave and lost his job as the highest paid actor on television. Sheen went on a rampage, verbally attacking "Two and a Half Men" showrunner Chuck Lorre, after CBS suspended the series due to Sheen's insane behavior. After Lorre make a joke about Sheen, the actor attacked him, calling Lorre a "clown" , and made a strange anti-Semitic dig, saying his real name is "Chaim Levine" (though his name is actually Charles Michael Levine). Sheen continued to blast Lorre as a "stupid, stupid little man and a p*ssy punk that I never want to be like." Now that Sheen appears to be sober, Lorre has chosen to take the high road. "I wish him well. I'm glad he's happy and sober," he said in January 2012.

"You know what you did," Lauren Conrad screamed at Heidi Montag on an episode of "The Hills." Lauren and Heidi's friendship began to dissolve in 2007, when Heidi started dating Spencer Pratt. "He's a sucky person," she infamously told her one-time best friend. Heidi chose a relationship with Spencer over a friendship with Lauren and spread a rumor there was a Lauren Conrad sex tape floating around. Heidi tried to repair things with Lauren, but she wasn't having it. "I want to forgive you and I want to forget you," Lauren told her as mascara ran down her face. The feud eventually ended but they never repaired their friendship. As Spencer began to fade into obscurity he tried make himself relevant by burying the hatchet with Conrad, wishing her a happy birthday on Twitter in February 2012.

New Jersey Governor Chris Christie has no love for the "Jersey Shore" cast and Snooki isn't fond of him either. Christie has been vocal about his distaste for the cast and has referred to them as "losers," and also vetoed a $420,000 tax credit for the MTV reality show in September 2011. Snooki doesn't appriaciate being called a loser and the pint-size reality star tweeted that she wouldn't be voting for Christie for president and added, "Love always, the "buffoons" from that degrading Jersey Shore show." Christie wasn't and isn't running for president, but Snooki regardless explained: "I DEF don't want a judgmental president who has NEVER met me in person. F that. idc who exploits me. But for a man wanting to be president&calling us names when he's never met us..no thanks. I'll stick w Obama."

Kid Rock had a big problem with Aerosmith frontman Steven Tyler taking on a new gig as a judge on "American Idol" in 2010. Kid Rock didn't believe a true rock star would even think about working for a show like "Idol" and proceeded to trash Tyler for it. Rock told Entertainment Weekly, "I think it's the stupidest thing he's ever done in his life. He's a sacred American institution of rock and roll, and he just threw it all out the window. Just stomped on it and se it on fire." At a press conference, Tyler responded, "He's just jealous, he's just jealous. And he's working on his new record, so God bless him."

Miranda Lambert was not happy to see Chris Brown performing at the Grammy Awards. "And Chris Brown Twice? I don't get it. He beat on a girl...Not cool that we act like that didn't happen," she tweeted referencing Brown's brutal 2009 assault on Rihanna. Brown responded indirectly by tweeting, "Hate all you want because I got a grammy now! That's the ultimate f*** off." Then at her concert, Lambert held up a handwritten poster that read, "Take notes Chris Brown" and said to the audience, "Listen, I just need to speak my mind. Where I come from, beating up on a women is never OK. So that's why my daddy taught me early on in life how to use a shotgun." Brown fired back in a series of tweets: "Using my name to get publicity? I love it! Perform your heart out! Go buy @miranda_lambert! So motivational and "PERFECT." Goodnight to all the people who live life and who aren't stuck in the past!"

In actress Olivia Munn's book "Suck It, Wonder Woman," she recounts her brief romantic dalliance with director Brett Ratner and didn't have anything nice to say about the size of his penis. Ratner addressed the claims on "Attack of the Show" saying, "I used to date Olivia Munn, I'll be honest with everyone here, when she was Lisa...she wasn't Asian back then." He continued: "She was hanging out on my set of 'After the Sunset,' I banged her a few times. But I forgot her...because she changed her name...I didn't know it was the same person, so when she came and auditioned for me for a TV show I forgot her, she got pissed off, and she made up all these stories about me eating shrimp and masturbating in my trailer." Munn responded by tweeting a link to a Cosmo article she had written titled, "How to Stand up to an A-Hole," that detailed an incident with a director she called the "Douche."

LeAnn Rimes is skinny -- so skinny that she has people worrying that she's not eating. The equally skinny Giuliana Rancic was one those people. Pot, meet kettle. The two skinny ladies battled it out telling each other to eat a sandwich.

Rihanna and Ciara -- who both dated Chris Brown in the past -- got into a heated public spat in February 2011. First Ciara made a dig at Rihanna on "Fashion Police," saying: "I ran into her recently at a party. She wasn't the nicest. It's crazy because I've always loved and respected what she's done in fashion. It wasn't the most pleasant run-in." When Rihanna heard what Ciara had said, she fired back on Twitter. "My bad Ci, did I forget to tip you? How rude of me.... You gangsta huh? Ha." They volleyed insults and threats at each other and then Rihanna called a truce. "Ciara baby, I love you girl! You hurt my feelings real bad on TV! I'm heartbroken! That's why I retaliated this way! So sorry! Let's make up." Ciara accepted the apology and that was that.

This might be one of the most ridiculous celebrity fights of all time. "Teen Mom" cast member Farrah Abraham didn't think things through when she criticized Kourtney Kardashian on Twitter. "I'm shocked Kourtney Kardashian is pregnant again Did she not learn anything from TEEN MOM? Maybe its a fake pregnancy like kims wedding SAD," she tweeted. Kourtney was understandably confused by the attack and tweeted back, "Why would I have anything to do with Teen Mom? I'm 32 years old! I may look young, honey, but don't get it twisted." While Kourtney suggested that Farrah had no idea what she was talking about, the "Teen Mom" star couldn't resist firing back at her: "Guess what! Age and money honestly do not change a person's poor choice. Quit making excuses," she tweeted. Kourtney's boyfriend Scott Disick also got in on the fight, sarcastically tweeting at Farrah, "We're not teenagers, ya f**king moron." When asked if he knew who she was, he responded, ""I just thought she was some shit stain on Twitter, no?" Sadly, this Twitter fight actually continued with Farrah later tweeting, "4 all who mistunderstood: regards to kourtney K.~I hope she takes her relationship w/her boyfriend more serious 4 their children-takecare." Shortly after, however, she couldn't resist getting one more word in with a jab at Disick: "Caught wind of these dramatic articles, w/ loser scott disick or some boyfriend of kourtneys, is Shit Stain < racist 4 black?" she wrote. "Great dad! NOT."

Celebrity chef Anthony Bourdain is not a fan of Paula Deen's cooking. In 2011 he told TV Guide she was "the worst, most dangerous person to America." Deen responded, claiming, "You know, not everybody can afford to pay $58 for prime rib or $650 for a bottle of wine. My friends and I cook for regular families who worry about feeding their kids and paying the bills . . . It wasn't that long ago that I was struggling to feed my family, too." Months later, after Deen announced she has Type 2 diabetes and was now a paid spokeswoman for a diabetes medication, Bourdain responded with a thinly veiled tweet: "Thinking of getting into the leg-breaking business, so I can profitably sell crutches later." Deen fired back that Bourdain should "get a life".

Jonah Hill made it clear he was no fan of "Glee" star Matthew Morrison, when he appeared on "Late Night with Jimmy Fallon" in September 2011. Hill recalled a "douchey Hollywood party" where he tried to eavesdrop on a conversation between "Gossip Girl" actor Chace Crawford and Morrison, who had made a joke at Hill's expense at an event a few weeks earlier. He then overheard the two drop his name and start laughing. Hill took the opportunity on "Late Night" to call out the "Glee" actor: "Matthew Morrison, you better bring your sh*t next time I see you...I'd like to see him sing his way out of this one," he said. Morrison responded by sending a goofy video to "Late Night," where he finished his joke about Hill and then accepted the actor's challenge, saying, "Nobody messes with someone from musical theater!" This extremely dorky feud eventually just blew over.

Chelsea Handler started a feud with Jesse James' tattooed mistress Michelle "Bombshell" McGee in 2010, with a joke she wrote on her blog: "I guess she doesn't read magazines which makes sense, since she basically has one on her face." McGee responded on her Facebook page writing: "Chelsea, here's some free advice: Use some of that Botox from your forehead and put it in your flabby underarm skin. I've seen better wings in a bucket of KFC chicken." And later wrote, ""In all seriousness, Im a big fan of 'Chelsea Lately' ... I was laughing my ass off.... feel so honored to have a transexual [sic] poke fun of me ..." Don't mess with a comedian -- Handler didn't hold back with her response to McGee: "First of all, look at my forehead, you dumb bitch, okay? It moves ... You have a tattoo on your forehead, so you have had a needle in your forehead -- and probably Jesse James' balls. So shut your face."

This feud started after Kings of Leon declined to allow the Fox series "Glee," to cover one of its songs on a future episode. "Glee" creator Ryan Murphy was pissed and sent a message to the band via The Hollywood Reporter: "F**K you, Kings of Leon," he said. "They're self-centered assholes, and they missed the big picture. They missed that a 7-year-old kid can see someone close to their age singing a Kings of Leon song, which will maybe make them want to join a glee club or pick up a musical instrument. It's like, OK, hate on arts education. You can make fun of Glee all you want, but at its heart, what we really do is turn kids on to music." KOL member Nathan Followill fired back with a homophobic dig at openly gay Murphy, tweeting: "Dear Ryan Murphy, let it go. See a therapist, get a manicure, buy a new bra. Zip your lip and focus on educating 7yr olds how to say f**k." Realizing how his comments could be seen, Followill later tweeted: "I'm sorry 4 anyone that misconstrued my comments as homophobic or misogynistic. I'm so not that kind of person. I really do apologize."

In 2005, Tom Cruise seemed to have lost his marbles when he jumped on couches on Oprah's talkshow. He then lashed out at actress Brooke Shields, while on the "Today" show, telling Matt Lauer that Shields should not have taken antidepressants to combat the postpartum depression she was suffering from after the birth of her first child. Cruise, a Scientologist who shuns psychiatry, insisted the depression could be treated with "vitamins and exercise." Shields responded by writing an op-ed piece in the New York Times, writing: "I'm going to take a wild guess and say that Mr. Cruise has never suffered from postpartum depression ... And comments like those made by Tom Cruise are a disservice to mothers everywhere ... If any good can come of Mr. Cruise's ridiculous rant, let's hope that it gives much-needed attention to a serious disease." Cruise later apologized to Shields, the actress told Jay Leno a year later. "He came over to my house and he gave me a heartfelt apology. And he apologized for bringing me into the whole thing and for everything that happened," she said.

Kayne West infamously hijacked Taylor Swift's acceptance speech at the 2009 Video Music Awards, interrupting her to say, "I'm really happy for you. I'ma let you finish, but Beyoncé had one of the best videos of all time." Swift was dumbstruck by the incident and it seemed as if she didn't want to get into it with the rapper. "I don't know him, and I've never met him, so..." she said. "I don't want to start anything because I had a great night tonight." A year later she was literally singing a different tune. At the 2010 VMAs she performed her new song "You're Still an Innocent," a reference to the previous year's incident with West, basically calling him immature. "Thirty-two and still growing up now / who you are is not what you did / you're still an innocent," she sang. Kanye didn't have any right to fire back, but of course he did. At a concert in New York City, West blasted Swift to his fans: "Everybody needs a villain, don't we? We need to blame someone at all times ... I was emotional, that was not exactly the way I wanted to word it, but I wrote it, I rode it, just as Taylor never came to my defense in any interview, and rode the waves and rode it and rode it." The feud seems to have blown over, as Swift wore a blouse from Kanye West's spring 2012 collection in the pages of Harper's Bazaar.