Bridal Shower Games: 15 Ideas For Your Next Party
The bridal shower is the one party where everyone who knows the bride (including all the moms) gets to have a little fun. If you have signed up for the task of coming up with bridal shower games for one this summer, we're here to help.
Anyone who has attended a good amount of wedding showers knows some things are bound to happen. There will be a game involving making lists, you will hear embarrassing stories about the bride and people tend to get very emotional. That being said, we feel like bridal showers should be a mix of both: the classic games and something a little more unique.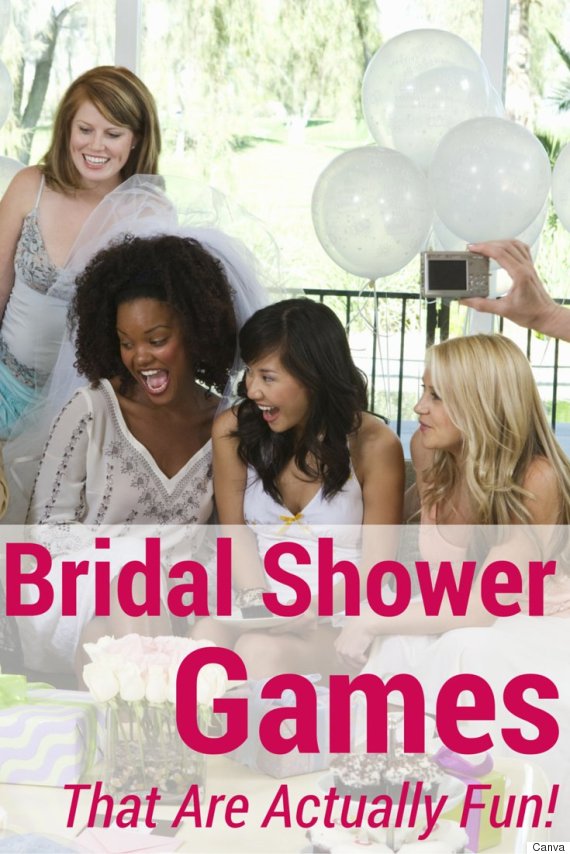 If you have guests who don't know other guests, start with an icebreaker. While some of these games listed below could be considered ways for people to get to know each other, get basic and go around the room, asking guests to introduce themselves and explaining how they know the bride-to-be.
Here are 15 games you can play at your next bridal shower:
15 Fun Bridal Shower Games
HOW TO: Print out these custom cards (or make your own) and make groups of three to four people. Have each person empty their purse and go down the checklist. The more they have, the higher points they get. TIPS: If you're making your own, throw some random items in there, especially things only the bride would carry.

HOW TO: In the bridal shower invitation, ask all the ladies to bring a few types of new underwear. In a large see-through jar or vase, stuff all the underwear and ask groups of people to guess how many are in the jar. The closest group wins! TIPS: Stick to the same colour scheme. This way, it will be harder to count. You can also use it as a centerpiece during other games.

HOW TO: Ask guests to bring one piece of new underwear that represents their personalities. The bride's job is to figure out who each underwear belongs to and add them to a homemade wreath. TIPS: Again, stick with a colour scheme, but don't be afraid to throw in some odd ones. Like the bride's mom bringing her favourite thong — it would be much harder to guess!

HOW TO: Before the bridal shower, ask the bride and groom a set of questions about their dating lives, pet peeves or their favourite hobbies. Next, write out each quote or fact and have two boxes beside each sentence. Colour coordinate each box to represent the bride and groom. Have your guests take a guess at who said what. The person with the most correct answers wins. TIPS: To keep things interesting, ask questions about their childhoods, bad fights or something guests wouldn't be able to figure out.

HOW TO: We love this idea by Wedding Paper Divas: Buy these (or make your own) recipes cards and personalize it with the couple's name. Ask each guest to write down their favourite recipe and pack it up in a nice box. TIPS: To keep things even more organized, have all your guests fill out the card before they come to the shower.

HOW TO: Cut out miniature photos of men in suits along with the bride's favourite celebs. Place heads on each suit and save one for the groom's head. Next, place each suit in an envelope and leave one for each guest. Whoever has the groom, wins! TIPS: There's another way to play this game that takes a little more time. Have each person tape one of these suits to their back and have them ask questions to other guests to figure out who they have, Again, the person with the groom wins.

HOW TO: The classic! Gather toilet paper and have groups of guests create the perfect wedding dress for the bride. The dress the bride likes the best wins. TIPS: Have a test. Make the toilet paper brides dance or walk the runway — the bride with their dress intact, wins!

HOW TO: This game by Meg's Handmade Life involves each person getting one clothespin. Throughout the night, guests are forbidden to say certain words like the groom's name or "wedding." If one guests catches another guest slipping up, they grab their clothespin. The person with the most clothespins at the end wins. TIPS: Don't just use boring old wooden ones. Colour them with paint or add fun wedding-themed stickers.

HOW TO: Staying in the theme of rings, have guests make teams for a ring toss game. For set-up, use old wine bottles and try finding a ring (or ring-shaped object) at the dollar store. TIPS: Make it pretty. Colour coordinate with the bride's wedding colours and have more than one station set up.

HOW TO: This is a game the bride's mother will adore. Cut out these cute tags and find some rustic looking keys at an art store. Cut out circular tags and give each guest one to write on. Throughout the game, have guests give the bride their best advice and tie all the keys together for the bride to take home. The moms may get emotional, so have tissues on hand. TIPS: Make categories. This game includes the five basics, but we'd add something about sex or fights.

HOW TO: This homemade lip gloss recipe is a fun activity idea for those of you who have children or teens at the bridal shower. The best part? Each guest can take one home. TIPS: Have the bride come up with clever names to label each one.

HOW TO: To change things up, make your own version of "pin the flowers" or buy it at BHLDN. Have guests blinded-folded and pin the flowers to the back of the car. This game is also PG-13! TIPS: If you can, try finding the picture of the car the bride's parents had (awwwww).

HOW TO: The game is easy: give each guest a scratch card and have them reveal their message. The person with the card that says "I do" wins. You can buy your own cards on Etsy. TIPS: Have guests make bets on who has the winning card.

HOW TO: Collect random kitchen utensils and attach them to an apron. Have the bride wear the apron and walk around each table of guests. Each team must try to memorize as many items as they can (without writing them down) and the team with the most correct items wins. TIPS: Make things more difficult by adding different coloured utensils or hide some items on the side of the apron.

HOW TO: This game is simple. Draw a jar on a paper board and list everyday household items. Divide guests up into teams and have them guess the market value of each product. The team with the most accurate prices, wins! TIPS: As a fun surprise for the winner, gather each item and give it to them as a prize.
Or follow us on Twitter Follow @HuffpostCaLiv