If corny couples on your Facebook feed make you hate the Internet, things are about to get worse.
Social media powerhouse Facebook just launched a new feature called Anniversary Stories, where users who have tagged their anniversary dates with their special ones now have an opportunity to share overshare five happy photos of them and their boo.
Luckily, Facebook users are privately wished an happy anniversary by Facebook, but they do have the option to share their photos and status update to their public newsfeeds — or your newsfeeds. But let's be real: we all know couples will be share their memories as soon as they get a chance.

In 2012, Facebook rolled out their Us pages, which basically creates a Facebook account just for couples. Cute.
Check out what Anniversary Stories looks like below: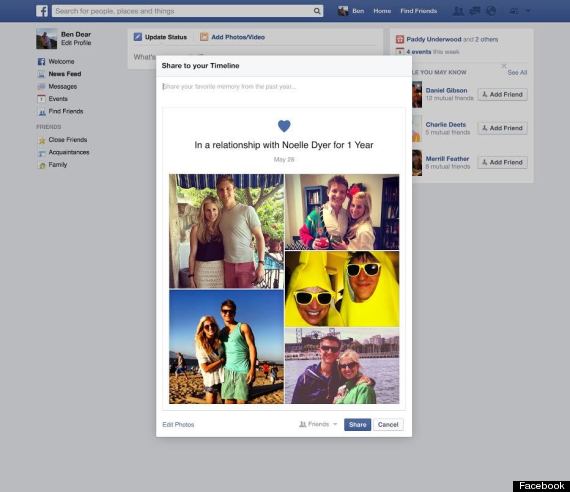 Do you use Pinterest? Follow us
Visit HuffPost Canada Living's profile on Pinterest.
Also on HuffPost:
Loading Slideshow
Making An Impersonal Announcement

Changing your Facebook status is now part of the engagement ritual. However, it's not the way to share the news of your major life decision with close friends and family members. Do you want the people you care about feel as important to you as your random ex-coworker or your third grade classmate? Then make sure they find out about your engagement in a more personal way than those random "friends" will.

Broadcasting Your Bling

I understand how giddy newly-engaged women might feel when sporting some new hardware. But every time I see an album of "The Ring," a profile pic that shows a close-up of just your diamond or an image of you brandishing your bauble in an over-the-top pose, all it says is that you care more about your bling than you do your dearly beloved. One photo of the rock, if you must share, will suffice.

Constantly Counting Down

Please, don't be the person who updates his or her Facebook status every 24 hours to, "Only 438 days until I GET MARRIED" -- and then proceeds to continue in a similar fashion for the next 437 days. The same goes for marking the hours until pre-wedding events like showers or bachelor/bachelorette parties and announcing minor marriage milestones post-wedding. Getting through your first month of marriage is not an accomplishment. Update me about how you're doing in a year.

Plugging Your Registry

Your registry information belongs in one place and one place only: on your wedding website. Posting the links on Facebook and Twitter gives the impression that you expect people who weren't invited to your wedding to buy you something. Also, newsflash: taking pictures of your gifts as they pile in and then saying "thank you" to the giver via status update is not a real thank you.

Posting Unwanted Updates

I get it: you're planning your wedding. You're going to taste cakes, pick out chairs and choose your reception song list. You don't need to illustrate all of this with Instagram pictures of dirty forks and empty venue spaces or share a screenshot of your iTunes wedding playlist. Also, if you choose not to invite borderline close friends to your pre-wedding events (like the bachelorette or bridal shower), try not to flaunt their exclusion in your newsfeed: I have a friend who learned she wasn't invited to her law school pal's shower when the friend posted a photo of the invitation, which she'd never received. And, finally: refrain from giving instructions about how to get to the church via status update. Not all of us are going to your wedding -- and Facebook is not your personal message board.

Forcing Unnecessary "Likes"

Requiring your guests to "like" a wedding fan page you've created for your Big Day or asking people to RSVP to a Facebook invite (when you've also sent out traditional invites) comes off as pandering for virtual attention. I already sent in my reply card, and I even drew a smiley face on it, so why is an e-tally necessary?

Changing Your Status Mid-Wedding

I know this might sound crazy, but try to take a Facebook hiatus on your Big Day. When alerting your social network of your transformation from "Engaged" to "Married" is the first thing you want to do after saying "I do," those of us <em>in</em> your social network think you need to get your priorities straight. Put your iPhone on lockdown, okay?

Flooding Friends' Feeds With Wedding Photos

There is no logical reason to clog Instagram with upload after upload of wedding photos -- especially if they're photos you took <em>of</em> your wedding photos with various filters applied -- or to post all of your wedding photos to Facebook in multiple albums. (Ditto on engagement photos. Seriously, no one wants to see those except maybe your parents.) Yes, you look pretty. Yes, weddings are joyous times. But, do you really need to prove how happy you are by putting every detail of your Big Day on display? Buy a physical wedding album like people did in the olden days and relive your wedding whenever you want to -- without making everyone else do so.

Honeymoon Live-Blogging

Look, I don't need to know about your couples' massage, mai tais or romantic dinner on the beach via Twitpics and status updates. Enjoy your damn honeymoon!

Staying Bridal In Your Profile

If you're still using your wedding photo as your profile pictures for months -- or worse, years -- after your wedding day, then, seriously, I'm worried about you. While this isn't as annoying as continual wedding updates, it perpetuates the idea that getting married is the most important life event ever -- and the most significant thing about you. Enjoy your wedding, get excited about your wedding, but don't let your wedding define who you are, during or after the Big Day.