The Northwest Territories is suffering through one of the worst summers for forest fires in decades and the photos are otherworldly.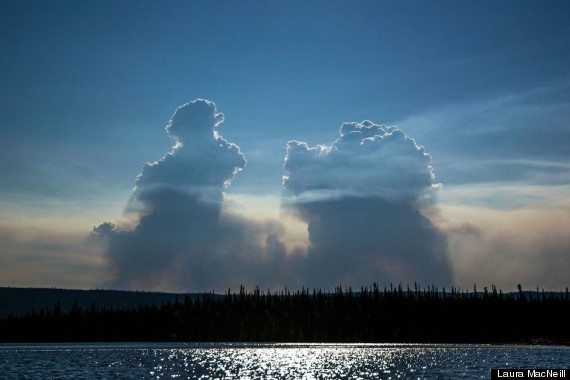 (Credit: Laura MacNeill)


More than 100 large fires are raging in the northern territory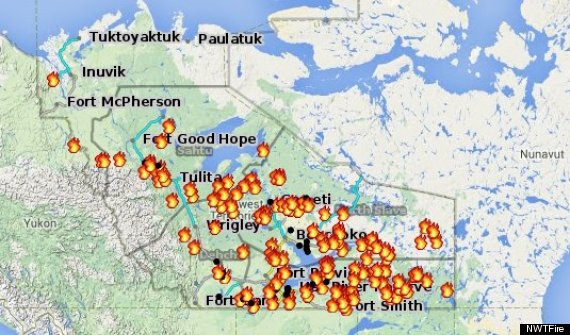 Hot dry conditions and lots of lightning have led to most of the blazes
Forest fire near Wekweeti, #NWT. Another gem from our user-generated photo gallery. http://t.co/Afh8c0gzr1 pic.twitter.com/1Rd95q0Cgt

— Sara Minogue (@CBCMinogue) July 7, 2014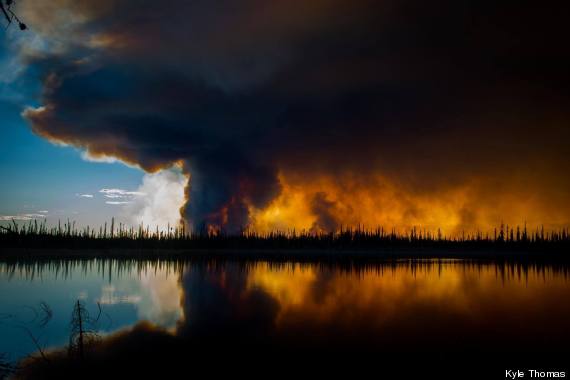 (Kyle Thomas/Facebook)
Forest fire sky. Fire burning near Pine Lake, which is near Fort Smith, #NWT. Photo credit: Trent Stokes. #CBCNorth pic.twitter.com/fz6gjI0hbA

— Loren McGinnis (@LorenMcGinnis) June 18, 2014
The fires are so large that they can be seen from space
View from space of the large fires in the NWT and smoke drifting across Saskatchewan. http://t.co/CBRJlGViYS pic.twitter.com/TWmGBkdIgQ

— Anthony Farnell (@AnthonyFarnell) July 9, 2014
And the smoke is causing air quality problems as far away as Saskatchewan, Manitoba and even the USA
Smoke from NWT fires carried by winds is clearly visible from satellite. Heavily in #ymm pic.twitter.com/6sDnr6cuci

— Nevin deMilliano (@SwiftChaser) July 8, 2014
Let's hope everyone up north stays safe
Jenn Wetrade (@pooh_jenni) took this amazing photo in Gameti. The realities for folks living in the NWT. #NWTFire pic.twitter.com/qe42kFsLn0

— Jacq Brasseur (@jacqbrass) July 9, 2014
Got a photo of the fires? Email it to us.
Related on HuffPost:
Loading Slideshow
Mount Roraima, Venezuela

What's more impressive: the view from Mount Roraima or the fact that you can <a href="http://www.huffingtonpost.ca/2014/04/03/mount-roraima-photos_n_5084821.html" target="_blank">hike up its 400-foot tall cliffs</a>? Those willing to brave the trek will be rewarded with stunning wildlife at the mountain's undisturbed ecosystem at its summit.

Zhangye Danxia Landform Geological Park, China

While it could pass as a work of art, the mountains in<a href="http://www.huffingtonpost.com/2013/07/31/rainbow-mountains-china-danxia-landform_n_3683840.html" target="_blank"> Zhangye Danxia Landform Geological Park</a> are very much real. The mountain range formed over 24 million years ago after coloured sandstone and deposits were pressed together, then ruptured by shifting tectonic plates.

The Grand Prismatic Spring, United States

Located in Wyoming's Yellowstone National Park, the Grand Prismatic is <a href="https://roadtrippers.com/us/yellowstone-national-park-wy/nature/grand-prismatic-spring--2" target="_blank">America's largest hot spring</a>. If that isn't impressive enough, check out its spectrum of colours: they're caused by a growth of pigmented bacteria around the edge of the spring, feeding off of the minerals in the water.

Son Doong Cave, Vietnam

<a href="http://www.huffingtonpost.com/2013/09/07/son-doong_n_3873341.html" target="_blank">Meet the world's largest cave</a>. For years it went unnoticed, until British explorers fleshed out the area in 2009. Now it's open to tourists looking to feel tiny and insignificant among the cave's five-and-a-half mile-long network of paths, rivers and forests.

Lake Retba, Senegal

Who knew a combination of salt and bacteria could result in something so.. Pink? <a href="http://www.lakeretba.com/" target="_blank">Lake Retba, or Lac Rose</a>, as it's known to some locals, is home to lots of salt, so much that locals jump in to harvest chunks of it. This is also home to the Dunaliella Salina bacteria, and when it absorbs sunlight, it sheds a natural pigment that turns the surrounding water pink.

Cano Cristales, Colombia

Sure, it looks like someone might have poured toxic waste into a perfectly good river, but <a href="http://www.huffingtonpost.ca/2014/03/06/cano-cristales-colombia_n_4906400.html" target="_blank">Colombia's Cano Cristales</a> is actually nicknamed "The River of Five Colours" for its seasonal bloom of moss which turns the rocks beneath the water into vibrant shades of purple, green, red, yellow and magenta.

Fingal's Cave, Scotland

Located on the uninhabited island of Staffa, in the Inner Hebrides of Scotland lies Fingal's Cave, a collection of hexagonally jointed basalt columns. <a href="http://www.staffatours.com/the-islands/staffa/fingals-cave/" target="_blank">Continuous crashing of waves during ocean storms wore away at a fissure</a>, causing it to break open and create the opening travellers can see today.

Salar De Uyuni, Bolivia

If you're seeing double, there's a strong chance it just rained in <a href="http://www.huffingtonpost.com/2013/09/24/bolivia-salt-flat_n_3983573.html" target="_blank">Salar De Uyuni</a>. The Bolivian salt flat is the result of an ancient salt lake evaporating, leaving behind a tons of residue. Add enough water, and the area essentially becomes a giant mirror.

Bigar Waterfall, Romania

You can find this beauty in the <a href="http://www.huffingtonpost.com/2014/03/24/bigar-waterfall-photos_n_5020922.html" target="_blank">Romania's western region, by the Anina Mountains</a>. The water drops off a <a href="http://www.placestoseeinyourlifetime.com/the-most-unique-bigar-waterfall-in-nature-reserve-romania-5169/" target="_blank">moss-covered cliff</a> and feeds into underground springs underneath which lead to the nearby Minis River.

Pamukkale, Turkey

What do you get when you mix mineral forests, petrified waterfalls, and ethereal hot springs safe for swimming? You get Turkey's Pamukkale. Its name loosely translates to "cotton castle" in Turkish, and is a designated UNESCO World Heritage Site.

Great Blue Hole, Belize

Belize's Great Blue Hole is exactly what you'd think it is: it's big, it's blue and it's a hole. Researchers say<a href="http://www.atlasobscura.com/places/great-blue-hole" target="_blank"> the sinkhole is the largest of its kind</a>, originally formed after a limestone cave flooded due to rising sea levels, collapsing and leaving a special diving spot popular with tourists.

General Carrera Lake, Chile

This might be hard to believe, but in the middle of General Carrera Lake's pristine turquoise water once stood an entire island of marble. Over time, the lake's waves wore down the marble and created what's known as the "<a href="http://www.huffingtonpost.ca/2014/01/22/general-carrera-lake-photos_n_4640023.html" target="_blank">Marble Cathedral</a>".

Spotted Lake, Canada

Travel through the Oskogan Valley in British Columbia to find this odd lake. The body of water gets its name from the spots of <a href="http://www.odditycentral.com/pics/osoyoos-canadas-spotted-lake.html" target="_blank">concentrated minerals which determine the spots' colours</a>. The spots typically show up in the summer after the temperature causes the surround water to evaporate.

Orda Cave, Russia

Fancy a view with your swim? Head to the <a href="http://www.huffingtonpost.ca/2014/01/13/orda-cave-russia-photos_n_4590038.html?ncid=edlinkusaolp00000008" target="_blank">Orda Cave in Russia's Urals region</a>, where the water-filled caves span 4.8 km underground. The water's clarity comes from the cave's gypsum deposits which allow for up to 45 metres of visibility.

Giant Crystal Cave, Mexico

What it lacks for in an original name, Mexico's giant crystal cave makes up with unusual giant crystal formations. But first, travellers will have to travel through the the Naica Mine, located in Chihuahua, Mexico, some 300 metres below ground level to find them.

Thor's Well, USA

Located off the coast of Cape Perpetua in Oregon is <a href="http://www.huffingtonpost.com/2014/04/17/thors-well-oregon_n_5146466.html" target="_blank">Thor's Well.</a> It's a natural fountain <a href="https://roadtrippers.com/us/or/nature/thors-well-cape-perpetua" target="_blank">powered by the Pacific Ocean</a>. Watch out -- once the waves start crashing in, the splash back can be intense!

The Wave, USA

If someone is telling you to do the wave in Utah, they could be referring to this natural wonder by the Utah-Arizona boarder. The formation gets it shape and colour following <a href="http://www.dreamlandtours.net/day-tours/tours-of-the-paria-canyon-vermillion-cliffs-national-monument/the-wave-photography-tour-coyote-buttes-north-paria-canyon/" target="_blank">millions of years of erosion from sand </a>, leaving the strata smooth and compacted, giving it its layer effect.

Vatnajökull Ice Caves, Iceland

Leave it to Iceland to show you how ice caves are done. Located in the country's Vatnajökull National Park, tours of these frozen wonders are only available during the country's winter season.

Waitomo Glow Worm Caves, New Zealand

If it's not bacteria creating funky colours, then it's probably glow worms! Inside the Waitomo Glowworm Grotto are colonies of Arachnocampa luminosa, a specific type of glow worm exclusive to New Zealand.