'Summer Polar Vortex' To Hit Ontario Next Week (VIDEO, TWEETS)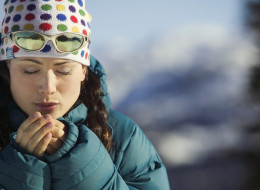 It seems that the "polar vortex" is not finished with Ontario yet.
Forecasters are warning of cool Arctic air that will swing through central Canada next week and hit the Great Lakes region hardest, The London Free Press reports.
It will plunge parts of Ontario into fall-like temperatures, with highs in the London area expected to hit around 23 degrees Celsius.
Called a "summer polar vortex" by some websites, the forecast for lower temperatures drew comparisons with winter weather patterns that left parts of central Canada freezing.
Summer version of polar vortex could chill eastern U.S. next week http://t.co/TPl5UNekxx pic.twitter.com/N7J3RPFEI2

— Washington Post (@washingtonpost) July 10, 2014
Though it won't freeze the Great Lakes, it could mean that Ontario sees temperatures that are about five to 10 degrees Celsius below normal, Sault Ste. Marie's Local 2 reports.
However, not everyone agrees with the weather's characterization as a "polar vortex."
National Weather Service meteorologist Dan Petersen told Reuters that it's a "wintertime phenomenon."
Like this article? Follow our Facebook pageOr follow us on TwitterFollow @HuffPostCanada
Freezing Faces Of The Polar Vortex
Allan Umscheid, owner of Yards By Al in Lawrence, Kan, feels the bitter wind and catches drifting snow on his face as he runs a snow blower.

Greg Rohde has an ice and snow encrusted beard after commuting to work at the University of Minnesota by cross-country skis along West River Parkway in the frigid -20 weather, Monday, Jan. 6, 2013 in Minneapolis.

A man wears a face mask and heavy clothes while walking through downtown Springfield, Ill., in blowing and falling snow as a strong winter storm moves through the Midwest Sunday.

John Brower snow in his eye lashes after running to work in the frigid -20 weather Monday.

Jerome Harris is bundled up against the weather as wind blows up his scarf in St. Louis.

Chris Griesmeyer dons ski goggles and a mask to protect him from the harsh wind chill as he walked in the sub-freezing temperatures in Arlington Heights, Ill.

A pedestrian walks along Woodward Avenue in the cold as the area deals with record breaking freezing weather in Detroit, Michigan.

Commuters make a sub-zero trek to offices in the Loop in Chicago, Illinois.

A commuter makes a sub-zero trek through the Loop in Chicago, Illinois.

Brooke Spencer, 9, makes a face after eating some snow, at her home in Grand Blanc, Michigan

U.S. Postal Service letter carrier Jamie Jasmon struggles through snow and below zero temperatures while delivering the mail in Springfield, Ill.

University of Minnesota graduate student Sascha Lodge commutes on foot from her Falcon Heights, Minn. home to the univerity's St. Paul campus, where she studies natural resources science and management.

Jenny Hackett walks across a street in St. Louis as snow and wind swirls.

Sharon Scott waits for a bus in a bus stop after running erands Monday, Jan. 6, 2014, in Mayfield Heights, Ohio.

Green Bay Packers fans deal with frigid temperatures before an NFL wild-card playoff football game between the Green Bay Packers and the San Francisco 49ers

Freezing commuters make a sub-zero trek to offices in Chicago, Illinois. Temperatures in the city dipped to -16 degree Fahrenheit.

A cyclist peers over his frozen glasses in -4 temperatures in Toronto.