'Caucasians' T-shirt Sales Spike Thanks To A Tribe Called Red Member (TWEET)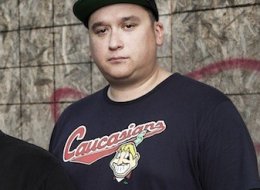 The Cleveland, Ohio-based designer of the controversial "Caucasians" T-shirt is reporting a spike in sales after a member of A Tribe Called Red was slammed as "racist" for wearing it.
Brian Kirby of Shelf Life Clothing says that demand for the shirt has grown significantly since Ian "Deejay NDN" Campeau found himself at the centre of a campaign to boycott the group's appearance at Ottawa's Westfest music festival last month.
A letter sent to festival organizers took issue with their decision to book a "divisive band just asking for trouble." The writer took particular issue with the "racist" shirt and called Campeau a hypocrite for filing a human rights complaint to change the name of the Nepean Redskins football team. (The team later changed its name.)
Campeau posted the letter to his Instagram and said on his Facebook, "I'm truly sorry if I offended anyone while I was wearing my 'Caucasians' shirt. I thought I was honouring you."
But the controversy has only helped to expand the shirt's reach.
"He's fulfulling the intent of the shirt, which is an indigenous person flipping the role instead of having a grinning Indian on a white guy's shirt," Kirby told The Huffington Post Canada.
"The prophecy for the shirt was fulfilled years after it was created."
Kirby, a New York native, conceived the shirt after moving to Cleveland about a decade ago. He immediately noticed the ubiquity of Chief Wahoo, symbol for the Indians baseball team.
"I saw a double wide garage door, the entire garage was painted with Wahoo's face," he said. "It took me aback."
Kirby was soon inspired to flip the design and see "what people thought when it was repurposed."
He designed the shirt in 2006. To his surprise, it has found fewer buyers in Cleveland than in markets such as Canada, Australia and New Zealand.
The shirt only drew one negative comment before Campeau was criticized for wearing it, and that was from a Caucasian woman who said she didn't like it.
Since then, it has drawn notoriety and thousands of orders.
"We went from selling 10 to 20 shirts to [selling] thousands," Kirby said.
It has become a particularly popular item on Ontario First Nation reserves, The Toronto Star reported.
"People's reaction has been all positive and they see the humour in it both on and off the reserve," said Rachel Bomberry, who wore it to a pow wow in the community of Six Nations of the Grand River.
Its popularity is just one example of First Nations fighting high-profile battles against cultural appropriation.
Last week, B.C.'s Bass Coast Festival banned the wearing of native headdresses, a practice which has gained increasing popularity at music festivals but that indigenous people find offensive.
A Tribe Called Red applauded the move, calling it "incredible."
Shout out to @BassCoastProj for taking a stand on the headdress issue! Chi Meegwetch and Nia:we! This is INCREDIBLE! https://t.co/TY7YfdswLh

— A Tribe Called Red (@atribecalledred) July 23, 2014
Like this article? Follow our Facebook pageOr follow us on TwitterFollow @HuffPostCaMusic
A Tribe Called Red Videos
http://www.cbc.ca/Q A Tribe Called Red's DJ NDN and DJ Shub provide the musical accompaniment as dancer Rhonda Doxtator performs a hoop dance in the cozy con...

A Tribe Called Red- Sisters ft Northern Voice (2013) A Tribe Called Red / Tribal Spirit Music / Pirates Blend Buy on iTunes: http://bit.ly/1gxWTEr www.atribe...

FREE DOWNLOAD OF AUDIO JUST JAM is a Live music stream once a month 6-9 on http://dontwatchthat.tv/just-jam/ @justjamlondon http://www.facebook.com/Justjamlo...

This live music video documents A Tribe Called Red playing the Sunflower Stage at the Evolve Music Festival in Antigonish, Nova Scotia, on July 19th, 2013. T...

Subscribe to AUX now: http://bit.ly/11yrReU A Tribe Called Red performance of "NDN Stakes" from the 2013 Polaris Music Prize Gala. Subscribe to AUX on YouTub...

A Tribe Called Red performing Different Heroes live at the 2014 JUNO Gala Dinner and Awards. JUNO TV: New Episodes Weekly! - - - - - - - - - - - Subscribe on...

Subscribe to AUX now: http://bit.ly/11yrReU A Tribe Called Red performance of "The Road" from the 2013 Polaris Music Prize Gala. Subscribe to AUX on YouTube:...

the AU review interviews A Tribe Called Red at Canadian Blast during SXSW 2014. Interview/Edit/Camera: Larry Heath Filmed on site at SXSW in Austin, TX - Mar...

A TRIBE CALLED RED- ELECTRIC POWOW DRUM. download the free album here: http://www.electricpowwow.com/ video edit by ZOSO. created for non commercial creative...

Get A Tribe Called Red's full album for FREE at www.electricpowwow.com Please check them out! Their YT channel is aTribeCalledRed http://www.youtube.com/user...

A Tribe Called Red released this video on American Thanksgiving, 2014.