Poutine Recipes: 15 Meals Inspired By International Cuisines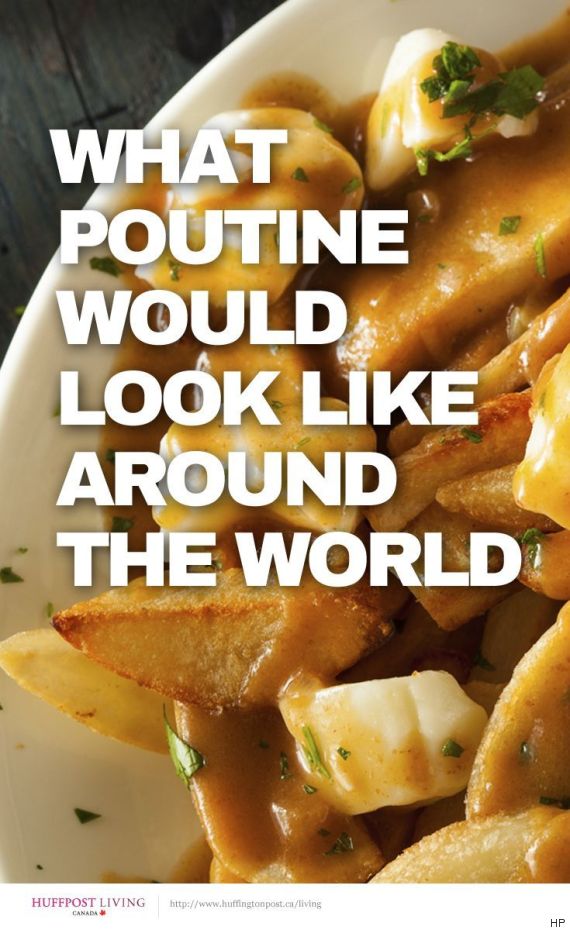 It may be the bread and butter, or should we say fries and gravy of Canada, but these internationally flavoured poutines may just be the next best thing.
We all know the basics of poutine: it's made with fries, gravy and cheese curds and apparently originated in Quebec. Not only is it one of the most Canadian things about the Canadian food scene, it also makes a great late night meal after a night of heavy boozing. Earlier this year, it also got its rightful place in the Merriam-Webster dictionary — about time, world!
But as much as we love poutine here, we're always looking for new ways to upgrade it, spice it up and of course add different ingredients. We've rounded up 15 mouthwatering poutine recipes including a curry poutine, kimchi poutine and one made with sweet potato fries and miso gravy that we're considering having for dinner tonight. Hungry yet? Check out the recipes below.
How To Make Your Poutine More Exciting
This may be the closest thing you can get to a Korean poutine. This one includes kimchi, soy sauce and cheese curds. Get the recipe from Honest Cooking here.

This curry-infused poutine is super easy to make — only because it uses a store-bought demi glace sauce. Get the recipe from Dairy Goodness here.

Opa! This Greek-inspired poutine recipe include Kalamata olives and feta cheese instead of cheese curds. Get the recipe from Elva Jane here.

In other curry news, we're also intrigued by this butter chicken poutine made with, well, chicken and a spicy buttery sauce. Get the recipe from Suburble here.

This Mexican-inspired poutine recipe includes sweet potato fries, chorizo and queso fresco — mmm. Get the recipe from Foodie with Family here.

If you're thinking Italian tonight, gnocchi poutine is the way to go. Instead of using French fries, this recipe uses gnocchi pasta instead. Get the recipe from Closet Cooking here.

This may be more American than Italian, but this poutine recipe uses marinara sauce and mozzarella cheese. Get the recipe from Epicure Selections here.

Because poutine is originally a Quebec thing, French folk would love this foie gras addition to their fries and gravy. Get the recipe from Zeste here.

Lentils are a staple in several cultures — this curried poutine gets a wee bit of healthiness thanks to red lentils and baby spinach. Get the recipe from More Than Just Waffles here.

Going back to Japanese flavours, this miso gravy poutine with sweet potato fries will remind you of yam sushi! Get the recipe from Lynsey Loves Food here.

Fine, this isn't truly Mexican, but there's just something appetizing about poutine shaped like nachos. Get the recipe from Cooking Channel here.

This Chinese poutine is made with a garlic black bean sauce, soft tofu and Szechuan pepper. Get the recipe from No Face Plate here.

This beer and lamb poutine is the perfect combination of meat, potatoes and cheese. Get the recipe from the Small Boston Kitchen here.

This North African poutine recipe is topped with spicy merguez sausage made with lamb. Get the recipe from the Food Network here.

There are all kinds of international flavours going on with this poutine recipe — we love the idea of adding jackfruit. Get the recipe from The Taste Space here.