Cottage Construction In Canada Has Pretty Much Ground To A Halt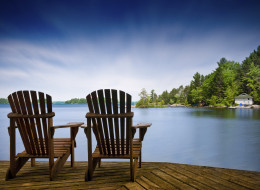 It's summer and Canadians are flocking to cottage country to soak up the sun, have some fun in the water and maybe knock back a few cold ones.
But there's one thing they aren't doing, and that's building new cottages. In fact, cottage construction has been in decline for four decades, and is now getting perilously close to extinction.
"Building permits for cottages tallied just 335 units in the past year to June, extending a decades-long slide, as the readily-assessable supply of lake-front property declines," BMO economist Sal Guatieri wrote in a recent note.
"We are now building about one-tenth as many cottages as in the mid-70s."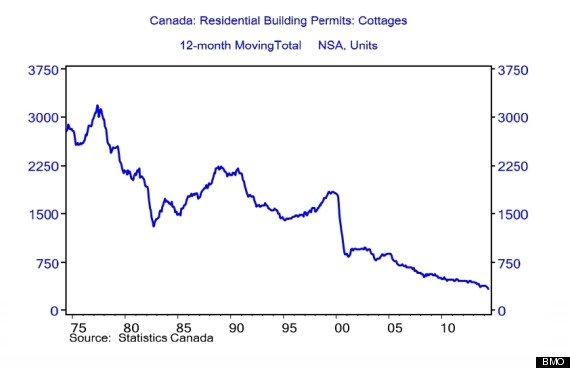 But people still seem to be going to cottage country, even if they aren't building new cottages. Guatieri suggests this lack of new supply accounts for rising prices in cottage country.
Prices in Muskoka, the popular cottage country north of Toronto, jumped 7 per cent this spring from a year earlier, and the average cottage now costs close to $500,000. But the number of sales was down four per cent from a year earlier.
Sales were up by jaw-dropping numbers in B.C.'s cottage countries this spring, up 59 per cent in the south Okanagan and nearly 54 per cent in the Kootenays, though those numbers are for all residential properties and not just cottages.
The exception may be Quebec's Laurentians, where it's undoubtedly a buyer's market. In the popular resort town of Mont-Tremblant, there are so many cottages for sale it would take 29 months, on average, to sell one.
Those strong numbers outside Quebec are a relatively new phenomenon. The recreational property market suffered for years after the financial crisis of 2008-09, as cottages are considered a luxury and are among the first things consumers give up on when tough times arrive.
Guatieri doesn't go into why we're giving up on cottage construction, but here are a few untested ideas:
-- We're running out of space. Much of the waterfront property in rural areas within weekend-drive distance of cities has already been cottaged up.
-- We're moving into a sharing economy. With sites like Airbnb popping up, buying a house you'll use only a few weeks a year seems more unnecessary than it used to.
-- Buying condos, not building cottages, is the trend these days. CMHC says some 17 per cent of condos on the resale market are investor-owned. If you're a homeowner today looking to buy a second property, you may just choose a condo in the city you can easily rent.
Why do you think cottage construction has gone out of style? Let us know in the comments below.
The Most Beautiful Cottages For Rent In Ontario
Be ready to pay out the nose if you want to stay here. This estate rental on Lake Rosseau has everything you could possibly want in a vacation rental, and even a few features you might find in an amusement park. It has a lakefront house and a two-story boathouse/studio apartment, with 12 bedrooms in total. There's a 200-foot waterslide, a 55-foot-high rock climbing wall, 33-foot-high jumping platform, a gourmet kitchen, formal dining area, and much, much more. $40,000 per week. Listing here.

Six beds and six bathrooms, five of which are en suite, in a home that sleeps 16 on a private island in the Muskoka Lakes region. $8,249/week. Listing Here.

A five-bedroom cottage in the Muskokas. There are five bedrooms (two masters with en suite bathrooms), a home gym and a private dock. $7,500 per week. Listing here.

Rosseau House on Morgan Bay is a timber frame cottage. It promises crystal clear water, a granite cliff, a flat stone ledge and flagstone steps taking you down to the dock. Three bedrooms could sleep seven people. $4.800 per week. Listing Here.

This 3,000-square-foot cottage on Lake Joseph can sleep 11 in five bedrooms. It has a boathouse with a large sundeck, a dock for swimming and a sandy beach. Inside you'll find a high-ceilinged living room, satellite television and a games room with walkout. $5,500 per week. Listing here.

Leave the world in your dust as you escape to this private island on Lake Rosseau, where you'll find a three-bedroom main cottage and separate quarters in the boathouse. It sleeps 10 in total, has an open-concept kitchen, two-story fireplace and three decks. $5,500 per week. Listing here.

Open the door to this gorgeous getaway on the shores of Big Sound in Georgian Bay and the first thing you see is a 680-square-foot living room with cathedral-style ceilings and floor-to-ceiling windows. Beyond that you'll find a den with oak cabinets and a built-in bar, and a two-sided fireplace that is shared with the master bedroom. There's a family room with games, TV and bar area, a sauna, and finally, a three-slip "Ironworker" dock and deep water harbour. $5,999 per week. Listing here.

This lovely cottage on Tondern Island was built in 1896 but renovated and upgraded in 2002. With 17 bedrooms between the main cottage and the boathouse, it can sleep as many as 24 people. Beyond that, it has amenities such as a 300-foot, western-exposed dock, a backyard with a volleyball court and trampoline, and a waterfall. $25,000 per week. Listing here.

One of Canada's largest log "cabins." This 18,500-square-foot Cedar Ridge Lodge in Georgian Bay offers luxury in the confines of a spectacular home made of Great Eastern White Pine. There are six bedrooms, plus additional sleeping quarters in the guest house, enough space for 20 people. Six-hundred and fifty square feet worth of waterfront offer an outdoor bar, cabanas and volleyball court. One of its most striking features is a basement with a 20-seat Irish bar, pool table, hockey table, shuffleboard and foosball. $15,000 per week. Listing here.