Billionaire Craig McCaw Is Selling Disputed James Island For $75 Million
You know you're rich when you have enough money to buy an island. You know you're really, really rich when you have enough to buy a $75 million island.
Telecommunications billionaire Craig McCaw is selling his private B.C. island, giving someone in the 0.1 per cent a rare chance to prove just how obscenely wealthy he or she really is.
James Island is a 780-acre property just off the coast of Vancouver Island near the city of Victoria. It is the second largest privately owned Gulf Island.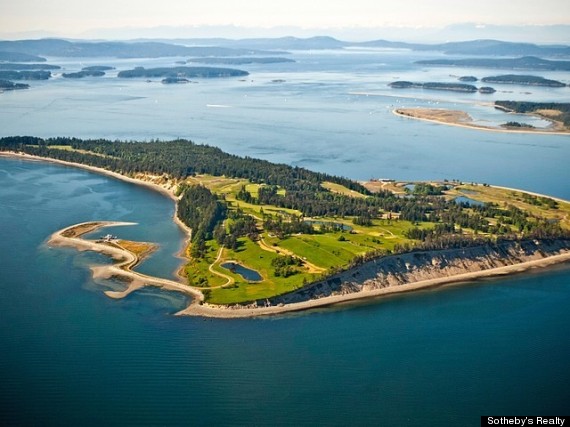 Today it boasts an 18-hole Jack Nicklaus golf course, a 5,000 sq.-ft. home, six guest cottages, an airstrip and even a mock town from the Old West.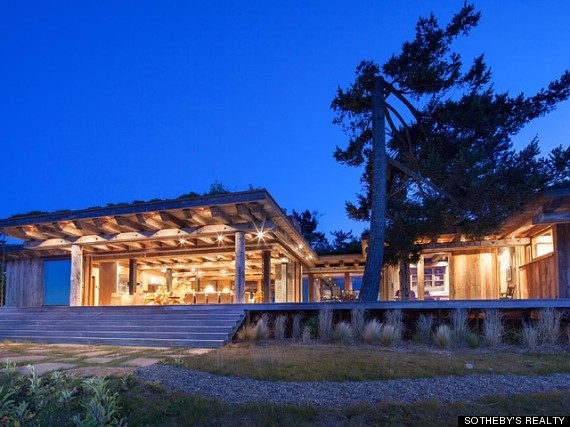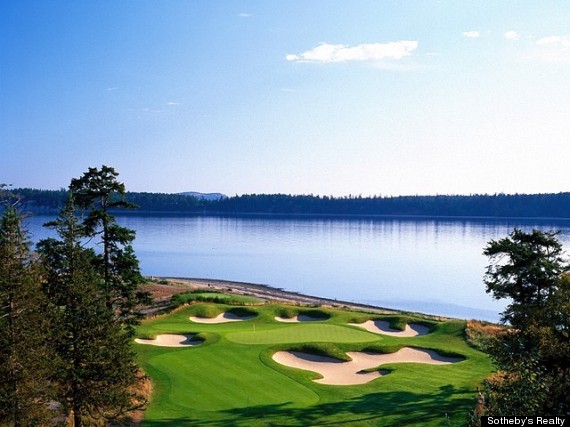 But it wasn't always this way. The island was once part of the territory of the Tsawout First Nation, but was not included in the Douglas Treaties.
An aboriginal community was moved from the island in the 1900s, according to CBC, and the Tsawout First Nation has repeatedly tried to negotiate a settlement with subsequent owners. The property is the subject of two land claims.
The island would eventually become the site of a munitions plant that became important during the Second World War. The plant was shut down in the 1980s.
According to the National Post, Tsawout members say they thought the land would be returned to them when the munitions factory was removed. They say the island holds an unmarked cemetery.
"We've got a lot of history there," Tsawout treaty officer Eric Pelkey told the Post in 2012. "We'd really prefer to have it returned to us; it was our island."
McCaw purchased the island in 1994 for a reported price of $19 million. He would later sue the former owners, through a company under his control, for the cost of cleaning up environmental damage done to the island while it was used to manufacture munitions. The B.C. Supreme Court recently ordered the previous owners to pay McCaw's company $4.75 million. The firm had asked for $5.3 million.
McCaw has reportedly tried to keep the island as green as possible. The Times Colonist reported in 2009 that he banned insecticides on the property and uses underground power lines and electric cars.
McCaw made his fortune by founding the company that would eventually become AT&T wireless. The multi-billion dollar AT&T deal was just one of many tech ventures that have made McCaw a very rich man. Forbes reports that he is worth $1.9 billion.
Despite his wealth (he bought a single classic Ferrari for $35 million in 2012), it seems McCaw wants to cash in on James Island.
The property was put up for sale in 2012 but has apparently failed to find a buyer. The original list price was $78 million, according to CBC.
CORRECTION: An earlier version of this story suggested that James Island is on the market "again." James Island was put up for sale in 2012 and has not been removed from the market.
Check out more photos of the pricey island in the gallery below:
NEXT: B.C.'s Lamb Island For Sale

Lamb Island in B.C. is on sale for the first time in over 20 years and could be yours for a sleek $4 million. Full story here

Up Next: Vancouver Boarded Up House For Sale, July 2014

This boarded up Vancouver house is on the market for $25.8 million.

Up Next: West Vancouver Mansion For Sale, June 2014

This West Vancouver mansion is on the market for a cool $19.98 million.