Where Is The Vagina? Many Women Surveyed Don't Seem To Know
Serious question: Where is the vagina? Well, yes it is located down there, but where is it exactly?
It turns out 65 per cent of women polled in a recent U.K. survey don't seem to know where this crucial body part is found. According to the Telegraph, a study by The Eve Appeal, a women's cancer charity, found about half of their survey respondents between the ages of 26 to 35 could not locate the vagina on a medical diagram.
Not surprisingly, the study also found the majority of women between the ages of 66 to 75 were able to locate the vagina on a diagram, and women between the ages of 16 to 25 didn't feel informed about vaginal health issues, like cancer.
So where is the vagina located? The vagina is a closed muscular canal that extends from your vulva (the outside of a woman's genital area), to the cervix and uterus, according to the Mayo Clinic. The Eve Appeal also has this handy diagram with "C" marking the location of the vagina.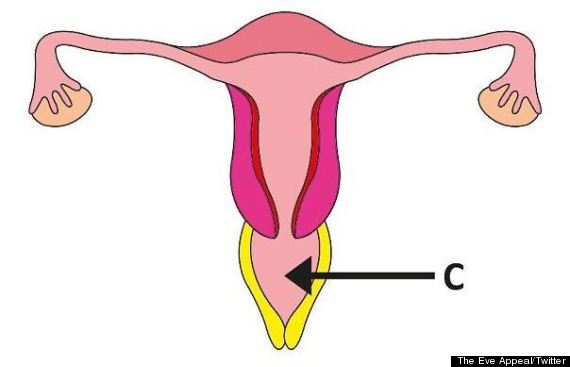 And as ridiculous as it sounds that some women are unable to pinpoint their own body parts, The Eve Appeal is using this survey to not only start talking about vaginas (the survey also found younger women were uncomfortable with the word itself), but to spread awareness about gynecological cancers and their symptoms. Gynecological cancers are cancers that affect the female reproductive system, with the disease potentially affecting the ovaries, uterus, cervix, vagina and vulva.
And as the charity points out, if at any point you do feel anything abnormal down there, don't hesitate to check it out.
"We know our own bodies and if something is happening that isn't normal for a person, then they just need to get it checked out; it doesn't mean it's going to be anything bad, but it just needs checking," a spokesperson for the charity told The Independent U.K.
ALSO ON HUFFPOST:
How To Keep Your Vagina Healthy
"Avoid all sprays, lotions and deodorants in this area. It is not supposed to smell like flowers," says Stacy Lyon, founder of natural feminine care products Healthy Hoo Hoo. Some baby wipes and feminine hygiene wipes could lead to irritation. Lyon also says not to use pads and panty-liners everyday to feel fresh. "Constant use causes skin irritation and prevents the skin from breathing in the area."

"The vulva and vagina should be cleaned with a bland bar soap once a day," says Lyon. She also recommends staying away from liquid body washes because they often irritate the vulva area and can lead to burning or itching. Also, you don't have to wash your vagina with a soap-based substance every time you go to the washroom -- over-cleaning can also cause irritation.

Always wipe from front to back. . "Wiping wrong drags butt bacteria forward and it can get in the wrong spot creating irritation and an infection," she says.

Avoid using Vaseline, rubbing alcohol and other heavy-duty lubricants in the area. "Choose water-based lubricants or silicone-based lubricants," she says.

"The main signs of an imbalance are change in odour, discharge, appearance, itching or pain during intercourse," Lyon says.

If you're heading to a waxing salon for a bikini or Brazilian wax, make sure you do your research. "Make sure you're seen by a licensed esthetician and that they don't double-dip the wax application stick."

It's your vagina -- make sure you know everything about it. "I tell ladies to grab a mirror and get acquainted. Look, touch and feel for changes," Lyon says.

Visit your gynecologist at least once a year for a health check-up. You may also want to consider getting a pap smear depending on your age and history.