Calgary Snowstorm Spawns Hilarious Tweets And Memes (VIDEO, PHOTOS)
Canada, spare a thought for Calgary. Summer hasn't officially ended yet and already the city has been blanketed with snow.
But even though the storm has brought the sunny season to a premature end, you really have to respect the people who are trying to keep a sense of humour about the whole thing.
Here are some of the best examples of Calgarians making the best of it on social media.
Calgary had their first snow of the year. This kid won the internet by posting this pic to reddit... pic.twitter.com/hAPPWyZ6qd

— Michael Eckford (@michaeleckford) September 10, 2014
September snow + bored = grumpy snowman army in my front yard. #yyc #abstorm #weather pic.twitter.com/YSNgL37lUu

— Jo Majko (@jpmwd) September 10, 2014
Like what the heck man?😣 #ihatethis #snow #yyc #canada by mouseymis pic.twitter.com/yfnXaUOG8m

— Insta Tag Canada (@instatagcanada) September 10, 2014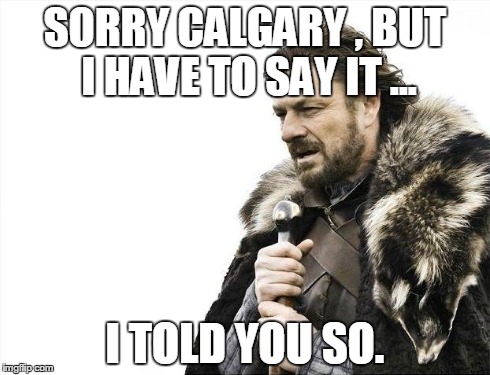 Like Us On Facebook

Follow Us On Twitter

ALSO ON HUFFPOST:
Calgary Snow, September 2014
Calgarians woke up to more than 10 centimetres of snow, snarled traffic and power outages due to a late summer snowstorm on Sept. 10, 2014.

"We have no power because trees are coming down around us ... One went right through my neighbour's sunroof!" - Lisa Foster Welyk via Facebook

Here is where that car was parked ... Notice the power lines holding back the trees ... There is a 2-story house in there!! - Lisa Foster Welyk via Facebook

"My amazing wife has done many brilliant things in her life. Tactically not parking outside our house last night definitely one of the more brilliant." - John Johnston via Facebook

"Our front yard and street" - Brenda Fischer via Facebook

"Woke up to this in Palliser in the SW near Southland Leisure centre" - Bill Lukawy via Facebook

"We have no power. Anyone know how long things take to fix normally?" - Emma Jayne South via Facebook

"This is crazy!!" - Nick Belanger via Facebook

"Tree in my front yard in Cochrane." - Tara Heier via Facebook

"Not good. Here is our street." - Cheryl Janzen via Facebook

The kids sure are loving it! The trees, nosomuch. #Snowtember — Jessica Fielding via Facebook

Power has gone out three times this morn. — Marvin Flaterud via Facebook

Photo: Pamela Tokariuk via Facebook

At least it's pretty. We have no power. — Cheryl Sawin via Facebook

A horse grazes a snow-covered pasture during a late summer snow storm near Calgary on Sept. 8, 2014. Snow fall warnings have been issued for much of the province over the next couple of days.

A driver gets into his car during a late summer snow storm in Calgary on Sept. 8, 2014.

A motorist make her way to her vehicle during a late summer snow storm in Calgary on Sept. 8, 2014.

Think people are joking about this heavy snow bringing down trees in #YYC? It's true. #snowinseptember #CKE

Though the snow may not be welcome... It's great for building snowmen! @nenshi #yyc

Tree branches breaking under weight of snow in Crescent Heights #yyc. Guess they weren't ready for it either.

Also, the trees in Calgary are not happy with all this pre-fall snow.

Hey @nenshi please RT #yyc get out there and broom off your trees! This snow is heavy - Couldn't save the sunflowers

What do you do when life gives you snow in september? Make a snowman of course! #yyc #yycsnomg #snowinseptember

Turn that #snow frown upside down with this snow #selfie ;) #dogsoftwitter #yyc #yycweather #Dog

I made the best out of the snow in #yyc

This is what my babies made today...at least they're pregnant snow women :) #birthbootcamp #yyc #snowinseptember

A little summer snow #yyc #cranes #towercranes

Merry Ho...Ho! Snow in September #Calgary #YYC

When you have snow in summer, trees split in half. The leaves haven't even had a chance to turn let alone fall.

@Colabutt having some fun in the snow ! #yyc #yycweather he doesn't mind

Live footage from Sunshine Village's Great Divide Web Cam

Live footage from Sunshine Village's Monarch Cam

Live footage from the Rock Isle Lake Cam

Screengrab captured of Highway 22 south of Calgary Wednesday morning.

Screengrab captured of Highway 22 south of Calgary Wednesday morning.

Live footage from Sunshine Village's Great Divide Web Cam

NEXT: Things we love AND hate about Alberta's winters

So many ski and snowboard days! Alberta's ski season lasts from November to late May and lots of powder days make it a dream come true from anyone who likes to hit the hills.

It starts snowing so darn early in Alberta! This year's first snowfall came at the beginning of October, which makes for a very long winter. Sigh...

Staying in or visiting the wonderful, old hotels in Alberta, like the Banff Springs or the Chateau Lake Louise, make for the perfect winter staycation.

Having to wash your car about a million times per winter because of all the snow and sand on the roads. It wouldn't be so bad, but often you're out washing your car in sub-zero temperatures. Not very pleasant.

So many gorgeous mountain lakes means Alberta has some of the most picturesque skating backdrops in the world. (This is taken at Lake Louise, where the hotel erects an ice castle on the lake each winter.)

Having perpetually cold fingers and toes is pretty uncomfortable, and often unavoidable no matter how great your gloves and boots are.

Alberta winters are just so beautiful. We're not convinced there's anywhere else in Canada that is as beautiful as the mountains after a fresh snowfall.

Constantly. Being. Itchy. A good moisturizer is a must in Alberta, because our winters are so dry and wreak havoc on your skin.

A dry cold means once you come inside to where it's warm, you can warm up pretty quickly. Very little moisture in the air ensures your clothes don't feel damp, making you feel chillier.

It seems like every year the frost comes a bit too early, leaving at least one or two items in our garden spoiled before we get around to harvesting them.

Winter is the time to take place of the many natural hot springs in and around Alberta. There's nothing like having the heat of the water warm your body while feeling snowflakes fall on your head and face.

The roads. The heavy snow combined with frigid temperatures make Alberta roads really dangerous. People in the province also complain about a lack of plowing, especially on city side streets, making it all the more dangerous if you head out in your car.

Apres ski. There's nothing like hitting up the pub at the base of the ski hill after a long day to rest your tired legs and thrown back a couple specialty coffees or frosty pints of beer. Alberta ski hills throw some pretty amazing apres ski parties throughout the season.

The constant nosebleeds and crusty feeling inside your nose that comes with the bone-dry weather.

The chance to pull out all that crazy, fluorescent ski gear sitting in the back of your family's hall closet and wear it like a badge of honour. It's hard not to laugh when you see someone coming down the ski hill in a bright pink onesie.

Wearing long underwear underneath EVERYTHING. And, yes, that includes your work clothes. Because either you choose to wear them all day and run the risk of being warm while inside, or you choose to take them off when you get there, meaning at some point you will have to take off your clothes at work. Both awkward.

Gushing waterfalls become frozen in time, quite literally. They are gorgeous and sparkly and make a great destination for winter hiking.

Trying to find a place to plug your car in when the temperature drops to -40C.

Surviving a long winter means no one appreciates it more than an Albertan when the summer finally rolls around. We know how to make the most out of ALL the seasons.

Waiting for transit when it snows and the temperatures plummet can be absolutely brutal. It seems like transit systems almost grind to a halt, leaving you standing in the cold forever, being late for work and missing appointments altogether.

Check out these gorgeous photos of Alberta in winter!