Phone, Internet Costs Soar In Canada, StatsCan Data Shows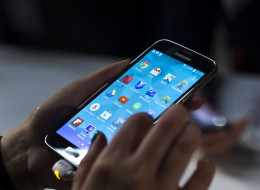 A little more than a year ago it looked like Verizon was coming to Canada, and the big Canadian telcos were busily slashing prices in preparation for the spectre of some serious competition.
Then Verizon said it wasn't coming to Canada, and prices started creeping back up.
Let's rephrase that. Prices didn't creep up; they soared. According to data from StatsCan, the cost of telephone services, both landline and mobile, shot up 7.6 per cent over the past year.
That's more than three times the overall 2.1-per-cent rate of inflation, and it's the largest one-year price spike in more than 30 years, Bloomberg news reports.
Internet users weren't spared either; StatsCan's inflation data shows internet access costs shot up 11.3 per cent over the past year.
(But before you decide to make the shift back to snail mail, it's worth noting that postal services saw costs soar even more — a full 29.2 per cent over the past year.)
The inflation in telecom prices comes as the Harper government pursues an official policy of attracting a fourth major wireless player to compete with Bell, Rogers and Telus, who together have more than 90 per cent of Canada's telecom subscribers.
Two recent events make such a major fourth player more likely. One, Quebecor-owned Videotron recently snapped up some lucrative wireless spectrum across the country, making it likelier the company will expand to offer wireless services across Canada.
Secondly, upstart player Wind Mobile recently underwent a shift in ownership structure that ensures the company will remain operational in the coming years.
However, not everyone believes the relatively high cost of telecom services in Canada can be fixed with more competition. Some recent studies have suggested that there is a limit to how many wireless companies a market can hold, and they suggest many markets can't sustain a fourth, profitable wireless company.
Also on HuffPost:
Canada's Unfair Wireless Prices (2014)
Ten gigabytes of data with unlimited Canada-wide calling and unlimited messaging will run you $75 in Manitoba.

Meanwhile in Ontario, that same 10 gigs of data and unlimited calling and texting will cost you $145 — nearly double the cost in Manitoba.

Telus offers a plan in Manitoba that is just about the same as the Rogers plan mentioned above, and also costs $75.

That same Telus plan with 10 gigs of data will cost you $145 in Ontario. This the same pricing scheme, and the same difference between provinces, as Rogers offers.

In Manitoba, $55 will get you unlimited nationwide minutes and one gig of data.

...But in Ontario, $55 will get you 150 nationwide minutes and only 200 MB of data.

Fido offers unlimited Canada-wide calling and 5 gigs of data for $55, even making a point of highlighting the deal is only available in Manitoba and Saskatchewan.

In Ontario, you can't get five gigs of data and unlimited calling with Fido, but for $20 more per month than the five-gig deal in Manitoba, you can get two gigs and unlimited calling.

Koodo offers five gigs of data and unlimited minutes for $55 in Manitoba.

In Ontario, two gigs of data with unlimited calling will cost you $74, which is $19 more per month than five gigs and unlimited calling costs in Manitoba.

Virgin charges $105 for unlimited calling and three gigs of data in Manitoba.

In Ontario, three gigs of data and unlimited calling will run $105. That's the same as in Manitoba. Congrats, Virgin, on keeping that regional rift to a minimum!