Postmedia Buys Sun Newspapers For $316 Million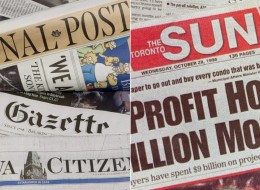 Postmedia, owner of the National Post and numerous daily broadsheet papers across Canada, has announced it's buying Quebecor's chain of 175 English-language newspapers for $316 million.
The buyout will create a newspaper giant in English Canada, with many cities now seeing all their major dailies fall into the hands of one company.
In Vancouver, where the Sun broadsheet and the Province were already both owned by Postmedia, the chain will add the free commuter daily 24 Hours to its roster. In Ottawa, both major dailies will now be owned by the same company, as will the major dailies in Calgary and Edmonton.
In all, Postmedia will buy 175 English-language newspapers from Quebecor, including the Sun tabloid chain. The deal includes the Canoe news portal, a printing plant in Toronto and 34 real estate properties. The $316 million price tag is but a fraction of the $1 billion Quebecor paid for the Sun Media newspapers in 1998.
Postmedia, which has been struggling with quarter after quarter of losses, says it will finance the deal through a combination of debt and raising more money from existing shareholders. In its most recent quarter, the company lost $20.6 million as print advertising revenues continue to decline. The company is more than $470 million in debt.
Postmedia is getting help from its largest shareholder, New York-based GoldenTree Asset Management, which will help finance the sale and will receive 33.5 per cent of the company's voting shares.
Quebecor is also in the red, posting a $93.5 million loss in its most recent quarter.
Postmedia CEO Paul Godfrey said at a press conference Monday that the company plans to continue to operate the Sun Media papers alongside its own.
"Even with the challenges, newspapers are still the creators of the most reliable, detailed and accurate journalism this country relies on," he said.
"We believe this industry is much stronger with the Sun and Postmedia brands together than apart."
He acknowledged that newspapers have been losing audience and advertising revenue to "foreign-based" digital properties, including Facebook and Google. He stressed the "made-in-Canada" nature of the deal, saying it would give advertisers native Canadians alternatives to those rivals.
Godfrey said that he was initially approached by Quebecor media mogul Pierre Karl Peladeau two and half years ago to forge some sort of deal that would have looked more like a merger. When Peladeau decided to get into politics, the purchase of Quebecor papers by Postmedia seemed to be more realistic.
Both companies' boards of directors have approved the deal, which will still need to get regulatory approval.
John Pecman, Commissioner of Competition, said Monday the Competition Bureau will review the deal.
"While media ownership concentration can raise other public interest concerns, under the Competition Act, the Bureau's mandate is to review mergers exclusively to determine whether they are likely to result in a substantial lessening or prevention of competition," he said.
Quebecor will focus on its fledgling telecom business Videotron, its French-language newspapers and the Sun News Network, which has been struggling with millions in annual losses as it repeatedly tries to make its case to the regulator that it is being treated unfairly by cable companies in how it is distributed. Sun News Network was not included in the deal because it was not for sale, Godfrey said. The channel will be able to keep the Sun name under a licensing agreement with Postmedia but will have one year to change its logo.
Quebecor has been unloading its newspaper assets in recent month, finalizing the sale of 74 Quebec weeklies to Transcontinental for $75 million in June.
Its CEO Pierre Dion noted that the deal comes at a time when newspaper revenue has been declining year-by-year as they try to compete with as an onslaught of digital media for scant advertising dollars.
"This transaction therefore comes at a time when the Canadian newspaper business absolutely needs consolidation to remain viable and to compete with digital media," he said.
The CWA Canada union, which includes Sun Media and Postmedia employees among its members, said the deal was "hopeful, troubling and puzzling," citing debt levels at Postmedia and its moves to slash resources and lay off employees.
"On the optimistic side, we hope this means Postmedia will put more money into quality journalism, especially at Sun Media where journalism has been on life support under Quebecor," said CWA Canada president Martin O'Hanlon.

"But the deal sounds instant alarm bells over concentration of ownership, with Postmedia set to hold a near monopoly on English-language newspapers in Canada."
Also on HuffPost:
Stores That May Disappear From Canada
This one, as you are probably aware, is already out the door. Target announced on Jan. 15 it is leaving the Canadian market, having lost some $2.1 billion on its whirlwind foray north of the border.

A few months ago it looked like Jacob was already gone, with the Quebec-based fashion boutique filing for bankruptcy and announcing plans to close all 92 stores. But a Quebec court has given the retailer until later this month to come up with a plan to save some of its stores.

The Canadian division of Sears has been bleeding money and has tried to stanch it by selling off leases to some of its highest-profile locations, not to mention layoffs by the thousands. But those moves didn't stop the retailer from doubling its losses in the most recent quarter. The chain's Chicago-based parent company is mulling selling the Canadian division. But in this era of big box department stores struggling against online retailers, it's hard to see who would buy Sears Canada.

Montreal-based Reitmans said a few years back it wasn't worried about Target's arrival in Canada -- it had survived Walmart and The Gap, after all. Two years later, the retailer that owns numerous fashion chains, including Smart Set, Addition Elle, RW & Co. and Penningtons, is shrinking. The company last year opened 25 new stores, but closed 58. that still leaves it with 878 stores. Profits for the 2013 fiscal year shrank by nearly 60 per cent.

If you've stepped into an Indigo recently, you can be forgiven for wondering whether the retailer still sells books. With e-books and online book retailers putting big-box bookstores under pressure, Indigo is busily diversifying its product offerings to include "lifestyle items" such as candles and gifts, but will it work? Indigo is growing its online sales by the double digits, but they still only account for some 10 per cent of total sales. The U.S. big box bookstore Borders closed a few years back. The idea that Canada's last remaining big box book chain could follow seems less unthinkable with every passing day.

Aeropostale was a growing brand in Canada until about 2012, opening an average of nine new stores per year. But last year it began shrinking, and now has 51 stores in Canada, down from 58. The chain appears to be suffering from a potentially fatal problem: Teens don't think it's cool anymore.

Layoffs at Best Buy Canada and its sister chain Future Shop have numbered in the thousands over the past few years. The CEO of the Minnesota-based company described Canada this spring as a "very, very soft" market for electronics. Best Buy doesn't break out numbers for Canada, but its international division (Canada, Mexico, China) saw sales plunge 10.5 per cent in the first quarter, with same-store sales down 5.8 per cent. The chain is one of the most prominent victims of "showrooming" -- customers coming in to check out products, then buying them at lower prices from an online competitor.

Le Chateau is shrinking. The chain opened one store last year, and closed seven. It now has 228 retail locations, down from 243 in 2011. The company's shares were trading at $15 as recently as 2010; they are now hovering around $1.50.