Jordan Axani Offering Free Trip Around The World, But There's A Catch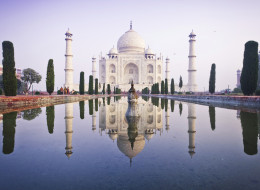 Just months ago, 28-year-old Toronto man Jordan Axani was looking forward to taking a trip around the world with his sweetheart, Elizabeth Gallagher.
Taking advantage of an error on Priceline, they booked a Christmastime trip that would take them from New York to Milan, Prague, Paris, Bangkok and New Delhi before they return home in January.
Then, the couple split up. Gallagher is no longer going on the trip.
Rather than wasting the extra ticket, Axani turned to Reddit and Imgur in an effort to find a "Canadian named Elizabeth Gallagher" who can travel in his ex-girlfriend's place.
Takers must meet the following conditions, "more or less," as outlined in the Reddit post:
1. Be sane, smart and (hopefully) interesting.

2. Have always wanted to travel, but maybe haven't had the opportunity or cash to see much of the world.

3. Be named Elizabeth Gallagher and have a Canadian passport.

4. Be ready for a rather spontaneous life experience that will, one day, be an epic story that you'll tell your kids.

5. Pay it forward. I've been lucky in life and this is me giving back to the universe. Do something similar someday.
Axani said he's not seeking "companionship, romance, drugs, a trade, or to take selfies with you in front [of] the Christmas Market in Prague." Whoever is awarded the trip will have to book their own hotel stays and any travel beyond the flights themselves.
If the taker doesn't travel with Axani, they only place they'll see each other is on the planes.
Speaking to Vice News, Axani said he's generated interest but "no bites that will work."
He told reporter Monica Heisey that people are attracted to "the idea that we can take what would otherwise be a sad situation and make it into something adventurous and positive."
Ultimately, Axani sees the trip as "my own way of putting some good karma out in the world."
Like Us On Facebook

Follow Us On Twitter

ALSO ON HUFFPOST:
CRUISES Cruises have long been notorious for their "single supplements," charges that required single passengers to pay 50 or even 100 percent extra to compensate for their solo status. Norwegian Cruise Line's new studio cabins not only come sans surcharge but also allow access to a singles-only lounge, mostly on boats that depart from New York City. A better upside: Cruising alone means fewer fights over where to have dinner on the way to Bermuda or the Bahamas (Norwegian Breakaway has 38 different eateries on board).

CAPSULE HOTELS When there are two pairs of elbows in a tiny hotel room, someone's going to get hurt. But a single traveler has more options, like New York's two Pod Hotels in Midtown. Single rooms have a twin bed, flat-screen TV, and not much else, ideal for propelling you out on the town. In Tokyo's Narita Airport or in Kyoto, the experience is more extreme: For less than $40, you can get a pod bed at 9 Hours (for, yes, nine hours, just long enough to rest and shower).

TREKKING EUROPE In the crowded Old World, the idea of backpacking is less wild and more cultural. Trek through the country on a multi-day trip and you'll hardly be alone; you'll meet farmers as you cross their fields and sleep in small-town inns every night. The 134-mile John Muir Way is a new route from Dunbar to Helensburgh in Scotland, and hikers get plenty of connection with civilization on a 12-day trip: It passes lighthouses, castles, and, because it's Scotland, golf courses. In Spain, there's the similar and very famous El Camino de Santiago that traces a pilgrimage route.

LEARN A LANGUAGE Travel with a buddy abroad and you'll revert to English most of the time; go alone and you'll be forced to talk the talk. Language immersion vacations can include home stays and hangouts outside of class. Best of all, they can be on the beach in Costa Rica, like Intercultura, or on an island in Panama's Bocas del Toro.

MAN A LOOKOUT Fire lookouts were built, by necessity, on remote, scenic mountain peaks, and many stand empty these days—and ready to rent. In the 1950s, scribes Jack Kerouac and Gary Snyder scored lookout jobs in remote Washington State mountains to use the solitude to write. Today the Forest Fire Lookout Association lists structures available for would-be Beats, including Montana's Garver Mountain in the Kootenai National Forest.

TAKE A SILENT RETREAT The Buddhist practice of quietly meditating dates back millennia, but the need for silent reflection in the face of never-ending online chatter is newer. Facilities in Thailand, such as the International Dharma Heritage of Wat Suan Mokkh, observe complete silence and offer a straw mat and wooden pillow during the 10-day "vacation." At California's Esalen Institute near Big Sur, facilities range from sleeping bags on the floor to private houses with Pacific views and clawfoot tubs, and they host New Year's silent retreats.

DO A YOGA RETREAT Like meditation, yoga is a personal endeavor that benefits from solo practice. Even better, it's something you can do in Hawaii. Join the cooperative spirit at volunteer-run Kalani on the Big Island, where they host a beginner's week for complete newbies. In Bali, Como Shambhala Estate has daily yoga classes in a luxe jungle setting.

HIT THE TRAIL The wilderness is ideal for personal reflection; just ask Cheryl Strayed, who hiked the Pacific Crest Trail by herself, wrote a best-selling memoir, and will be played by Reese Witherspoon in the upcoming film Wild. Fewer than 3,000 people have done the entire 2,600-mile PCT from Mexico to Canada, but hikers can attack shorter sections, like through Oregon's volcanoes. On the east coast, the famed 2,180-mile Appalachian Trail offers similar rustic challenges.

VOLUNTEER People travel alone for many reasons, but not everyone wants to focus on the self. Working vacations give a solo globe-hopper an exterior goal, like surveying coral in the Cayman Islands or tracking penguins in Patagonia as part of Earthwatch's volunteer scientific expeditions. Cross-Cultural Solutions sends volunteers as far afield as India and Brazil for as little as one or two weeks and as long as several months.

TAKE THE TRAIN Why ride the rails alone? If it's anything like Murder on the Orient Express, you'll get to solve a crime along the way. On the modern-day equivalent, the Venice Simplon-Orient-Express from London or the Eastern & Oriental Express from Singapore to Bangkok, you're more likely to get luxury meals. Tight train spaces, club cars, and long stretches of scenery are made for the single passenger.