Christopher Maximilian Sandau, B.C. Hockey Coach, Fired Over Pro-Nazi Facebook Posts
A minor hockey coach in B.C. has been fired after posting images of Nazi propaganda to his Facebook page.
The North Delta Minor Hockey Association relieved Christopher Maximilian Sandau, 33, of his coaching duties on Saturday, reported The Surrey Now.
Sandau's public Facebook profile featured several photos of Adolf Hitler and Nazisim before it was taken down on Wednesday. Images of swastikas had captions such as, "If this flag offends you, you need a history lesson" and "may god be with us and the truth prevail."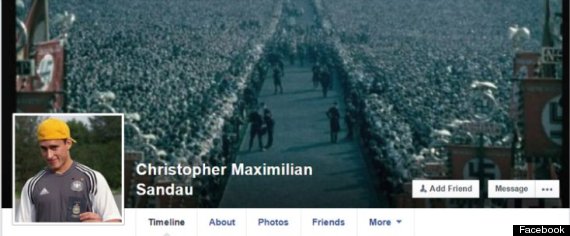 Other posts questioned how many people died during the Holocaust, and accused Jewish people of controlling banks and government.
Sandau's social posts contained "extreme and objectionable material believed to be incompatible" with the hockey association's promotion of good citizenship, said president Anita Cairney in a statement released to media. "The NDMHA requires that our coaches present themselves as positive role models for our children athletes."
Sandau, however, called himself a "history buff" in an interview with CTV News, and said he feels he was unfairly fired.
He said he was a passionate coach who focused on hockey, and "wasn't trying to impose my political beliefs or anything on anyone."
But an unidentified parent told Surrey Now: "You can't be a Nazi and coach kids hockey."
Sandau, who lives in Langley, played professional hockey in Germany, where he visited memorial sites of concentration camps, reported the newspaper. He said the Nazis were "not that evil as we're told."
He also told Surrey Now: "I get it, it's a really touchy subject."
Sandau coached players between 11 to 14 years old, reported News 1130.
CKNW radio host Drex interviewed Sandau on Wednesday evening — and opted not to air it because it was "deeply hateful," he said on Twitter. "I was shocked during the interview, I could not believe what I was hearing."
@mrsurreyjack We decided to not play it, it's deeply hateful & very offensive

— drex (@drex) November 6, 2014
The hockey association apparently told Sandau he could keep his job if he made his Facebook posts private, but he told CTV he turned it down on principle.
Cairney said the association is not commenting any further based on advice from legal counsel, reported The National Post.
Like Us On Facebook

Follow Us On Twitter
ALSO ON HUFFPOST:
The members of a UFO cult called the Raelians have declared June 23 as "World Swastika Rehabilitation Day" and are holding demonstrations to show that the swastika was long considered a positive symbol before the Nazis coopted it in 1920.

Organizers for Swastika Rehabilitation Day say that when Westerners interpret it as meaning something ugly just because the Nazis used it, our society denies millions of people the right to live their religion freely.

Swastika Rehabilitation Day is celebrated in cities all over the world including Tel Aviv, Israel.

Andrew Cochrane....Meet George, the pet fish who looks like Hitler. The five-year-old common goldfish has recently developed an uncanny resemblance to the evil German dictator.

A picture dated 1939 shows German nazi Chancellor and dictator Adolf Hitler with his German Shepherd dog. Research by Cardiff University professor Dr. Jan Bondeson allegedly indicates that Hitler's SS forces tried read, write and speak. The goal was to turn the pooches into the ultimate guard dogs by training them to be able to communicate with their SS handlers.

Philippe Loret, a French plumber, revealed the family's dark secret recently -- that he and his six siblings were the grandchildren of Der Fuhrer. Loret said his father told the family about their ancestry 40 years ago. The connection to Hitler made Loret depressed, although he went public in April 2012 with the story. "In order not to get depressed, I worked non-stop, never took a holiday, and had no hobbies," Loret said in the Telegraph. "For twenty years I didn't even go to the cinema."

There are a lot of far-out stories about Roswell, N.M. -- the site of a supposed alien spaceship crash in 1947. Perhaps the most bizarre conspiracy theory about Roswell concerns Soviet leader Josef Stalin and infamous Nazi scientist Josef Mengele. The duo supposedly teamed up to dispatch children surgically altered to look like aliens to Roswell, according to author Annie Jacobsen's book "Area 51."

Heath Campbell, left, with his wife, Deborah, and son Adolf Hitler Campbell, 3, pose in Easton, Pa. On Thursday, Aug. 5, 2010, a state appeals court determined the Campbells should not regain custody of their children, after the New Jersey Division of Youth Family Services removed the Campbells three children, Adolph Hitler Campbell, 3, and younger sisters JoyceLynne Aryan Nation Campbell and Honszlynn Jeannie Campbell, from their home in Holland Township, N.J., on Jan. 9, 2009, for unspecified reasons.

Cyclists pass by the bungalow on one of the real estates formerly owned by Joseph Goebbels, the Reich Minister of Propaganda in Nazi Germany on the island of Schwanenwerder at lake Greater Lake Wannsee in Berlin, Germany, Wednesday, June 22, 2011. The lakeside property in the German capital once owned by Nazi propaganda minister Joseph Goebbels was up for sale at auction.