Canada's Housing Market Failing Single Women, Mothers, CMHC Data Shows
When it comes to housing in Canada, no one is in worse shape than single women and mothers.
That's according to data released by the Canada Mortgage and Housing Corporation (CMHC) whose latest report, titled "Canadian Housing Observer 2014," shows that women are overrepresented when it comes to "core housing need."
The CMHC defines "core housing need" status as a household whose shelter is lacking when it comes to "adequacy, affordability or suitability."
A household in "core housing need" would also have to spend 30 per cent or more of its income to afford the median rent in acceptable alternative housing.
And while the statistics for single women are improving, the numbers for 2011, the most recent year for which data was available, show they still outnumber other household types when it comes to the need for appropriate shelter.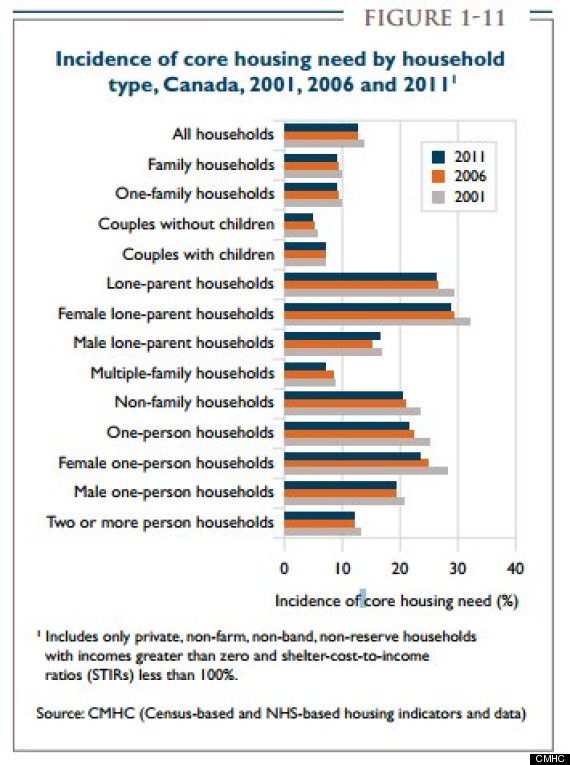 In 2001, for example, 28.3 per cent of "female one-person households" were in "core housing need." That statistic dropped to 23.5 per cent in 2011, but was still above male one-person households, which were at 19.3 per cent.
Meanwhile, 32 per cent of "female lone-parent households" were in "core housing need" in 2001, dropping to 28.7 per cent in 2011. That was still well above the number for "male lone-parent households," at 16.5 per cent.
The report said that the status for single women is "consistent with their relatively low household incomes; couples with, and without, children had the lowest incidences."
CMHC's research also showed that more people are opting to live alone. It identified one-person households as the "fastest-growing housing type," becoming "almost as numerous" as couples with kids, the slowest-growing housing type.
One-person living arrangements made up 27 per cent of all households in 2011. Single women made up just under 15 per cent of all households, compared to 12 per cent for single men.
Couples with children accounted for 29 per cent of all households in 2011, down from 50 per cent in 1971, the Globe and Mail reported.
"This is a very important force: more single people living by themselves, mainly women," Benjamin Tal, deputy chief economist at CIBC World Markets, told the newspaper.
He added that one-bedroom units are "basically what's selling" in Canada's condo markets.
Like Us On Facebook

Follow Us On Twitter

ALSO ON HUFFPOST:
Best Real Estate Markets For Long-Term Investment
Source: Grosvenor

Source: Grosvenor

Source: Grosvenor

Source: Grosvenor

Source: Grosvenor

Source: Grosvenor

Source: Grosvenor

Source: Grosvenor

Source: Grosvenor

Source: Grosvenor

Source: Grosvenor

Source: Grosvenor

Source: Grosvenor

Source: Grosvenor

Source: Grosvenor

Source: Grosvenor

Source: Grosvenor

Source: Grosvenor

Source: Grosvenor

Source: Grosvenor

ALSO ON HUFFPOST: THE COOLEST HOUSES FOR SALE IN CANADA, FALL 2013

This newly-built home just northwest of downtown Calgary not only looks cool and has excellent views of the city, it features some pretty slick amenities, such as built-in kitchen appliances, a 1,500-bottle wine cellar and five bedrooms across 5,300 square feet of living space.

This house in Montreal's old-money Westmount area was built in 1857 and, with its awesome wrap-around porch, may be the coolest heritage residential building for sale in Canada right now. It's actually three units -- a main house, a townhouse in the back and what's referred to as the "well house." Three bedrooms and two baths in the main house.

Can you say house with a view? This four-bedroom property features not only one of the best views out of anyone's living room window in the country, it also has an outdoor pool, sunk slightly below house level, with views all its own. Four bedrooms and an elevator in this house the realtor describes as an "amazing entertainment home."

Located in Vancouver's (now) prestigious neighbourhood of Kerrisdale, this house is described by the realtor as "an expression of West Coast Modernism." We're not sure what that means, but this house's situation next to an elegant outdoor pool is certainly eye-catching. Four bedrooms on 5,200 square feet of living space.

The coolest thing about this house is the location -- look at where it's sitting! Not for the faint of heart, this eight-year-old house sits perched 90 feet above the Atlantic Ocean on the Nova Scotia coast. Five bedrooms in this property that sits on 16 acres of land.

This house may look like a remade 19th-century train station, but look carefully: There's a two-car garage on one side. The house is actually only four years, and situated in pleasant Bedford, outside Halifax. The house features an elevator to the second floor, and a master bedroom with fireplace and six-piece ensuite bathroom.

Designed by Ottawa architect Barry Hobin, this 3,300-square-foot house near the city's ritzy Rockcliffe Park neighbourhood features a sixty-foot-high domed skylight and some pretty non-standard layouts.

From above, this house is shaped almost like a hexagon, but that's not the only cool thing about -- it's also located on an outer beach not far from St. John's. Dubbed "Burnt Island," the property is made of red cedar log and features three bedrooms in 3,100 square feet of living space.

This house's a unique take on the Roman column look is certainly controversial, but for those who do like the look, the home is a winner. Twelve thousand square feet of living space in this house with seven bedrooms, including two loft bedrooms, a rec room, an exercise room, a sauna and a wet bar.

The realtor describes this as a "modern day Mad Men entertainer's home," and there is definitely something "retro-modern" about this three-bedroom, 4,200-square-foot bungalow. The house has a "covered outdoor living room" -- only in Vancouver could you find that in Canada -- that features a pool with a hardtop.

This house that the realtor boasts was featured in Architectural Digest is something increasingly seen in the dense inner cores of Canadian cities -- modern architecture reflecting the traditional houses nearby. Promos for the house promise a "New York Upper East Side feel" in this five-bedroom property.

It may not look it from its industrial-modern design, but this house is, according to the realtor, a ravine oasis. Located in the city's upscale Lawrence Ave. area, the house features a 23-foot ceiling in the foyer, a glass spiral staircase, an indoor squash court and a sauna on 5,100 square feet of living space.

Not many pictures available of the exterior of this house, but just look at this pool! Possibly the awesomest indoor pool in a private residence in Canada. The rest of the house ain't bad, either: 12,000 square feet of living space, with nine bedrooms and 10 baths, a 25-foot-high ceiling at the main entrance, and underground car parking.

This is a huge house -- more than 8,500 square feet of living space. Besides the eye-catching front entrance, the house features a 22-foot barrel vaulted entrance and more than 500 feet of private waterfront. There's also a three-car garage.

The realtor promises an "indoor and outdoor lifestyle" in this oceanfront house in West Van. The house's three levels overlook a central atrium and the lower level features a heated swimming pool and jacuzzi. The house has an elevator, naturally, and a boat ramp.

Located about 100 kilometres outside Montreal, this summer "cottage" is located on a private peninsula on Lac du Nord. The house features an infinity pool, a wine cellar, and a movie theatre. And oh yeah, there are bedrooms too, six of them.