New Victoria Mayor, Lisa Helps, Declines To Pledge Allegiance To The Queen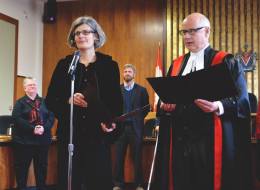 The new mayor of Victoria, B.C. declined to pledge allegiance to Queen Elizabeth II during her inauguration, sparking controversy during her very first day on the job.
Lisa Helps, who was sworn in on Thursday, is the city's second female mayor and its first to avoid the oath to the Crown, said CHEK News.
"I have nothing against the Queen, but I do strongly support our Songhees and Esquimalt nations," Helps said after the meeting, reported Global News. "This is their territory, and if there's anything to emphasize, it's that."
Helps' inaugural address, which outlined the ways she planned to increase community collaboration, made this clear.
"Mayor [Alan] Lowe started a close protocol relationship. The Songhees and Esquimalt Nations are on fire right now in many, many ways, particularly with regard to economic development and we need to support, partner, and collaborate with them as they continue on their journey," she said.
However, Helps did take the oath three years ago when she was sworn in as a city councillor.
New council members Marianne Alto, Ben Isitt, and Jeremy Loveday also declined to say the oath this week, according to Kelowna Now.
While swearing the oath of office is required, council members do not have to swear an oath of allegiance, Rob Woodland, Victoria's director of legislative and regulatory services, told the Times Colonist.
But Helps' omission has caused a stir among monarchists, who pointed out Helps' close win over former mayor Dean Fortin last month.
"I'm pretty sure there's more than 89 monarchists who voted for Lisa Helps who would not have voted for her if she had been upfront about our recent position," Bruce Hallsor of the Monarchist League of Canada told Global.
Others had the same thought.
Does @lisahelps know she won the last election by less than 100 votes? Does she think her stunt is going to INCREASE that margin? #yyj

— Nathaniel Carnegie (@Nat_Carnegie) December 5, 2014
But some wondered why Helps' pledge — or lack thereof — was the focus of her inauguration.
@cfax1070 The fact we're spending even one second debating why @lisahelps didn't pledge allegiance to the queen is beyond belief.

— Kathy, Kath or Kate (@kathyinbc) December 4, 2014
@cfax1070 And I'm a flippin' monarchist. C'mon. More important issues. Plus @lisahelps just delivered excellent opening remarks. Cover that.

— Kathy, Kath or Kate (@kathyinbc) December 4, 2014
@lisahelps I honestly had no idea people felt so strongly about the queen! Lovely speech. I hope the content wasn't missed.

— Kristy Westendorp (@BettieBikes) December 5, 2014
And Helps agreed.
"Today I affirmed an oath to serve my community with integrity," she Tweeted on Thursday. "This is what today should be about."
Like Us On Facebook

Follow Us On Twitter
EARLIER ON HUFFPOST:
Two-term mayor Ernie Daykin came third behind winner and newcomer Nicole Read, who has worked as a project manager for the Truth and Reconciliation Commission.

Kitimat councillor Phil Germuth is the new mayor in a landslide victory over second-place Trish Parsons, and mayor Joanne Monaghan.

Lisa Helps unseated Victoria mayor Dean Fortin by fewer than 100 votes. The city councillor also beat former Liberal MLA Ida Chong, who came third. Her platform was heavy on homelessness and affordable housing, and voters may have been frustrated over delays to the Johnson Street bridge.

Former councillor Jonathan X. Cote, 35, unseated four-term mayor Wayne Wright, 71.

Popular longtime mayor Dianne Watts supported party colleague Linda Hepner's campaign to succeed her. Watts stepped down to pursue federal politics.

City councillor Harry Braun beat incumbent Brian Banman by 600 votes.

Andy Adams, who has been a Campbell River councillor since 2005, beating mayor Walter Jakeway by 121 votes.

Richard Atwell, who campaigned on sewage treatment, upset mayor Frank Leonard, who has led the municipality for the 18 years.

Former MLA Randy Hawes (pictured with his wife) returned to the Mission mayor's chair, beating first-term mayor Ted Adlem. The incumbent was entangled in an email blackmail scandal days before the vote. Hawes was Mission mayor for three terms, before he served three terms as an MLA.

Colin Basran, a realtor and former TV journalist, was also a Kelowna city councillor. Backed by outgoing mayor, Walter Gray, Basran beat former mayor Sharon Shepherd.

City councillor Lyn Hall defeated former three-term councillor Don Zurowski. Outgoing mayor Shari Green opted to seek a federal Conservative nomination.

Incumbent John Ruttan wound up in fourth spot, while councillor Bill McKay is his successor.

NEXT: B.C. "I Voted" Stickers, 2014

Send us your "I voted" B.C. sticker. Or tag #HuffPostBC on Instagram or Twitter.

NEXT: Unusual B.C. Municipal Election Candidates

Changes the Clown is running for mayor of Victoria, B.C. as a way to raise awareness of child poverty. He is campaigning for an affordable childcare program and a living wage policy. Changes, whose real name is Rob Duncan, is a social scientist with a PhD in developmental psychology.

Sylvia Gung, who is running for Burnaby mayor, wants to ban kissing and holding hands in public. In her second attempt at the office, Gung is pledging to establish a "wholesome society."

Ben James, 30, is running for Kamloops mayor because he's "bored." "I've got nothing else to do and Kamloops needs a new mayor. We need some fresh blood in this town," said an unemployed James, who is known for pikcing up dirty syringes around a park.

In her candidate's statement to be Vancouver mayor, Cherryse Kaur Kaiser writes: "I live in the utter udder bliss of my Milky Way Universal breast vortex.... We're having an absolute blast and in the quiet of your heart, you'll feel your wild in you waking up into your Living Organic-Oneness Vortex-to-Vortex-to-Vortex-Enjoyment-Endearment-Embodyment-Empowerment-Enlightenment. My job on earth is to invite you into the bliss. I'm a concert pianist with a masters of theology well versed in our shared pain."

Obi Canuel, 37, an ordained minister in the Church of the Flying Spaghetti Monster, is running for Surrey city council. He has been in the news because he lost his driver's licence for his insistence on wearing a pasta strainer in his photo.

John Bjornstrom, who was a fugitive from police for two years is running for mayor of Williams Lake, B.C. He earned the title "Bushman of the Shuswap" because he survived on food and items he stole from cabins in the Shuswap Lake area.

"I've sold cannabis for a little while off and on," Mike Hansen, who is running for Vancouver mayor, told 24 Hours. "That's the only way I could run the campaign is if I had a few extra bucks in my pocket, because I'm in the poverty level." This is his sixth time running for political office in Greater Vancouver, said the newspaper.

Peter Kent, a professional stuntman running for council in Squamish, is promising to set himself on fire if the district's voter turnout improves in November's election.

Kent was Arnold Schwarzenegger's stunt double in several movies, including "Terminator" and "Commando."

Nicole Joliet is a trans woman running for Surrey school trustee. "I have no credentials beyond having graduated high school rather recently and thus having a rather good idea of the deplorable conditions currently existing in B.C. schools," she writes on her campaign Facebook site.

NEXT: Fun Facts About 2014 Vancouver Mayoral Candidates

The veteran newsman is used to monitoring politics behind the scenes as a senior editor at The Vancouver Sun, CTV, Canadian Press, and National Post. He was also CBC ombudsman from 2010 to 2012 and is currently a journalism professor at UBC. LaPointe, 56, was born in Toronto and raised by a single mother. Here are five things you may not know about him.

"I am a goaltender for three hockey teams. They are rooting for me to win the mayoralty, I suspect, so they can find someone to replace me. I suppose I will take the support wherever it is."

"I am an avid music fan. It started by seeing The Beatles at age six. I have seen hundreds of concerts and, because I was a music writer in earlier journalism days, interviewed hundreds of musicians. I try to stay current." (Lapointe is seen here with radio personalities from The Kid Carson Show on SONiC.)

"I coach girls softball, a team called Blue Thunder, having coached them from Mites level into Midget over seven great seasons. It's the best time of year. The vibe is fantastic."

"I have run nine marathons and more than 100 10K races, none of them in the first one-third of the finishers. I have run for 32 years and have missed a birthday run only once in that time. I used to be upset when I was called a jogger; now I'd consider that an upgrade."

"I know one good magic trick. I teach it every year to journalism students because it involves choosing a word from the newspaper, writing it on a slip of paper, handing that paper to someone, then having another person choose the same word. Only two people have figured the trick out when they've seen it."

Born in North Vancouver, Gregor Robertson previously served as a B.C. MLA. He's been running the city since 2008, and is gunning for a third term in the November municipal election. Here are some surprising facts you may not have heard before.

He sailed a 40-foot wooden sailboat across the Pacific Ocean to New Zealand on a boat he helped restore and build himself.

He's played soccer all his life.

Here he is practising with the Vancouver Whitecaps.

He used to be an organic farmer on an acreage near Fort Langley.

His favourite meal in general is spicy Chinese or Mexican food.

He co-founded Happy Planet, a successful multi-million dollar B.C. juice and natural foods company. The soups are his favourite Happy Planet product.

He's a distant relative of Norman Bethune (the mayor's full name is Gregor Angus Bethune Robertson). His grandmother was a first cousin to the Canadian doctor who brought modern medicine to rural China.

He plays the drums...

... and the tuba.

The community organizer, who currently works with Vancouver Coastal Health, was born in China and spent part of her childhood in Hong Kong. She moved to Canada as an international student when she was 19. If elected, Wong would be Vancouver's first female mayor, as well as the first Chinese person in that role. Here are some fun facts she shared with HuffPost B.C.

She started EcoMinds, a group that promotes better mental health through gardening.

She's a member of the Gung Haggis Fat Choy dragon boat team.

She lists kayaking and hiking in Haida Gwaii as one of her favourite vacation pastimes.

She's huge fan of Batman because he "fights injustice in Gotham City."

"Live simply. Love generously. Care deeply. Speak kindly."