Women On Canadian Money May Finally Be Possible With Confederation Bank Note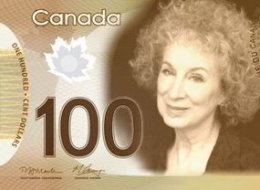 The Bank of Canada wants Canadians to help it design a bank note to celebrate the 150th anniversary of Confederation.
This may finally be an opportunity to put Canadian women on the country's money.
The bank has issued a call out to Canadians to "propose ideas for the design of a new bank note," according to a Friday news release.
Canadians can submit their ideas on a web page titled "New Bank Note for Canada's 150th" for a bill that is set to be available by Canada Day, 2017.
There are two requirements: designs must adhere to the bank's principles for how bills appear, and they have to represent the 150th anniversary of Confederation.
That makes things a tad narrow when it comes to women — especially given that the "Fathers of Confederation" are credited with founding this country.
But there are plenty of Canadian women who ought to be eligible to appear on bills, and just because it's Canada's birthday it doesn't mean they can't be considered alongside the fathers.
Victoria-based historian Merna Forster has long worked to highlight women's contributions to Canadian society.
Last year she started a Change.org petition calling on the Bank of Canada to put women on bank notes.
This year she started a website, "Women on Canadian Banknotes," where the public was invited to design $100 bills featuring women.
Here are a few ideas that the website helped to generate.
Laura Secord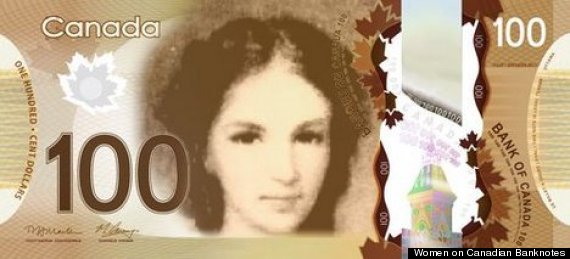 She walked over 30 kilometres to warn British commander James FitzGibbon of an imminent American attack at Beaver Dams during the War of 1812. FitzGibbon and the British later forced the Americans' surrender. Surely Canada wouldn't be the same without Secord's contribution.
Agnes MacPhail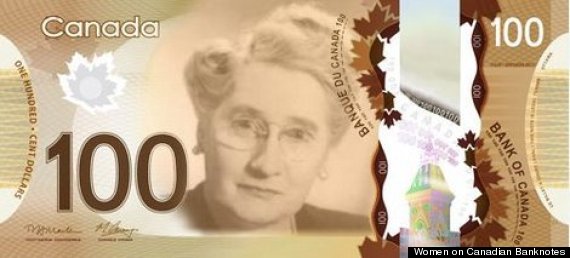 She was the first female ever elected to Canada's House of Commons, blazing a trail for all women who would come after her. She'd be a forward-looking option on Canada's 150th birthday.
Emily Carr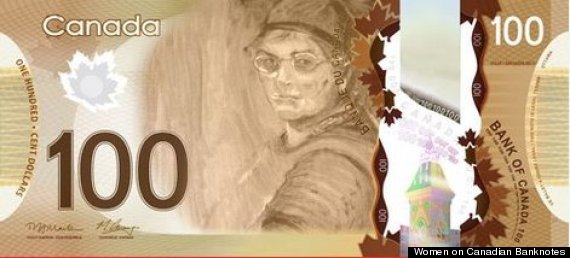 One of Canada's most famous artists has helped raise awareness of First Nations on the Pacific Northwest through some incredible paintings that depict the region's unique geography and culture.
Here are some more suggestions that people have made for putting Canadian women on the country's money:
Women Who Could Be On New Canadian Bill
This gallery shows a series of photos of women that people have suggested should appear on Canadian currency. "Anne of Green Gables" is not a historical person, but is nevertheless an important one. She's the titular protagonist of Lucy Maud Montgomery's novel about an orphan girl who is sent to live on a farm on Prince Edward Island.

Former Supreme Court of Canada judge and High Commissioner for Human Rights at the United Nations.

Celebrated author behind works such as "The Handmaid's Tale" and the "MaddAddam Trilogy."

Canada's first female astronaut. Second Canadian astronaut in space.

Canada's first female prime minister.

One of Canada's most famous painters, responsible for works depicting Pacific Northwest settings such as "Big Raven."

Former auditor-general of Canada, responsible for a report on the Sponsorship Scandal which played a role in the eventual toppling of the Liberal government.

Former governor-general of Canada.

The first woman ever elected to Canada's House of Commons.

Chief Justice of the Supreme Court of Canada.

Canadian folk singer respected the world over for songs such as "Both Sides, Now."

Author of "Anne of Green Gables" and other literary works.

Former teenage dance-pop artist who would go on to record as an alternative musician, topping the charts with hits such as "You Oughta Know" and "Ironic."

Nobel and Giller Prize-winning author of short-story collections such as "Open Secrets," "Runaway" and "The View from Castle Rock."

This country music artist is the first ever Canadian woman to attain gold record status in the United States.

The first female to serve as governor-general of Canada.

A prominent figure in the War of 1812, Laura Secord is known for walking an enormous length to warn James FitzGibbon that the Americans planned a surprise attack on a British outpost.

The first woman to practise medicine in Canada, and a suffragette.

Known as a "conductor" of the Underground Railroad, Tubman escaped slavery in the U.S. and helped hundreds of slaves to freedom in Canada and the Northern states.

Canadian country and pop music star, famous for hits such as "Man! I Feel Like a Woman."

Four-time Olympic gold medal-winning hockey player.
Like Us On Facebook
Follow Us On Twitter