Santa Gives Child An AR-15 Rifle In Latest Ad From Canada's Gun Lobby
Canada's answer to the NRA is celebrating Christmas this year with an ad that features Santa giving a child the same weapon used in the Sandy Hook school shooting.
The image has been shared this week from the National Firearms Association's Facebook page and by its executive vice president Shawn Bevins on Twitter.

The "no compromise" slogan positioned beside Santa is a longstanding NFA tagline that refers to the group's goal of repealing the gun-control legislation passed in the wake of the Montreal Massacre.
"Don't shoot your eye out kid!" is a reference to the 1984 film a "Christmas Story" in which a young boy wants a BB gun for Christmas. Little Ralphie's family tells him he can't have the rifle he wants because he'll shoot his eye out with it. On Christmas morning, Ralphie get the gun from his father and promptly almost shoots his eye out. The film ends with Ralphie lying in bed cradling the gun he so desperately wanted.
The weapon featured in the NFA ad is not the Red Ryder BB rifle that Ralphie almost loses his eye for, but a Windham AR-15. The type of weapon is clear because it was identified by the NFA itself in a Facebook comment.
A gun that looks a lot like the AR-15 was also featured on an NFA T-shirt that landed Justice Minister Peter MacKay in hot water earlier this year.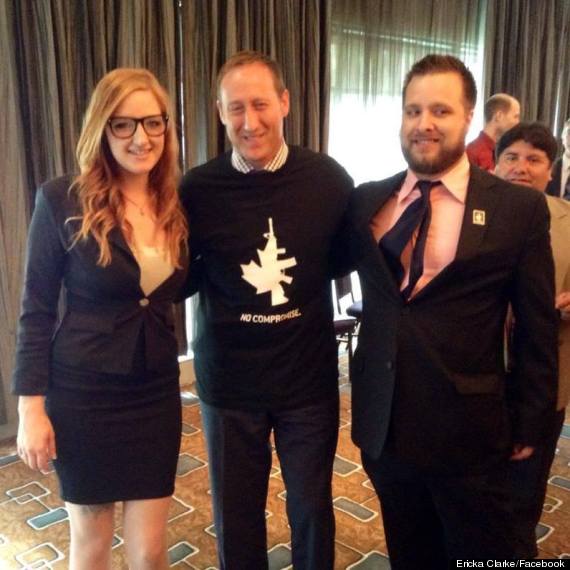 The AR-15, which is manufactured by a number of different companies, is the semi-automatic version of the U.S. military's M16. Sandy Hook gunman Adam Lanza used an AR-15-style Bushmaster semi-automatic rifle when he shot and killed 20 children and six adults in December of 2012.
Lanza's mother Nancy, a gun enthusiast, often took her children to gun ranges. She wrote Adam a check to buy a pistol as a Christmas present in the days leading up to the mass shooting. On Dec. 14, Adam murdered his mother while she lay in bed before travelling to the Sandy Hook elementary school and killing 25 others.
The AR-15 is a restricted firearm in Canada and is therefore very difficult to acquire, something the NFA would like to change. Earlier this year, the group publicly argued that the murder of three Mounties in Moncton was evidence that Canada's gun laws are "excessive."
The question of whether children should be given access to guns made headlines earlier this year when a 9-year-old girl accidentally killed her shooting instructor with an Uzi.
Guns are regularly marketed to children in the United States. Keystone Sporting Arms has a specific model, the Crickett, which it markets to kids. Ads for the weapon feature a cartoon cricket and the company even makes a pink version aimed at girls.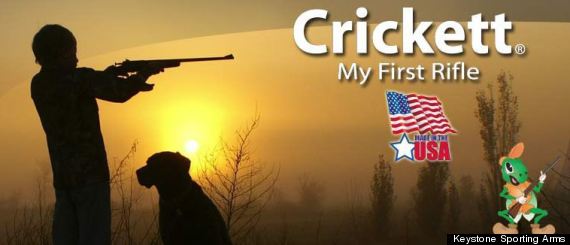 Last year, a five-year-old boy in Kentucky shot and killed his two-year-old sister with the Crickett rifle he received as a birthday present.
Sixty Canadians 19 years of age and under died in firearms-related incidents in 2011, according to Statistics Canada. The vast majority of those deaths, 42, were the result of suicide.
RELATED ON HUFFPOST
Prime Minister Stephen Harper shoots .303 Lee Enfield rifle in Gjoa Haven, Nunavut on Tuesday, August 20, 2013. The prime minister, who was on his annual tour of the North, is no stranger to the rifles. During a previous visit, Harper got down on the ground, sniper-style, and fired off a few shots during target practice with the Rangers.

Former NDP Leader Jack Layton poses on a naval vessel.

FILE - In this Sept. 1, 1994 file photo, George W. Bush looks to the sky during a dove hunt in Hockley, Texas during his first Texas gubernatorial campaign. (AP Photo/File, David J. Phillip, File)

In this photo released by the White House, President Barack Obama shoots clay targets on the range at Camp David, Md., Saturday, Aug. 4, 2012. (AP Photo/The White House, Pete Souza)

Democratic presidential candidate Senator John Kerry (D-MA) checks out a shotgun before trap shooting September 4, 2004 in Edinburg, Ohio. (Photo by Mark Wilson/Getty Images)

Sen. Ted Cruz, R-Texas, walks through tall grass during a pheasant hunt hosted by Rep. Steve King, R-Iowa, on Saturday, Oct. 26, 2013, in Akron, Iowa. (AP Photo/Nati Harnik)

Texas Governor Rick Perry fires a six-shooter revolver in downtown Fort Worth during a promotional event with Texas Motor Speedway on April 15, 2010 in Fort Worth, Texas. (Photo by Tom Pennington/Getty Images)

Sen. Ted Cruz, R-Texas, right, talks with Rep. Steve King, R-Iowa, after a pheasant hunt hosted by King on Saturday, Oct. 26, 2013, in Akron, Iowa. Cruz attended the Iowa GOP's annual fundraising dinner in Des Moines, Iowa, on Friday. (AP Photo/Nati Harnik)

US Senator Tom Coburn (R) holds a gun given to him by US Senate Minority Leader Senator Mitch McConnell during the American Conservative Union Conference on March 6, 2014 in National Harbor, Maryland. (BRENDAN SMIALOWSKI/AFP/Getty Images)

U.S. Senator Dianne Feinstein (D-CA) grabs an AK-47 during a press conference at the Los Angeles Police Department headquarters in downtown Los Angeles 21 August 2003. Senator Feinstein, Governor Gray Davis and Los Angeles law enforcement officials urged the U.S. Congress to extend the ban on assault weapons. (HECTOR MATA/AFP/Getty Images)

Republican presidential candidate, former Pennsylvania Sen. Rick Santorum celebrates after he shot a bird during a hunt at Doc's Hunt Club in Adel, Iowa, Monday, Dec. 26, 2011. (AP Photo/Chris Carlson)

Republican presidential candidate, former House Speaker Newt Gingrich (R) holds a Ruger rifle that he signed as Ruger's Vice President Tom Sullivan (2ndR) looks on during a tour of the Ruger Firearms manufacturing facility January 06, 2012 in Newport, New Hampshire. (Photo by Matthew Cavanaugh/Getty Images)

NEXT: U.S. Chains That Have Banned Guns

Whole Foods has a national policy that bans guns in stores, but not in parking lots, a spokeswoman told The Huffington Post. The policy extends at least as far back as 2001, but may be even older, she said.

Ikea has a no arms policy that's posted in its stores, according to a company spokesperson.

Starbucks' competitor Peet's Coffee doesn't allow guns in stores or in its outside seating areas, a spokesperson told HuffPost.

The movie theater chain bans patrons from bringing guns in theaters, a spokesperson told HuffPost in August.

California Pizza Kitchen prohibits patrons from having guns in restaurants unless they're uniformed officers, a spokesperson told the San Francisco Chronicle earlier this year.

The toy chain prohibits customers from bringing guns to stores, according to CNN.

Buffalo Wild Wings doesn't allow customers to carry guns in its restaurants, a spokesman told HuffPost. They first enacted the policy in 2009.

Weapons of any kind are banned at Disney World and Disney Land, a spokesman confirmed to HuffPost.

NEXT: U.S. Places That Also Sell Guns

Hopefully both are far away from the day school.

We're not sure what's weirder: the fact that there's a drive-thru or that liquor/gun gift baskets exist.

Because nothing says "I love you" more than this.

So THAT'S why RadioShack is still in business.

For all your shotgun wedding needs.

Sadly, the asterisk next to Free Handgun* doesn't lead to a message at the bottom that says, "Just kidding."

A dozen roses can only say so much.

Which of these things is not like the others?

Because nothing goes together like whiffle ball, two-by-fours and guns.

Dont' forget your free tickets to the magic show!

In a rustic barn setting no less.

Sorry, if you need your liquor and guns BEFORE 10:00 a.m., you're out of luck.

If you want a gun with a terrible history, this is your place.

They used to have a lot more guitars, but they had to sell them for more guns.

He was going to go with "Semi-Automatic Supermarket" but it didn't fit on the sign.

Now you can put all your dangerous impulses to good use in one place.

Yeah, but do they have a gun made out of gold though?