Cough Treatment: 11 Ways To Get Rid Of An Annoying Cough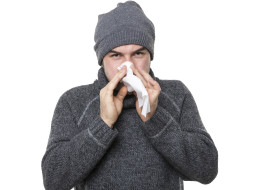 If you feel like this year's flu season is rougher than usual, it's not just your imagination.
Research company Gallup discovered more Americans reported having the flu or a cold in December 2014 since 2008, making it one of the worst flu seasons to date. Google also reported a big spike in flu-related searches around mid-December, which means that a lot of us are still getting rid of a lingering illness.
But one of the hallmarks of this cold-and-flu season is that cough that just won't quit. It can be incredibly frustrating to still be coughing for weeks after you otherwise feel better. It can also make it tough to sleep, which makes your recovery even rougher.
If your cough lingers for four weeks or longer, if you are coughing up blood, or if you have other symptoms like chills or fatigue, see your doctor right away. In these instances, it could be more than the flu, and you might be dealing with a condition like asthma or even acid reflux.
But if you need a little help shaking off the cough that hangs around after a winter cold or flu, read on—we've got the lowdown on 11 ways to help.
11 Ways To Get Rid Of Your Cough
It seems obvious, but it can be easy to forget this time of year— after all, we're not sweating buckets like we do in the summer heat. Keeping on top of your intake of fluids is important, especially considering how dry the air can be inside during the winter. Also, if you have postnasal drip, you could end up with extra secretions dripping down your throat, causing irritation and sometimes coughing. Water and other soothing liquids will help with that, WebMD reports.

This mixture contains three throat-soothing ingredients and actually taste good. Make a big batch so you can keep it in the fridge and heat up a mug as needed. You can give this one to kids too, but remember that honey isn't safe for children younger than one year because of the small risk of botulism.

If nothing else, a lingering cough provides a great excuse to have a long, steamy shower. The heat in the shower can loosen secretions in your nose, which can help prevent or ease a cough, and might also soothe your sore throat. Put a few drops of eucalyptus or menthol essential oil on the shower floor (but never directly on your skin), to up the effect. And if you don't feel up for a shower, boil some water, put it (and those essential oils) in a bowl, and hover your face over it with a towel above your head to get the same effect.

Real liquorice, that is. Liquorice root has shown throat-soothing properties in studies, and tea is a great way to take advantage of that.

Many cough drops are medicated, which means that you can't take too many of them. These homemade drops are a great option to use when you've hit your limit on Halls.

For cutting down on nighttime coughing some parents swear by slathering a sick child's feet in Vicks VapoRub before bed, then putting a pair of cotton socks on top of it. Make sure to use a rub without menthol on children younger than two —try Green Beaver's Aromatic Chest Rub.

We don't know if the science behind this is solid, but if nothing else, bourbon is delicious. This one is only for adults, obviously!

If you need a really quick solution, stick a spoonful of honey in your mouth. One study found that two teaspoons of honey at bedtime helped suppress coughs for kids two and older — good news for kids who are old enough for honey but too young for traditional cough medicines. That doesn't mean that adults can't give it a try too. You can also sweeten your regular tea with honey to get a similar effect.

Remember what we said earlier about dry winter air? Electric heat can really suck the moisture out of your throat and nasal cavities, which just makes an already existing cough and sore throat even worse. Running a humidifier will help put some moisture back in the air, and is a particularly good idea overnight. If you use a hot-air humidifier, keep it somewhere high up so kids won't burn themselves on the steam.

WebMD reports that some seemingly innocuous household items like room deodorizers, can actually make a cough worse by irritating your sinuses and producing extra mucous. If somebody smokes in your house, make them stop — it's terrible for your nose and throat at any time, let alone when you're sick. (And if you smoke, stop!) You can also try an air filter if you find that nasal or throat issues continue.

All of these non-medicinal solutions can make a difference, but sometimes you need to bring in the big guns. And there's no shame in taking some medicine to get some relief... or some sleep. Talk to your pharmacist about which medicine might be best for your particular cough, and remember that cough medicines aren't advised for children younger than four.