16 Things You Won't Believe Canadians Have Done To Survive Winter
We're deep into winter now, and there's no question that snowstorms create inconveniences.
But Canadians, we know how to cope. When winter bears down on the Great White North, ingenious residents can still find all sorts of creative ways to take advantage of the cold and snow.
We may whine, but we also endure. Here are a few things that Canadians have done to survive the winter season.
They've built an ice castle on a lake.
They built their own ice castle! This is being resourceful in #sask http://t.co/GDpqiuo37r @SheilaColesCBC pic.twitter.com/aAG0G5YlZp

— Tiffany Cassidy (@tiffcassidy) January 25, 2015
Actually, they've built numerous ice castles.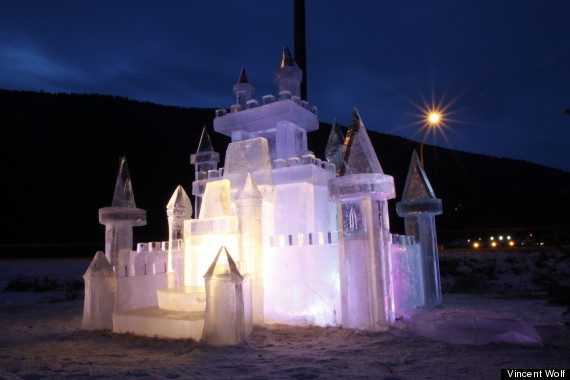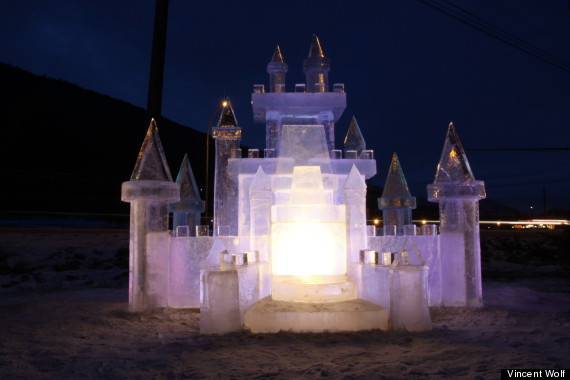 They've taken shelter in a colourful igloo.
They've made a HUGE snowman ...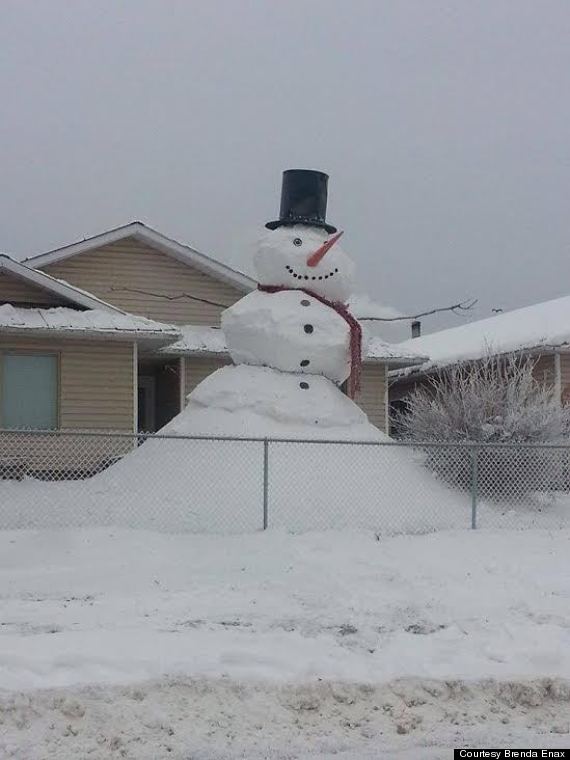 An army of snowmen ...
"Tens of thousands." "But, my lord, there is no such force!"
Snow Man Army, Canada pic.twitter.com/mJeHq06N4g

— Earth Pictures™ (@EARTHPlCS) December 8, 2013
Or "singing" Easter Island statues.
Forget frosty! Waterloo teacher fills lawn with Easter Island snow sculptures, and names them http://t.co/qEO7BRhIeD pic.twitter.com/EctN0oDiWA

— CBC Radio (@cbcradio) January 20, 2015
They've stood in a self-heating bus shelter.
Or done snow yoga.
They've built a backyard luge track.
And a seriously awesome backyard hockey rink.
No, we mean SERIOUSLY awesome.
They've proposed a city skateway.
Or just skated on the sidewalk.
They've built a giant wall of snow ...
They've become sculptors ...
Cool down from the summer heat with this snow sculpture by the Yukon Canada Int'l Snow Carving Team. Credit Don Watt. pic.twitter.com/KOpMKc1F58

— AcuRite (@AcuRite) July 25, 2014
Amazing snow sculpture at Festival du Voyageur - Winnipeg, Canada pic.twitter.com/eFS4mB87sj

— Louise Botha Artist (@lbpaints) February 20, 2014
@VWC_Society snow sculpture competition brings out the beast @ExploreBC @ExploreCanada @ctccct #skiBC @TourismVernon pic.twitter.com/UJUjBOxHeW

— SilverStarMtnResort (@SilverStarMR) February 9, 2014
Snow sculpture #Snow #Winter #Manitoba #Canada #Sculpture #FestivalduVoyageur #Winnipeg pic.twitter.com/MrdFt21R

— Eldon Zigarlick (@Fearless13Z) February 19, 2013
Or they've shovelled shirtless in -10 degree weather (that's Celsius, of course).
In any case, Canadians endure. But they also know how to have fun doing it.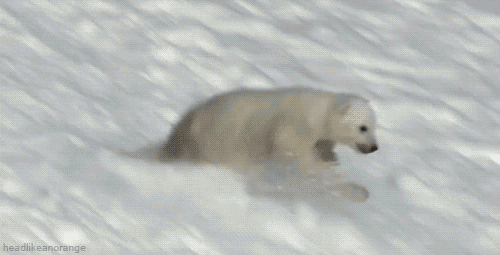 Like Us On Facebook

Follow Us On Twitter

ALSO ON HUFFPOST:
Just because holiday baking is over doesn't mean you should stop with the homemade goodies. The warmth from the oven will spread to the rest of your home.

This one takes a bit of forethought, but you can do it. Fill a hot water bottle with, well, hot water, and put it in your bed 20 minutes before you get in, preferably with your pajamas on top. Voila, an instant heated mattress.

.. by spraying cooking oil on it before you start to deal with the snow. It helps it slide right off, instead of weighing you down.

If you spray a mixture of three parts vinegar and one part water onto your windshield (and then wipe it off with a rag) at night, it can keep a lot of frost from forming overnight, according to InfoBarrel. Make it a habit!

Or sand, for that matter. Both materials work as traction underneath tires if you find yourself in a slippery situation with no way out.

Another great way to get out of a rough spot: put your car mats underneath your tire and hit the gas (but gently).

While some people put wipers up in the cold, another option is to place old tube socks around them at night, so they're virtually guaranteed not to stick to your windshield.

To buy your way out of a jam, sure .. but also, if you don't have a scraper on hand, that piece of plastic can work in a pinch.

Those little mirrors are easy to forget when you're, say, spraying vinegar onto the windows, so cover them with re-sealable baggies as much as possible to keep out the frost and ice.

As much as possible, keep your tea kettle boiling when it's really cold, and fill up bowls with hot water around the house to keep the air moisturized (just make sure they're out of reach of little kids).

There are official products like this, but if you have a bunch of old screws AND a pair of old sneakers around, you have yourself an easy way to get through icy streets.

For those who have ceiling fans, turn them on low and switch their direction (to clockwise, usually) so that warm air trapped up near the ceiling can find its way down to you.

If your local store has run out of salt (or if you prefer a non-salty walk), try this de-icing method via Handy Tips and Tricks: mix together a teaspoon of dishwashing liquid, a tablespoon of rubbing alcohol and eight cups of warm to hot water. Pour over walkway, see the ice disappear.

Keep a few microfibre towels on hand for the specific purpose of drying out your shoes. Keep them by the door, tuck them into your shoes when you come in, and don't worry about that 'ick' feeling of still wet soles when you leave.