'X Company' Review: CBC Delivers Another Much-Needed History Lesson To Canadians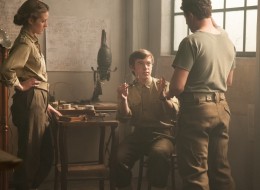 The CBC had a hit with the recently wrapped "The Book Of Negroes," so will newcomer "X Company" be a phenomenon as well, ratings and otherwise? From far away, the two series couldn't be more different, but up close it's amazing how much they have in common. Canadians know little about one of the country's best-kept secrets -- Canada's role in the Allied victory -- and the exploration and celebration of the story is long overdue.
"X Company" has been percolating in the minds of creators Mark Ellis and Stephanie Morgenstern for over a dozen years. It started off as a short film called "Remembrance" and did well enough on the festival circuit that they began developing a feature script. Their dream project was put on hold when, around the same time, "Flashpoint" was picked up. Their experience during that show's successful five-year run made them realize "the best world for this idea was going to be in TV," shared Ellis. "So we've come to it now with fresh eyes and we're telling a different story, but a story that's been really close to our hearts for such a long time."
"X Company," an eight-part drama series set during the Second World War, looks at the origins of spycraft and follows five ordinary people trained in extraordinary things at Camp X, an ultra-secret training facility on the shores of Lake Ontario (between Whitby and Oshawa, Ontario). In fact, it was the first spy training facility in North America and where Canadian, American and British agents learned their skills before going behind enemy lines.
"Prime MInister William Lyon Mackenzie King didn't even know it existed and it was right in his own backyard," said Ellis. "People who worked there were sworn to secrecy and it wasn't even declassified until the 1980s."
Morgenstern added: "It's a source of real pride that this groundbreaking place existed 42 minutes away from [downtown Toronto]." That is, if anyone knew about it before this TV show. Raise your hands if you learned about Camp X in school. That's what I thought.
Holding down the camp on "X Company" are Duncan Sinclair (Hugh Dillon, "Flashpoint"), the brains behind the operation, and Krystina (Lara Jean Chorostecki, "Hannibal"), the young woman who oversees the all-female staff at the communications facility.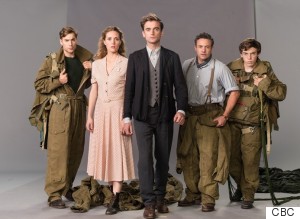 But it's the five agents who are the brawn of this endeavour. There's Aurora (Evelyne Brochu, "Orphan Black"), a half Jewish-German, half French-Canadian undercover specialist who speaks three languages; Neil (Warren Brown, "Luther"), a British ex-copper who specializes in weapons and close-quarter combat; Tom (Dustin Milligan, "90210"), an American who has turned his advertising skills into the art of propaganda; Harry (Connor Price, "Being Human"), the brilliant young idealist of the group who also happens to be their radio operator and explosives guy; and Alfred (Jack Laskey, "Hatfields & McCoys"), whom Ellis called "the very heart of the show." He has a condition called synesthesia, which fuses all his senses together, making him quite the asset as he has a near-perfect memory. They seem like superhero-like abilities, but the team can't help but be a bit wary, at least early on.
"We're told to take this guy on a mission and having seen his training and seeing how he reacts to certain things, we think he's a liability," said Brown.
Laskey chimed in about his character: "And he is a liability. He gets overwhelmed. His senses are overloaded, properly overwhelmed. So yeah, he's dangerous to put on the frontline."
"In terms of the dynamic of the team, Alfred's perceived as having almost a disability first," added Brown before conceding, "But further down the line he becomes a great tool that they use, and he flips their initial perceptions of his character. He's able to do things no one else can."
Perhaps not to the same powerful degree as the "Book Of Negroes" shoot -- which brought crew members of all colours from Canada, the U.S., the U.K., and South Africa together, working towards a common goal -- the stars of "X Company" spoke proudly of the "cross-cultural collaboration." Filming was done almost entirely in Hungary (with the exception of the bridge scene in the first episode, which Price revealed "was shot in Serbia" and Brochu compared that venture to "a school outing"). Aside from Hungarian talent, production also featured loads of Canadian, British, German and French cast and crew members, something Laskey said was "intrinsic to the idea and to our experience."
Each episode finds the team predominantly behind enemy lines, but they do return to Camp X every now and again to check in and tune up. Brochu likens them to "a band that's on tour that goes back home sometimes."
"[Director] David Frazee said that they're on such a rush of adrenaline, so even though they go back to the camp to settle back in, do a little training and prepare for the next mission, there's still something in them, in their energy, that's still over there."
Milligan concurred: "Especially at the end of the first episode when you see us in that celebratory mood but yet there's this underlying, violent, primal nature that's just starting to emerge and be developed and escape. It's a subtle touch that David brought. There were elements of it that were in the script, but that was something he really pushed in all of us to try and find, that animalistic desire for that adrenaline rush, that drug."
It's another Canadian story with brilliant storytelling, something the CBC excels at. If you're wondering whether a show set during the Second World War will appeal to today's audience, just ask Peggy Carter. Like the latest Marvel series, "X Company" isn't a period piece; rather, it's a show that will feel like it's happening in the present. And that's all thanks to Morgenstern and Ellis.
"I think it's important to tell these stories now because they're stories that we're losing," said Ellis. "We're not writing episodes that are about epic battles or air raids or extractions. It's about one-on-one encounters with people.
"What do you do in those little moments? Do you save a mother, or your best friend, or a fellow agent when their lives can actually save hundreds more?" asked Ellis. "It's those smaller, ethical questions that we think will resonate with today's audience."
"We're also losing the storytellers of that war," said Morgenstern. "Our grandfathers, our great-uncles, our great-grandmothers are all dying and it's important that we continue to share their stories on a very intimate, personal level with the next generation."
From the disturbing opening scene, which definitely sets the tone for the series, to the end of the first episode -- jubilant yet somehow still ominous -- "X Company" is another history lesson CBC is offering audiences, and it nails it once again.
"X Company" premieres Wednesday, Feb. 18 at 9 p.m. (9:30 NT) on CBC.
Best TV Shows To Binge-Watch
Yeah, yeah, all your friends tell you how it's the best show ever, blah blah blah. Well you can finally shut them up by watching this amazing series from beginning to end on Netflix. Watch as the mild-mannered Walter White goes from docile high school chemistry teacher to crystal meth kingpin. Seasons 1 - 5 available on Netlix and Netflix Canada

Everyone's buzzing about it for a reason: this heartbreaking-yet-uplifting series features an outstanding cast, wonderful writing and an addictive quality rare to most TV shows. Based loosely on the real-life events of Piper Kerman, prisoner Piper Chapman navigates the dangerous, confusing world of women's prison. Seasons 1 & 2 available on Netflix and Netflix Canada.

The ultimate space drama, which focuses on the last remaining human beings in the universe, is an addictive, heartstring-pulling masterpiece. So say we all.

See where it all began for Joss Whedon and Sarah Michelle Gellar with the beloved cult hit about a teenage girl who fulfills her mystical calling as a Slayer by protecting humankind from vampires, demons and other malevolent supernatural creatures. Seasons 1 - 7 are available on Netflix and Netflix Canada.

Don't worry, even if you don't like football, you will love this series about a bunch of misfits playing for a Texas high school. Seasons 1 - 5 available on Netflix and Netflix Canada.

Ellen Pompeo stars in this Emmy-winning medical drama as Dr. Meredith Grey, a young surgical intern (and eventual resident) who's caught up in a swirl of personal and professional passions with fellow doctors at Seattle Grace Hospital. Seasons 1 - 10 are available on American Netflix.

Having just recently wrapped Season 4, there's definitely enough to sustain you over a summer. With each episode like its own mini-movie, "Game Of Thrones" is sexy, dark and scintillating. Be warned, however -- it can get quite gruesome. You can watch this show on the TMN Go app.

Not familiar with the boys of Sunnyvale? If you're Canadian, you should be ashamed. The Trailer Park Boys are rude, vulgar, and all-round awful, but damn if they're not hilarious to watch. We highly recommend. Seasons 1 -7 available on Netflix Canada (plus three movies).

Disbarred lawyer Jeff Winger (Joel McHale) enrolls in a local community college. While there, he forms a study group who eventually learn more about themselves than their course work. Seasons 1 - 4 are available on Netflix Canada.

When the Belfast police are stalled in their investigation of a spate of murders, Detective Superintendent Stella Gibson (Gillian Anderson) is drafted to investigate. Under her lead, the team uncovers an intricate web of lives entangled by the killings. Season 1 is available on Netflix and Netflix Canada.

This highly successful comedy series follows the unique Keaton family as their views on politics and life clash to give us humorous family moments. One of the most popular sitcoms of the '80s, the show launched Michael J. Fox into superstardom.

Julianna Margulies ignites the screen as Alicia Florrick, the political wife whose world is shattered when her husband (Chris Noth) is caught in a sex and corruption scandal. Forced to support her family, Alicia returns to work at a Chicago law firm headed by Diane Lockhart (Christine Baranski) and Will Gardner (Josh Charles), a driven attorney with a passion for justice. Seasons 1 - 4 available on Netflix Canada and Netflix U.S.

Geeks, rejoice! Whether you watched "TNG" as a child, or if you've never seen it before (OK, that's hard to believe), this series is often viewed as the most popular in the "Star Trek" universe. Make it so, Captain! This title is no longer available on Netflix Canada, but it still lives on Netflix U.S.

Arguably one of the best TV dramas ever, start from the beginning as the notorious Soprano family gets started on its rise to New Jersey supremacy.

Jennifer Morrison, Ginnifer Goodwin, Josh Dallas and Robert Carlyle star in this fantastical series that follows the travails of a young woman who's drawn to a small Maine town, only to discover that it's filled with the mystical elements of the fairy tale world. Seasons 1 - 2 are available on Netflix Canada.

Another masterpiece from HBO is "The Wire." Though slightly dated, the show takes a look at a group of drug dealers from multiple angles in each season: the cops' point of view, the shipping yard angle, the politicians, the neighbourhood kids, and then the journalists.

In this droll comedy, an employee with a rural Parks and Recreation department is full of energy and good ideas but bogged down by bureaucracy.

Olivia Pope leads a team of Washington, D.C., lawyers who specialize in making scandals disappear. As they secretly handle crises at the highest levels of government, the dysfunctional team must also cope with problems closer to home.

This gritty drama focuses on the tension between a group of corrupt but effective cops led by Detective Vic Mackey, a captain with the burden of bringing them down as well as reducing crime in her district, and a city councillor out for his own political gain. Seasons 1 - 7 are available on Netflix and Netflix Canada.

When pregnant, 12-year-old Tui tries to kill herself in a freezing New Zealand lake, Detective Robin Griffin (Elisabeth Moss) has plenty of questions for the girl. But when Tui suddenly disappears, Griffin finds herself knee-deep in small-town secrets.

The sensational murder of the high school homecoming queen strips the veneer of respectable gentility from the picturesque rural community of Twin Peaks to expose the seething undercurrents of illicit passion, greed, jealously and intrigue. FBI agent Dale Cooper and Sheriff Harry S. Truman join forces to investigate the crime and discover a town full of secrets. Seasons 1 & 2 are available on Netflix Canada.

Aaron Sorkin's powerful political epic chronicles the triumphs and travails of White House senior staff under the administration of President Josiah Bartlet (Martin Sheen). The acclaimed ensemble cast features Stockard Channing, Allison Janney, Rob Lowe, Richard Schiff, John Spencer and Bradley Whitford as members of the president's inner circle. Seasons 1 - 7 are available on Netflix Canada.

As one of our HuffPost Canada editors says, this show was practically made to binge-watch. Why not spend your summer months with Jack Bauer? WHY NOT SPEND YOUR SUMMER MONTHS WITH JACK BAUER?

The political drama is full of intrigue, great acting and a fun look into a world we're not privy to (usually). Also, if you're at all a fan of Kevin Spacey or Robin Wright, you'll love this show. Seasons 1 & 2 available on Netflix Canada.

Joss Whedon battled Fox over the intense darkness of this sci-fi series about programmable people, and the casualties are the first half-dozen episodes. Still worth watching for the character development and narrative seeds, but rest assured the show gets better and better until the stakes are so high you'll weep that it didn't get six seasons and a movie. Seasons 1 & 2 available on Netflix Canada.

Man, the '80s certainly did it right. This show about a group of young girls (yes, they're supposed to be teenagers) at boarding school is true heartwarming, wholesome entertainment from the days of yore. Worth revisiting, for sure. Seasons 1 - 9 available on Netflix Canada.

This sci-fi favourite was only around for one season, but people are still talking about it. Get it on the conversation and watch the 14 episodes. It's worth it, trust us. Season 1 available on Netflix Canada.

The teen show that begat all other teen shows (we're excluding "Degrassi"), "90210" is legendary for a reason. Aside from great stories and relevant issues -- drugs and sex among them -- it never stops being entertaining, even when you realize most of these "teens" are in their late 20s. Seasons 1 - 6 available on Netflix Canada.

Imagine if Veronica Mars was a washed-up, middle-age, alcoholic dude detective instead of a overachieving female high-schooler and you get the gist of this critically-acclaimed cult FX series. Starring Canadian actor Donal Logue, the short-lived 2010 show similarly mines the dichotomy of a film noir aesthetic in sunny southern California and the post-Great Recession class war. Though cancelled after a single 13-episode run (a crime, really), at least it tells a complete season-spanning story.

Young James Franco! Young Jason Segel! Young Seth Rogen! That's probably enough to get you into this zany dramedy from 1999. Too bad the show was cancelled before it even finished airing its 18-episode order. Season 1 available on Netflix Canada.

On first glance, this show looks a bit ... heavy. Star William H. Macy seems like he's seen better days. But rest assured, this one's a beauty to binge simply because of the ever-building drama. The show has a soap opera quality that will keep you hungry for the next plotline. Seasons 1 - 4 available on Netflix Canada. You can also watch this show on the TMN Go app.

Like sci-fi? Like "The X-Files"? Like Pacey Witter Joshua Jackson? If you responded "yes" to any of those, you'll love this series. Seasons 1 - 5 available on Netflix.

This is one of the most emotionally devastating shows that ever aired on TV. "SFU" has a significant ability to reach that dark, dark area in your soul that you thought was closed off forever. Nope, it's not. Live with the Fisher family (in the funeral home) for five seasons, and you'll understand where we're coming from.

Ironically, this show never gets old. Sure, some of the humour is outdated, but my goodness, these ladies certainly take the piss out of each other and it's a joy to behold. Nostalgia alert!

Are you ready to take on this monolith? Seen as a pillar of modern TV, this show about a bunch of people stranded on an island (or is it an island?) has become the epicentre for conspiracy theories and wild, out-there ideation. Take it on, if you dare.

Want to know what all the recent fuss is about? (Look how young Kristen Bell looks!) "Veronica Mars" follows the young student as she goes from high school to college, moonlighting as a private detective under her policeman father's tutelage.

This oft-maligned comedy is knee-slapping funny. (Personal anecdote: I watched it for the first time on a plane and burst out loud so many times people became afraid of me.) You'll enjoy the hilarious failures of this group of caterers, who would all rather be doing anything else.

You're probably thinking, "WHAT?!" But truly, it's like "Degrassi" multiplied by 300, set in the U.K. Don't bother with the U.S. version -- go for the real deal. Seasons 1 - 6 available on Netflix Canada.

Premieres: Wednesday, July 9 at 9 p.m. ET on Global/CBS Why We Wanna Watch: The premise is so insane we have to watch it. Halle Berry plays an astronaut who's been out in space for 13 months and somehow she comes home pregnant. How did it happen?! Also, it's Halle Berry. C'mon.

Premieres: Monday, August 4 at 8 p.m. ET on ABC Why We Wanna Watch: This 'Bachelor' spinoff brings us back to the days of 'Temptation Island.' This series consists of six episodes featuring a bunch of singles on a lusty, sexy island. We're sure they'll find the love they're looking for.

Premieres: Friday, May 30 at 12:01 a.m. on Netflix Canada/Netflix U.S. Why We Wanna Watch: In Season 1, we saw a whole new side to comedian Ricky Gervais. It was touching! Now we want more, and rumour has it the second season is even better than the first.

Premieres: Wednesday, June 25 at 8 p.m. on Global/CBS Why We Wanna Watch: The cast of 'Big Brother 15' (pictured here) was the most racist, disgusting reality show cast of all time -- and that's saying a lot. We basically want to watch just to see if that ante can be upped. Surely the new crop won't be as bad, right?

Premieres: Sunday, July 30 at 10 p.m. ET on FX Canada/FX Why We Wanna Watch: This much-hyped show (shot entirely in Toronto) has some big names in it and behind it, including Corey Stoll (pictured, from "House Of Cards") and the horror man himself, Guillermo del Toro. When a mysterious illness breaks out in New York City (brace yourself, the premiere is a doozy), the CDC must do everything it can to stop it from spreading.

Premieres: Sunday, June 1 at 10 p.m. ET on AMC Why We Wanna Watch: Remember 'Hackers'? This new show has a touch of that. 'Halt And Catch Fire' takes us back to the '80s, when personal computers were still a new thing. It focuses on a group of people/tech whizzes who seek to take over the burgeoning industry. Hello, espionage!

Premieres: Friday, June 6 at 12:01 a.m. on Netflix Canada/Netflix U.S. Why We Wanna Watch: After 'OITNB' left us with that cliffhanger of Piper beating the crap out of Pennsatucky, how can we not salivate for Season 2?

Premieres: Thursday, July 31 at 8 p.m. ET, ABC Why We Wanna Watch: From the producers of 'Lord Of The Rings' comes this out-there reality show, which pits people against medieval obstacles against a fantasy backdrop. Picture role-playing games in real life, with all the trimmings.

Premieres: Sunday, June 29 at 10 p.m. ET on HBO Canada/HBO Why We Wanna Watch: Can't get enough of post-apocalyptia? Neither can we. Set post-Rapture, two percent of the population randomly ups and disappears. This show deals with the aftermath and the attempts by everyone else to cope.

Premieres: Friday, May 30 at 10 p.m. on Global/NBC Why We Wanna Watch: John Malkovich plays the pirate Blackbeard. We don't need to say anything else.

Average download speed: 1.67 Mbps Source: Netflix Canada ISP Speed Index

Average download speed: 1.79 Mbps Source: Netflix Canada ISP Speed Index

Average download speed: 2.24 Mbps Source: Netflix Canada ISP Speed Index

Average download speed: 2.52 Mbps Source: Netflix Canada ISP Speed Index

Average download speed: 2.53 Mbps Source: Netflix Canada ISP Speed Index

Average download speed: 2.54 Mbps Source: Netflix Canada ISP Speed Index

Average download speed: 2.73 Mbps Source: Netflix Canada ISP Speed Index

Average download speed: 2.76 Mbps Source: Netflix Canada ISP Speed Index

Average download speed: 2.76 Mbps Source: Netflix Canada ISP Speed Index

Average download speed: 2.78 Mbps Source: Netflix Canada ISP Speed Index

Average download speed: 2.82 Mbps Source: Netflix Canada ISP Speed Index

Average download speed: 3.00 Mbps Source: Netflix Canada ISP Speed Index

Average download speed: 3.10 Mbps Source: Netflix Canada ISP Speed Index

Average download speed: 3.19 Mbps Source: Netflix Canada ISP Speed Index

NEXT: TITLES YOU CAN'T GET ON CANADIAN NETFLIX

*This list of titles available on U.S. Netflix but not in Canada is based on data from early September 2013.

Seriously?!? You give us the original and not the sequel?

Irony...

More irony...