Toronto Star Gardasil Story Pulled From Paper's Website: Publisher's Note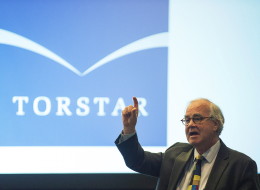 The Toronto Star will pull a controversial article on the human papillomavirus (HPV) vaccine from its website, a little more than two weeks after the story kicked off a wave of online criticism and even internal rebuke.
The Star's publisher John Cruickshank wrote in a Feb. 21 note that the story, which focused on the Gardasil vaccine, sought to show that all drugs come with side-effects, and that "acknowledged risks are not always properly communicated."
"However, we have concluded that in this case our story treatment led to confusion between anecdotes and evidence," Cruickshank wrote. "For that reason, the Gardasil story package of Feb. 5 will be removed from our website."
The story received heavy criticism, especially from the medical community, for suggesting that the vaccine had a dark side. The story said that "since 2008 at least 60 Canadians experienced debilitating illness" after taking the vaccine.
"That alarmist information is not the full story," wrote Kathy English, the Star's public editor on Feb. 13.
"What you need to know and understand fully is the fact that there is no scientific medical evidence of any "dark side" of this vaccine," English wrote.
"The Gardasil vaccine has been tested by highly credible national and global public health agencies and the scientific evidence overwhelmingly concludes that it is safe and effective."
That wasn't the only rebuttal to the story published in the Star. Two days prior, the paper ran an editorial by Juliet Guichon and Dr. Rupert Kaul with the headline "Science shows HPV vaccine has no dark side."
The piece was endorsed by 63 other specialists in infectious disease, public health or related sciences.
"When such articles appear, we all lose," the editorial stated.
"Those of us in a position to influence others have a responsibility to provide the best evidence about health-related issues.
ALSO ON HUFFPOST:

Pap tests are the commonly accepted screening to prevent cervical cancer. A doctor scrapes a cell culture from a woman's cervix and then examines the cells for signs of abnormality. But just because a few of those cells appear abnormal, requiring further screening, doesn't necessarily mean that you've got a cancer-causing strain of HPV -- that's only one potential cause. "The difference could be due to local irritation, a non-HPV infection, a low-risk HPV type, or even a mistake in the preparation of the cell sample," writes the American Sexual Health Association.

HPV is passed via skin contact, rather than bodily fluid. For that reason, condoms can lower the risk of the disease, but they are not a sufficiently preventive measure, as they are for viruses like HIV and bacteria like gonorrhea.

While the HPV-cancer connection most often relates to cervical health, a 2011 Journal of Clinical Oncology study found what doctors have long observed: There has been a surge in HPV-associated oral cancers. In fact, between 1988 and 2004, HPV-associated oropharyngeal cancers rose 225 percent. Oral sex is the primary culprit, making cancer screening of the mouth and esophagus another important test while visiting the doctor.

The HPV vaccine protects against four strains of the virus that are most often associated with cancer and genital warts, but that doesn't mean it prevents cancer entirely. One concern within the medical community is that the vaccination will provide a false sense of security and prevent innoculated men and women from receiving regular cancer screening. "Clearer information is needed concerning the incomplete protection offered by the vaccine, and that cervical screening will still be required," wrote a group of British public health researchers in the Journal of Medical Screening.

About 90 percent of HPV infections are resolved by the body's immune system.

Some strains of HPV ("low risk" types 6, 11, 42, 43 and 44) cause benign growths known as genital warts and other strains (types 16, 18, 31 and 45) cause cancer of the cervix, vulva, vagina, penis, anus, or an area called the oropharynx, which includes the back of the throat, the base of the tongue and the tonsils. But that doesn't mean that one leads to the other -- genital warts, which affect about one percent of the sexually active U.S. adult population -- do not lead to cancer.

The first HPV-preventive vaccine on the market, Gardasil, was approved by the FDA for use in girls in 2006 and in boys three years later. What's more, there are two FDA-approved vaccines for girls and women: Gardasil and Cervarix; while only Gardasil is available to boys and men. Still, HPV vaccination is the responsibility of all. Both the Centers for Disease Control and Prevention and the American Academy of Pediatrics both recommend the vaccine for boys for two primary reasons. First, inoculated boys will not be vectors for the disease, which can contribute to herd immunity and prevent dangerous infection in women. But more, the incidence of HPV-associated cancers that affect men is also growing, including anal and penile cancer and cancers of the mouth and throat.