Acid Reflux Foods: 11 Things To Avoid At Night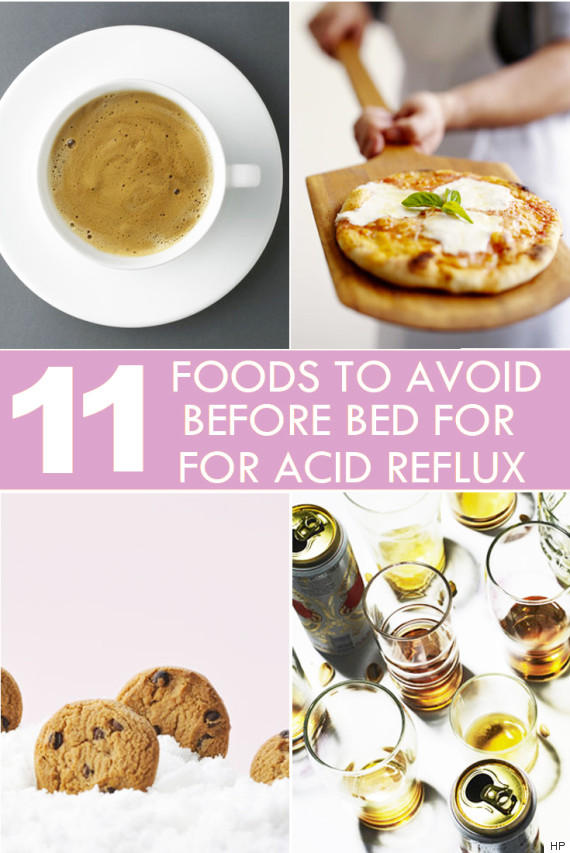 It's always a terrible idea to eat a bunch of junk food before bed, and even if one cookie seems harmless, it could be doing some serious damage to the digestive system.
"The single greatest risk factor for developing acid reflux, asthma, and sleep apnea is night eating," author and laryngologist Dr. Jamie Koufman said in a statement.
A ring of muscle called the lower esophageal sphincter (LES), opens and closes any time food enters your stomach, according to Web MD. However, if the LES doesn't fully close, acid from your stomach could come up to your esophagus, causing a burning sensation in your chest. If symptoms like this one, stomach discomfort or "wet burps" are a common occurrence, you could be dealing with acid reflux disease.
But Koufman adds many people may also be suffering from silent reflux, which includes having trouble breathing in. "Hoarseness, postnasal drip, sinusitis, allergies, asthma, sore throat, and cough that don't respond to traditional treatments could signal silent reflux," she says.
And because diet plays a major role in both preventing and causing several health issues, Koufman says acid reflux can be avoided if you stay clear of eating or drinking the foods mentioned below at least four hours before bed.
"Four hours is how long it takes for the stomach to empty, and if you have reflux or just want to avoid it, you should go to bed with an empty stomach."
Here are the top foods Koufman says you should avoid eating before bed. And as delicious as many of them are, we also suggest eating less of them in general if you're aiming for an overall healthy diet.
Alcohol relaxes the esophageal valves, so if you go sleep with a buzz, you will experience acid reflux all night long, says author and laryngologist Dr. Jamie Koufman.

Koufman says all soft drinks and fruit juices full of sugar are acidified to the same level as stomach acid.

Um, right? Wrong. Chocolate reflexes the esophagus and is a terrible reflux trigger, at night, Koufman adds.

The relatively high-fat, and as mentioned before, chocolate, in ice cream is an invitation to reflux.

"Big-dose caffeine relaxes the stomach valves and is acidic too; this stuff is poison," Koufman says.

High in fat and sugar, sugary cookies combine for one of the worst nighttime snacks, she says.

These items relax the esophageal valves and can also slow down the process for the stomach to empty itself. Koufman suggests avoiding these foods after 9 p.m.

They may be a great snack during the day, but Koufman says they are also a reflux trigger.

These foods are too acidic, Koufman says. "Even one small green apple before bed will set off big-time reflux."

This is probably one of our favourite food categories of all time, but unfortunately, eating pizza or cheese late at night as a snack is a really bad idea unless you want to experience reflux.

"Not only does caffeine relax the esophageal valves, the chemicals in coffee trigger reflux, too," Koufman says. And yes, this is why they also say coffee will keep you up at night.

Crunchy and flavorful, carrots are full of beta-carotenes that are a rich in antioxidants. Carrots also include cardiovascular benefits and boost to eye health. Special thanks to reader Margaret Harris for sharing.

Full of vitamin C, cherry tomatoes are mild and sweet with a low acidic level. For cherry recipes, click here

Light and fluffy, quinoa is known as a supergrain for its nutritional makeup that includes protein, magnesium and fiber. A versatile food, the grainy taste of quinoa bodes well in winter soups and salads. Special thanks to reader Daniella Steinberg Lans for sharing.

Delicious on toast, paired with jelly or used as a dip for certain fruits, peanut butter is a tasty, healthy treat even though it contains saturated fat and sodium. Harvard researches found that its components of fiber, vitamins, potassium and minerals still classify the nut butter as healthy. It For more health benefits of peanut butter, click here. Special thanks to reader Lindsay Severs for suggesting this yummy spread.

Smooth creamy and nutritious, Greek yogurt is a reader favorite for it's healthy carb/protein ratio. For Greek yogurt recipes, click here. Special thanks to reader Liz N Alex Prozzo for sharing her best tasting healthy food. Prozzo likes her yogurt with fruit.

This Middle Eastern spread is loved by the Healthy Living community for it's appealing texture and nutritional value. A blend of protein-rich chickpeas, tahini, heart healthy olive oil and various spices, hummus works great in pitas, on breads and as a vegetable dip. For 10 ways to add flavor to hummus, click here. Special thanks to reader Inna Fridman for sharing.

Crunchy and vital to your health, almonds are a reader favorite as a satisfying, doctor-approved snack. A quarter-cup of almonds contains almost 99 mg of magnesium (that's 24.7% of the recommended intake for this vital mineral). For health benefits of almonds, click here. Special thanks to reader Sue Piper for sharing.

High in antioxidants, artichoke hearts are delicious in pasta dishes, on pizzas and in wraps. For more health benefits of artichoke hearts, click here. Special thanks to reader Hajir Khoshbou for sharing.

Sweet and juicy, grapes are a great tasting superfruit with countless health benefits. Special thanks to reader Thomas Tomcat for this healthful yet tasty option.

A no-brainer on the delicious scale is chocolate - a divine treat that aids overall well being through its ability to decrease stroke risk, boost heart health and improve blood flow. For more health benefits of chocolate, click here. Special thanks to reader Dorte Lytje for suggesting her best tasting heath food.

A light fish with a mild flavor, trout is full of protein and Omega 3 fatty acids. Trout is on a list of heart healthy fish compiled by Environmental Defense Fund and the Harvard School of Public Health. Special thanks to reader Jeannette Day for sharing.

An enjoyable side dish, sweet potatoes are a reader favorite for both their taste and nutritional benefits. The soft orange root vegetable includes vitamin A and many anti-inflammatory, antioxidant nutrients. For sweet potato recipes, click here. Special thanks to reader Caryl Hosler for sharing. Special thanks to Caryl Hosler for sharing her favorite healthy but tasty food.

An exotic vegetable, yellow tomatoes provide an eye-popping boost to salads. Sweeter with a lower acidic than their red counterparts, yellow tomatoes contain healthy compounds niacin and folate as reported by the NY Times. Special thanks to reader Felicia Crabb for suggesting this healthy but tasty vegetable.

Asparagus is great tasting vegetable popular with our readers for it's abiity to aid the digestive system and regulate blood sugar. For asparagus recipes, click here. Special thanks to blogger A Happy Fit Life for sharing.

Creamy, rich and sweet, bananas are a favorite fruit for the Healthy Living community for many reasons. Known as a potassium powerhouse, bananas promote bone health, protect your eyesight and keep kidneys healthy. Special thanks to reader Lindsay Severs for sharing.

A low-fat, low-calorie dense meal, salmon sushi rolls are considered a top tasty health food by our readers for the high concentration of fish oil that improves cardiovascular health according to sports nutritionist Johnathan Zamora. Special thanks to Raymond Caesar Enriquez Coreses for this unique addition to the healthy foods that taste great collection.

Enjoyable raw or steamed, broccoli is considered a healthy yet flavorsome choice with impressive benefits that include body detoxification and cancer prevention. Special thanks to reader Edie Lewis for sharing this powerhouse veggie.

Enriched with vitamins B1, B3 and iron, rice is a versatile option for stir-fry and as a yummy accompanist to any main course. Special thanks to reader Joyce Mari for sharing her top tasting health food.

According to the Linus Pauling Institute at Oregon State University, stiped bass is a good source of selenium, a mineral that aids in the functioning of the body's essential proteins. Special thanks to Brian Shrader for suggesting this pick.

Cauliflower contains potassium, vitamin C and a sulfur containing compound called glucosinolate that activates the body's detoxification system. For cauliflower recipes, click here. Special thanks to reader Kerry Rosene for sharing her top tasting health food.

Refreshing and deletable, watermelon is a summertime fruit our readers love not just because it's a delight to eat. It also contains essential minerals iron and zinc. Special thanks to reader Almine Barton for sharing.

High in vitamin C, zucchini provides 30 percent of your recommended daily intake. It also contains fiber, protein and potassium. Zucchini lovers like our readers enjoy the squash roasted, grilled or sautéed. Special thanks to reader Laura Hill for sharing.

With a soft texture and signature taste, avocados work well on sandwiches, in salads and as a spread. Health benefits of avocados include it being a solid source of fiber, mono-and polyunsaturated fats that reduce heart disease risk and help lower cholesterol. For avocado recipes, click here. Special thanks to Linda Esrick for sharing her top tasting health food.

A substantial preventative food, brussel sprouts boost big time detoxifying powers which aid in cancer and heart disease prevention. They contain a compound called sinigrin which aids in the prevention of colon cancer in particular. With it's cabbage-esque taste, brussel sprouts are a green reader favorite. Special thanks to reader Rachel Brinkley who shared that she enjoys healthful brussel sprouts roasted with garlic and crushed red pepper.

Multiple members of the Healthy Living community said Kale was their favorite pleasant tasting yet healthy food. Super rich in Vitamin K, Kale is known as one of the healthiest vegetables on the planet. One cup of kale contains 36 calories, 5 grams of fiber, and 15 percent of the daily requirement of calcium and vitamin B6. For Kale recipes, click here. Special thanks to reader Telle Belle for sharing.