Ontario's New Sex Ed Curriculum: Exactly What Your Kids Will Learn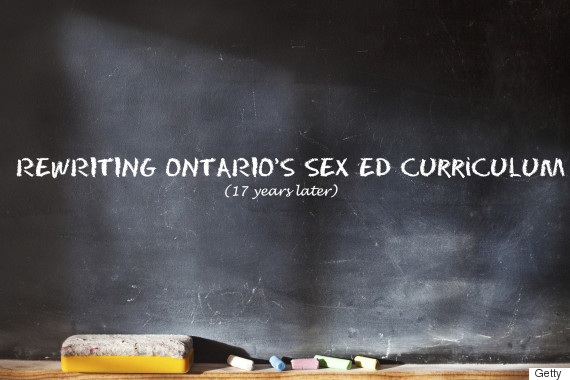 On Monday, Ontario released a new 2015 Health and Physical Education Curriculum — the first update to the curriculum in 17 years — that will be implemented in schools across the province in September.
The new curriculum will cover topics like sexting, cyber-bullying, consent, and for the first time, six gender identities instead of just two. Students will also to continue to learn about aspects of the reproductive system and sexual health issues throughout the years of elementary and secondary school.
Following Monday's release, some were quick point out significant changes for students in Grade 1. Starting in September, students in that age group will learn the correct names of their body parts, including the terms penis and vagina. Some of the opponents believe teaching kids about these proper terms, as well as same-sex marriage, anal sex, and oral sex should not be part of the curriculum.
To make things a lot more clear — and to move away from the many myths surrounding these changes — we've broken down exactly what kids will learn in each grade. Besides developing areas in sexual health, students will also learn about safety, respectful behaviours and healthy living overall.
In Grade 1, students should be able to identify body parts, including genitalia like the penis, testicles, vagina, vulva, and use correct terminology.

By Grade 2, students will outline the basic stages of human development, including an infant, child, adolescent, adult, older adult, for example, and related bodily changes. They will also identify factors that are important for healthy growth.

In Grade 3, students will be able to describe how visible differences (like facial features, body size and shape, physical aids or different physical abilities. for example) and invisible differences (like learning abilities, personal or cultural values and beliefs, gender identity, sexual orientation, for example), make each person unique. Students will also learn ways of showing respect for differences in others.

In Grade 4, students will describe the physical changes that happen during puberty for males and females — the growth of body hair, breast development, changes in voice and body size, production of body odour, and skin changes, for example. They will also learn about the potential emotional and social impact of these changes.

In Grade 5, students will identify the parts of the reproductive system, and describe how the human body changes during puberty. They will expand their vocabulary with words like cervix, uterus, fallopian tubes, ovaries, endometrium, and clitoris, as well as scrotum, urethra, testicles, prostate gland, seminal vesicles, and vas deferens.

Students in the sixth grade will assess the effects of stereotypes — including homophobia and assumptions regarding gender roles and expectations, sexual orientation, gender expression, race, ethnicity or culture, mental health, and abilities, among others. They will also propose appropriate ways of responding to and changing some of these stereotypes.

In Grade 7, students will touch on consent and the importance of having a shared understanding with a partner about delaying sexual activity, for example. They will go over genital contact, vaginal or anal intercourse and oral sex (including choosing to abstain from these activities). They will also go over reasons for not engaging in sexual activity and the concept of how consent can be communicated in a relationship. Grade 7 students will also touch on the understanding of physical, emotional, social, and psychological factors that need to be considered when making decisions related to sexual health, including STIs, pregnancy, desire, pleasure, gender identity among others. Students will also delve into areas of cyber-bullying, harassment and behaviours like sexting.

In Grade 8, students learn about all six genders including male, female, two-spirited, transgender, transsexual and intersex. They also cover topics of sexual orientation (heterosexual, gay, lesbian, bisexual). When it comes to sex, students will learn about contraception and condom use for pregnancy, STI prevention, consent, and what it means to be in a healthy sexual relationship. For further development, Grade 8 students will also touch on the benefits or attractions of being in a relationship, along with drawbacks and risks like breaking up.

In Grade 9, students will be able to describe how to prevent unintended pregnancy or sexually transmitted infections (STIs), including HIV/AIDS. A further understanding of gender identities and issues around stigma, culture, religion, media, stereotypes, homophobia, self-image, and others.

Students should be able to describe factors that influence sexual decision making, including personal values, having limits, peer and family expectations, and myths and norms related to sexual activity or safe sex. Students will demonstrate an understanding of how to use decision-making and communication skills effectively to support choices related to sexual health. Discussions on misconceptions about sexuality in our culture, as well as what it means to be in a exclusive relationship.

Understanding a variety of mental illnesses and addictions including: eating disorders; major depression; anxiety disorders; psychotic disorders, and tobacco, alcohol, drug, gambling, gaming, or Internet addictions. Students in Grade 11 will cover proactive health measures like breast and testicular examinations, Pap tests, regular medical check-ups, stress management techniques, among others.

In addition to cyber-bulling, students in Grade 12 will also cover stalking, sexual assault, abuse within a family, extortion, and workplace harassment, for example. Further discussion on healthy relationships, developing healthy sexual relationships with others, and looking at relationships and stereotypes in the media.