Newmarket Health Centre Really Does Look Like A Spread-Eagled Man
Some U.K. news outlets are very pleased with themselves after they discovered that an Ontario building looks a whole lot like a naked man from above.
The Newmarket Health Centre, when viewed with Google Earth, indeed resembles a spread-eagled man, with an er, strategically placed gazebo between his legs.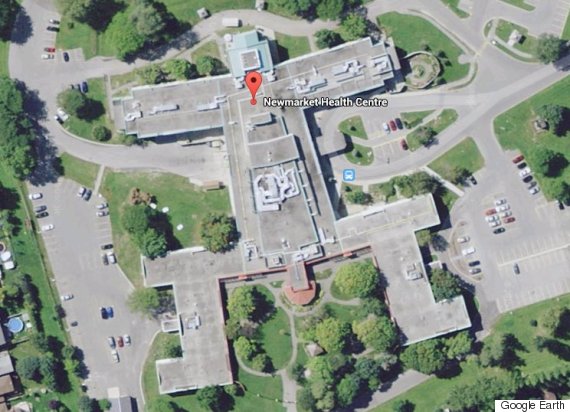 The satellite image also appeared in Playboy magazine, according to the Newmarket Era.
A few websites seemed convinced the form must have something to do with the function.
The U.K. Mirror reported that the centre included an STD clinic in its facilities.
"Is that the fertility clinic?" The Daily Mail's headline reads.
Well, no. The building is actually a long-term care home, housing seniors, those with Alzheimer's and veterans.
York Region spokesman Patrick Casey has been very vague in his comments on the subject to local news outlets.
"Google Maps certainly offers a unique perspective, including aerial views of landscapes and architecture," he told the Era.
In response to a Toronto Star reporter's question about renovating the facility, he had this to say:
"The Region … will continue to pay more attention to providing high-quality services and support to the residents within the Newmarket Health Centre," he said.
The region also hasn't been able to find the name of the architect, the Star reports, but in the meantime, area residents seem pretty entertained.
"Having part of it look like a man's penis is particularly amusing," Peter Kaufman told the Mirror.
He also thought it was a fitting tribute to two Canadian funnymen who were born in Newmarket.
"I'm sure Jim Carrey and John Candy will find it funny."
ALSO ON HUFFPOST
Buildings That Look Like Penises
The headquarters of the People's Daily newspaper in Beijing, China, gave people the shaft daily while it was under construction. Sadly, the finished building became this.

The Ypsilanti Water Tower was, ahem, erected in 1889, but its builders might not be too thrilled with its colorful nickname. Locals call it the "brick dick," according to Cabinet Magazine, which bestowed the edifice the title of "Most Phallic Building In The World."

Torre Agbar, the 466-foot-high home of Aguas de Barcelona in Spain, was designed by French architect Jean Nouvel. No, he didn't call the style "Modern Illuminated Dildo."

"Johnson" and "Johnson"? Malaysia's Petronas Twin Towers in Kuala Lumpur proudly rise 452 meters above street level.

London's 30 St Mary Axe, affectionately known as "The Gherkin," keeps a stiff upper well, you know. It's 180 meters tall but girth counts too, doesn't it?

HK magazine wrote that Two International Finance Center in Hong Kong is alternately called "The Shaver" and "The Giant Penis." No kidding.

Buffalo City Hall in New York seems to get less mention as an architectural schlong, but if you just use your (dirty) imagination a bit...

The Kansas State Capitol Building in Topeka comes with its very own Cupid-like archer at its reservoir tip. (OK, it's a Kansa Indian warrior, but go with us on this one.)

When The New York Times calls you a "great phallic monster of truly monumental ugliness," you know you've been accepted as a member. Congratulations, Oriental Pearl TV & Radio Tower in Shanghai.