This Chart May Be The Best News In Ages About Canada's Economy
For years, economists have been saying that if Canada wants sustainable growth, it has to stop relying on consumers taking on more debt and start being an export economy again.
The problem was that, until now, it didn't seem that was happening quickly enough, and that posed a real risk to Canada's economy going forward.
But StatsCan's latest GDP report shows exports last year grew a strong 5.4 per cent in 2014. According to Bank of Montreal economist Benjamin Reitzes, exporters made their largest contribution to Canadian economic growth since 1999.
Reitzes published this chart showing exports being a drag on economic growth for the past decade or more, with that finally turning around last year.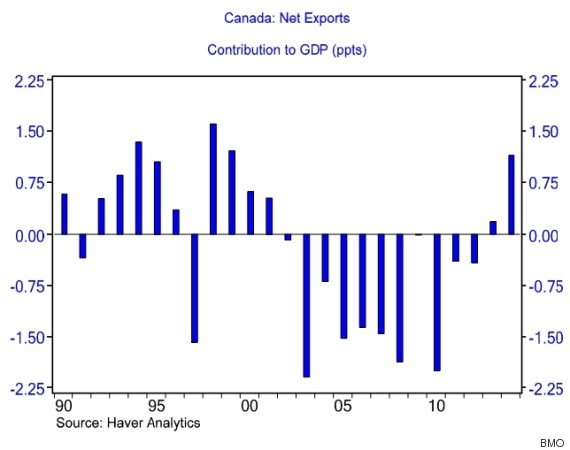 "Look for that trend to continue in 2015 as a weaker dollar and firming U.S. growth help," Reitzes wrote.
The last time Canada's exports were this positive, the loonie was trading below 80 cents U.S. and oil prices hovered around $30. In other words, economic conditions were similar to what we see today.
So it may be that the "great rotation" to exports that economists were predicting (hoping for?) may actually be on its way.
Reitzes cautions that not everything is coming up roses: Business investment is "expected to fall heavily" in the early months of this year, thanks to low oil prices, and that will be a drag on the economy.
Consumers, who've pretty much maxed out their credit, will likely slow spending this year, Reitzes writes, and the housing market is "expected to slow" as well.
And as CIBC noted in a recent report, Canada's ability to export has been hobbled by years of factory shutdowns. We simply no longer have as much to export as we used to, and at least in the short term that limits Canada's ability to take advantage of the lower loonie.
But if nothing else, Canada's solid export growth last year shows investors, business leaders and consumers that, yes, there is life after oil.
Also on HuffPost:
Canada's Strangest Imports and Exports
The following is based on information from an Industry Canada database of Canadian imports and exports in 2012. This is by no means a complete list, but offers a look into some of what comes into and leaves Canada.

Here's some of what Canada got from other countries in 2012. All numbers are in Canadian dollars.

We exported $91 million in soya beans right back at them.

Among Canada's biggest exports are crude oil, lumber and gold, but where are we sending lentils, binoculars or, you know, bovine semen?

Thanks for the gold!

This was Canada's biggest export to Haiti in 2012.

Thanks for the dried grapes!

In 2008, the export value was $1.5 million. Maybe the frozen french fries industry is booming.

In 2008, only $66,000 worth of product was exported.

Export value was $47 million in 2008 and $1.3 million in 2010.

Canada exported $14,663,272 worth of ice cream to Saudi Arabia, and $6,804,398 worth to the United Arab Emirates.