Tofino, B.C. Named Reader's Choice For Best Spring Trip By National Geographic Travel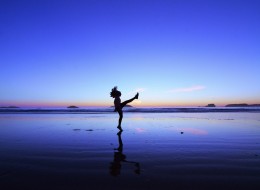 The remote hamlet of Tofino, B.C. has landed a big endorsement through National Geographic Travel's annual list of the world's best vacation spots for spring.
The serene spot on Vancouver Island was named reader's choice by the iconic magazine.
Tofino is sought after for its gorgeous beachfront resorts and fine dining. There's also ample opportunity for visitors to go surfing, camping, fishing, kayaking, hiking... basically to enjoy everything B.C. has to offer.
But the activity that helped nab the coveted reader's choice title? Whale-watching.
"We watch whales from the beach sometimes," Jeff Mikus, co-owner of Tofino's Wildside Grill, told National Geographic. "You could be sitting in the Point Restaurant having dinner and watch the whales go by."
Tofino's whale-watching season officially kicks off Saturday, coinciding with the annual Pacific Rim Whale Watching Festival. The event's website estimates that 20,000 grey whales pass by the coast of Tofino every year.
National Geographic is fond of B.C.
Earlier this year, the family-run Nimmo Bay Wilderness Resort in the Great Bear Rainforest was chosen by National Geographic as one of its unique lodges of the world.
And last year, secluded Haida Gwaii was included in the magazine's list of must-see places in the world for 2015.
Like Us On Facebook

Follow Us On Twitter
ALSO ON HUFFPOST:
The opening of the iconic Wickaninnish Inn and The Pointe restaurant in 1996 put Tofino on the culinary food map.

The Pointe's high quality food and exceptional service gave customers a delicious and enjoyable dining experience, giving tourists and locals a reason to come back.

Wolf in the Fog recently won the top spot in EnRoute's 2014 top 10 new restaurants' list.

Although Wolf in the Fog does contain a lot of fancy, fine dining, dishes. The simple and classic combo of burger and fries is still available at the restaurant.

The beautiful decor, and amazing food and drinks wouldn't be possible without the Wolf in the Fog Team.

Chef Nick Nutting is the leader of the pack at Wolf in the Fog.

Tacofino is a tasty taco truck in the town of Tofino. Its popularity has allowed the company to expand to Vancouver and Victoria.

The tacos at Tacofino are a local favourite in Tofino. The fish tacos are made with tempura ling cod and will only cost you $4.50.

Tofino may have some of the freshest seafood, but it also has some interesting... donuts. Rhino Coffee House specializes in giving customers an interesting twist on the tasty treat.

Alcohol in a donut? What a time to be alive! This margarita donut is for adults only. Sorry kiddies!

The Maple Bacon donut is a local favourite.

Rhino Coffee House also makes bite sized donuts for every occassion.

And they make pizza too!

With such strange yet intriguing flavours, it's no wonder why Tourism Tofino recommends it.

The "Bronut" is a breakfast sandwich served on a savoury donut. Dessert for breakfast? Why not?

The donut house also makes home made bagels for those with less of a sweet tooth.

The Schooner is a premier Seafood and Steak House with delectable dishes.

The upstairs area allows larger parties for all occassions.

The popular Caesers are served with appetizers but there are so many little samples, it's basically a meal on its own!

The Shelter combines a sophisticated seasonal menu with a relaxed attitude and panoramic view.

Delicious food and a beautiful view is a commonality in Tofino restaurants.

Samantha Fyleris from Tourism Tofino says food events have helped with culinary tourism.

With such amazing food and events like the Spot Prawn BBQ at Feast Tofino, it's no wonder why the town is becoming such a popular hot spot for tourists.

The Spotted Bear Bistro was the creation of Chef Vincent Fraissange and is known for its intimate ambiance and modern, French-inspired comfort food.

However, this restaurant will re-open to serve Japanese comfort food in January 2015 — and the anticipation is building.

Fish dishes in Tofino seem to always be fresh from the ocean thanks to it's prime location.

NEXT: The Pacific Sands Beach Resort, Tofino, B.C.

The Pacific Sands Beach Resort in Tofino was sold by the Pettinger family after 42 years to Vancouver-based Gordon Nelson. The transaction bucks the trend of overseas investors snapping up B.C. recreational properties, like hotels, ranches, and resorts in recent years.