Good Luck Unseeing This News Anchor's Phallic Neckline (PHOTO)
Australian news anchor Natarsha Belling can probably file this under "never again."
The Network Ten reporter was absolutely lambasted on social media for wearing this phallic-necklined green jacket: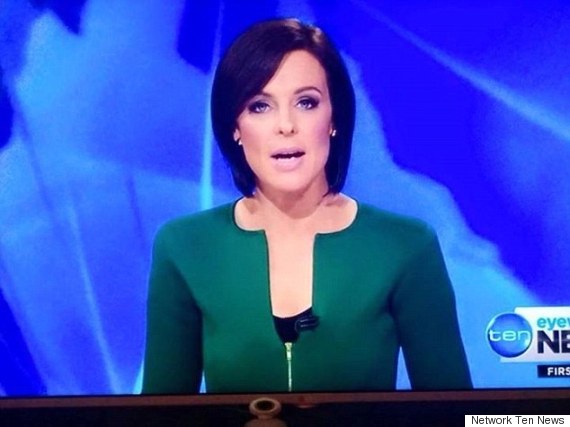 A photo of Belling wearing the jacket has been liked over 110,000 times on Facebook after the website Unilad posted the caption "Once you see it, you cannot unsee it."
The image has also been shared over 6,000 times as the comments keep rolling in.
*giggles*
http://t.co/QGxFDACUpw

— Ukulele (@marija_perica) March 16, 2015
Oh boy. Always check your #professional #image before taking pictures and going on #TV http://t.co/ahTzWJcDC5 #news #anchor

— SD Marketing (@SDMarketing3) March 16, 2015
RELATED ON HUFFPOST:

2014's Worst Wardrobe Malfunctions
If there's anyone know knows how to cause a stir on the red carpet, it's Kelly Brook.

Nicki Minaj suffered one of the most embarrassing wardrobe malfunctions of the year at the VMAs, when she couldn't get her dress up in time to perform 'Bang Bang'. Luckily the crowd were too distracted by Jessie J's facial expressions to pay attention to the fact her dress was barely on.

Luckily Kaye Adams saw the funny side of this unintentional underwear-flash at the Pride of Britain awards, tweeting an apology to the people she had "put off their cornflakes" the following morning.

Oh, Lauren. Where do we even start..?

As if the latter half of 2014 hadn't been unfortunate enough for Jen-Law, she then made the headlines for all the wrong reasons at the 'Mockingjay' premiere for this boob-slip moment.

You might think an event for Battersea Dogs & Cats Home wasn't an appropriate place to flash your underwear, but Amanda Holden proved the opposite was the case this year.

Note to Kim: Spanx belong under your clothes.

Where are those leaves when you need them, eh?

Rita Ora didn't exactly have us rushing out to buy her Adidas range when she was seen getting into a car with a noticeable rip in her trousers. Oh dear.

Frankly we don't care what anyone has to say about this so-called "malfunction", Mariah looks fabulous and that's the end of it as far as we're concerned.

Considering she spent most of 2014 modelling for Ultimo, Abbey decided to ditch her underwear altogether and give photographers a real eyeful in this ensemble.

Lauren Goodger + alcohol = ...well you can do the Maths yourself.

Iggy Azalea provided 2014's biggest twerking fail when she danced herself out of her trousers in this embarrassing video.

Brendan Cole suffered a similar mishap on 'Strictly', though his wasn't a twerk-related incident.

No one can accuse her of not putting enough effort in - Beyoncé was left embarrassed after vigorously dancing herself out of her top during a concert this year.

When you're a z-lister with world's press on you at the Cannes Film Festival, how do you make the most of it? By getting an entire boob out on the red carpet, of course!

Kim K's pants were a big talking point at the Met Gala back in May - so it was a good job Solange was at hand to take the attention away with a much-discussed lift altercation, wasn't it?

It doesn't matter how prominent that moose-knuckle is, our eye is still drawn to that Michael Jackson tattoo...

Not strictly a "wardrobe" malfunction, we know, but Susanna Reid's false tan fail was still cringe-y enough to make the cut.

Yes, David. We can see it.