What Canada Can Learn From Sweden's Unionized Retail Workers
When Toys "R" Us arrived in Sweden in 1995 armed with a translation of its U.S. employee handbook, it underestimated the Swedes' fierce commitment to the quality of their working lives.
The solidarity among Swedish workers was powerful enough to accomplish a feat that may seem inconceivable in Canadian retail; they brought the global conglomerate to its knees.
The company refused to sign a standardized collective agreement, the heart of employee-employer relations for more than 25,000 companies across all sectors of the Swedish economy. The decision affected only 150 employees, but it resulted in a three-month long strike by the retail-store employees union that snowballed into an all-out boycott.

In the Scandinavian country, 70 per cent of workers are unionized — though that figure has fallen from its peak of 86 per cent in 1995. Average starting pay is as much as 40 per cent higher than it is in Canada. Employees take a minimum of five weeks of paid holidays, receive overtime pay for working weekends and holidays and are entitled to generous parental leaves of up to 16 months.
Sweden also happens to have one of the lowest levels of income inequality in the Western world.
When Toys "R" Us refused to back down, transport workers stopped deliveries to the stores, warehouse workers wouldn't handle shipments bound for their stores and bank employees refused to process transactions for the company. They stopped Toys "R" Us from advertising in the local press, and Swedish blue- and white-collar workers' unions encouraged their 2.5 million members not to shop there.
Word spread, and the strikers' actions drew support from workers across Europe and the world. An international federation of unions asked its members in 70 countries to boycott the toy retailer.
Short of packing its toys and leaving the country, the billion-dollar corporation had no choice but to acquiesce and agree to terms that are standard in Swedish collective agreements.
Toys "R" Us was both an exception to the rule —even McDonald's was forced to sign a collective agreement — and a warning for other corporations that they must adapt to the Swedish model or fail, Thomas Andersson, associate professor in management at the University of Skovde said in a phone interview from the city southwest of Stockholm.
"The Swedish example illustrates that it doesn't need to be a Bleak House where you're treated bad," he said.
"What is surprising is, if they have managed to adapt in Sweden, how come it doesn't influence their ... strategy in other markets?"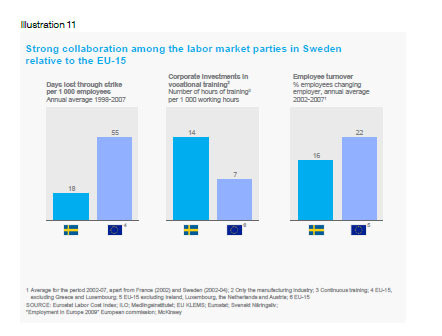 The power of Sweden's workers stands in stark contrast to the reality of the nearly two million retail employees in Canada.
The retail sector is Canada's biggest employer of both men and women – comprising 11.5 per cent of the workforce – but pays the lowest average hourly wage of any occupation, at $14.15 an hour.
Retail and food service jobs have the highest rates of low wage work. Minimum-wage jobs paying $10 to $11 an hour are common. The average weekly wage for retail workers is $540, or $28,000 a year. Six out of ten retail workers, more than a million Canadians, earn less than $15 an hour, the amount activists consider to be a "living wage" — the minimum income necessary to escape poverty and pay for basic needs.
The North American retail sector is characterized by job insecurity, short and split shifts, unpredictability of working hours, low-wage part-time work, and the need to juggle multiple jobs to earn a living wage.
In the past six months, retailers as big as Target and Sony as well as smaller Canadian chains such as Smart Set and Jacob have announced shutdowns, putting more than 20,000 Canadians out of work. Among all sectors in the Canadian economy, the sales and services sector has the second highest number of people on employment insurance, behind only trades and transport.
With few exceptions, retailers in the highly competitive North American market have adopted a "lean and mean" strategy in which they pay employees as little as possible to keep labour costs down and raise profit margins.
Earlier this year, Quebec's labour board determined that employers are not required to modify employees' hours so that parents can work on a schedule that allows them to balance family and work obligations better. The first Walmart store to form a union in Canada was shut down within months of unionization in 2005.
Sweden's own Ikea locked out 350 unionized employees at a store in British Columbia — one of just two unionized Ikea's in Canada — for 17 months before settling, having driven labour negotiations to a level of acrimony unlikely in Sweden and highlighting the challenges when a small group of local workers faces off against a multinational corporation.
The treatment of retail workers should matter to all Canadians because it affects the entire economy, said Kendra Coulter, a labour studies professor at Brock University in St. Catharines, Ont. Improving jobs in that sector will mean more upward mobility into the middle class, the mainstay of consumption and domestic demand, she added.
The sector has taken on greater significance because other major employers have shrunk in recent years. The low-paying retail sector replaced the unionized manufacturing industry as the biggest employer of Canadians for the first time in 2007, and its importance has only increased in the aftermath of the Great Recession.
There are now more Canadians selling things than making them.
"Because sectors like retail are playing this increasingly central role in our economy, if we don't improve the conditions in these kind of sectors, this country is going to look very different in 20 years," Coulter said.
Although retail employs a similar percentage of the workforce in both Canada and Sweden, Coulter said, workers in the Nordic country have more influence on their wages and working conditions for one major reason: unions.
Just 12 per cent of retail workers are unionized in Canada, compared with 60 per cent in Sweden.
In the Nordic country, retail work is considered a "good job" and employment is referred to not as "work" but as "working life" to emphasize "that paid work is one part of people's broader existences and that workers are real people with families with bodies that get sick, with goals and aspirations and rights to their own time and to a decent quality of life," Coulter said.
The Nordic model of labour relations developed in the early 20th century, when business owners and union heads determined to work together on mutually beneficial agreements that avoided strikes and work disruption. Employers have found that delegating larger responsibility to workers is beneficial to their happiness and therefore their productivity at work.
Most Swedish employers have never tried to fight trade unions, while unions concentrate their efforts on giving employees better employment conditions and steer clear of infringing in employers' decision-making processes, said Birgitta Nystrom, Sweden's national chair in labour law and a professor at Lund University, near Malmo.
In Canada and the United States, governments have had to mandate the lowest amount employees can be paid, but the Scandinavian country has no minimum wage. It doesn't need to, because wages are negotiated by unions and employers' associations, and, unlike in North America, there are no sectors in Sweden that fall into the definition of low-wage work, where earnings are below two-thirds of the national gross median hourly earnings.
Labour legislation is virtually non-existent. Instead, collective agreements shape employer-employee relations, Nystrom said. About 90 per cent of workplaces in Sweden are covered by collective agreements, even those that are not unionized.
"The Scandinavian way of trade union action is that if you find an employer without a collective agreement you try to blockade that employer, and if you do that, there are other trade unions that could issue secondary action, so-called sympathy actions towards that employer."
Generally, Swedish employers are just as interested in having collective agreements as employees, because they like the certainty of negotiations and systems that are stable and universal, Nystrom said.
"They like to know that these are the rules that apply and that during the lifetime of the collective agreement they will not be the object of strikes or something like that," she said.
Karl Gustafsson owns a retail lumber yard with 85 employees in Sodra Sandby, in southern Sweden. When he was eating at a Florida restaurant in February while on vacation, he was surprised to find one person to greet and seat him, another to take his order and a third to serve it.
"In Sweden, this would had been one and the same person," he said, adding that that is in part because each employee costs more than in the United States.
"And we expect a lot more responsibility from each individual."
After several years of paying out bonuses with very little reaction from employees, Gustafsson decided to take all of his employees on a trip that significantly boosted morale, even though it cost less than the bonuses he usually paid out.
"I think it's very important to have a good relationship with our employees," he said. "I see a clear link between performance and comfort."
Retail work in Sweden is more co-operative and collaborative, and the distinctions between employees and managers less apparent than in the rest of the world. That is partly responsible for higher levels of job satisfaction reported in a study conducted by professor Thomas Andersson and colleagues.
The study found retail workers were highly satisfied with their tasks, managers and colleagues, as well as highly committed to the success of the stores and relatively satisfied with pay, training efforts and opportunities for advancement.
"The overall results show that the sector is actively engaged in the general tenets of Swedish working-life, characterized by co-operation, distributed responsibility and fair treatment," the study said.
Andersson and his colleagues concluded that the Swedish case suggests that the retail sector does not inevitably have to be one filled with impoverishing working conditions, nor do retailers have to adopt a "lean and mean" strategy to be competitive.
The retail sector accounts for about 10 per cent of Sweden's domestic GDP, and the latest forecast suggests retail sales growth of 2.6 per cent per year, compared with 1.3 per cent for all of Western Europe between 2014 to 2017.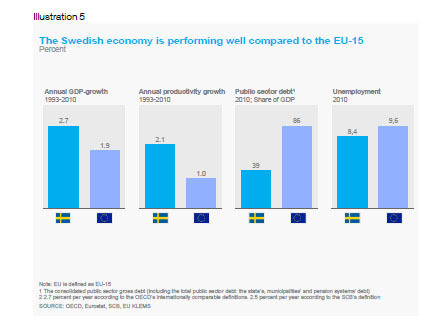 Sweden's retail success isn't easily exportable, as it is particular to a unique set of historical and cultural proclivities that has bred a society committed to social solidarity, Brock's Coulter said. She added, however, that it offers inspiration for Canadian workers, who can learn both from their own history and other countries to determine what is possible and how it might work here.
Many employers have moved to declare themselves proud "living wage employers" committed to paying enough to keep workers out of poverty, about $15 an hour. And there are major corporations that serve as role models for an alternative, such as Costco, where average hourly pay hovers about $20 an hour.
A Harvard Business Review study comparing the Walmart model of aggressive control of employee benefits to Costco's more generous model found the race to the bottom of labour costs doesn't necessarily benefit the bottom line because Costco's more stable and productive workforce more than offset higher upfront labour costs.
Economics 101 dictates that increasing the price of something decreases demand for it and therefore hiking the minimum wage would result in higher unemployment. But an experiment in Seattle, where minimum wage is $15 an hour has actually found that the city's unemployment rate fell from 6.3 to 5.2 per cent from January to December of last year.
If there were more outcry among Canadians about the treatment of retail workers, Coulter believes, the sector would slowly start to shift in favour of better jobs.
"Fairness is a very powerful motivator for people, so in sectors like retail, workers also have to decide that they deserve better," she said.
"There is a need for those within and outside retail to recognize that retail matters, that retail workers matter."
Also on HuffPost:
Canadian Retail Brands We Miss Most
One of Canada's most storied and oldest retailers went bankrupt in 1999. The department stores founded by Timothy Eaton in 1869 became famous for their catalogues, sponsorship of the Toronto Santa Claus parade and the downtown Toronto shopping centre that still bears its name.

This chain of grocery stores was rebranded as A&P before it was bought out by Metro. We miss the chain founded in 1919, party because of those plastic grocery bins you could load onto a conveyor belt to get them outside, but mostly because of their awesome font.

Although Toronto is home to the Bata shoe museum, the chain has shuttered all of its Bata and Athlete's World stores in the country where it was once based. It does, however, continue to sell footwear on almost every other continent. Pictured: Bata founder Tomas Bata.

It was once Canada's largest music retailer boasting "140 locations, coast to coast." The chain was founded by Sam Sniderman in 1937. Along with A&A Records and Canada's last national music store chain, Music World, it fell victim to the Internet age by the end of the 2000s.

A&A had noticeable flagship stores in downtown Toronto and downtown Montreal. It launched in the early 1960s and went bankrupt in 1991.

Even if you weren't a fan of lumber shopping, how could you complain about being dragged through a store whose logo is an overall-clad, skipping beaver? Also, it was owned by Molson — yes, the beer people. What's more Canadian than that?

This was THE convenience store chain -- known for its plastic jugs of milk -- for many small-town Ontarians before being sold to the parent company of rival Mac's Convenience Stores in 1996. It was so Canadian, its chocolate milk got a shout-out in the special thanks section on many Rush albums.

Believe it or not, Ontario once had another pharmacy chain that gave Shoppers Drug Mart a real run for its money.

This novelty-items store was where you could buy any Troll doll or Beanie Baby, or marvel at the dirty gift selections while pretending to shop for a Troll or Beanie Baby.

For all your canvas clothing and accessories needs. The wallets and pencil cases were must-haves for 1980s Southern Ontario kids.

Ever since this retailer of cliched Canadian clothing shuttered, we have no idea where to get puffy paint sweatshirts with pictures of loons on them, or the ugly Christmas sweater for all of those trendy theme parties.

The home to discount menswear and flamed shirts galore was once an institution in malls across the country, but has been reduced to just a handful of shops in small-town malls.

Once a staple in Western Canada and Ontario, it had great, cheap jeans.

The classic Canadian "mom store" closed in 2011, after 30 years in operation.

A Zellers-esque chain perhaps best known to eastern Canadians, who might be familiar with the chain's animated squirrel named Sparky.

The free popcorn made arguing over which VHS movie to rent bearable.

Zeddy! Need we say more?

NEXT: U.S. BRANDS WE WANT TO SEE IN CANADA

A perfect blend of Costco affordability and Whole Foods quality. http://www.traderjoes.com/

Another option for a mid-priced department store with a diversity of offering is always welcome. Plus, the stores are so well decorated at Christmas. And we love the sales! http://www.macys.com/

Because Harold and Kumar aren't the only ones willing to make a road trip for their stoner fare. http://www.whitecastle.com/

Recently named America's favourite hamburger chain based on food quality, value and service. http://www.in-n-out.com/

For your Mexican-inspired salad bar alone, please expand outside of B.C. In fact, we'll take White Spot too. http://www.carlsjr.com/

The U.S. retailer of all things outside is like a Canadian Tire, SportsChek, MEC and Golf World combined. http://www.dsgcamps.com/

This drugstore chain has everything — and cheap. Might we suggest shaking up the Shoppers Drug Mart-dominated space a little? http://www.walgreens.com/

Let's give our full-figured sisters a trendy alternative to Penningtons and Addition-Elle already. http://www.lanebryant.com/

A more casual and (slightly) more affordable J.Crew sister store? Yes please. https://www.madewell.com

We're sick of watching Friends re-runs and not being able to shop where Rachel Green worked. http://www1.bloomingdales.com/

An edgier, smaller-scale department-esque store that sells their in-house brand and others.This powerhouse brand has outposts in LA, New York, London and Tokyo, as well as a magazine and TV channel. http://www.openingceremony.us/

NEXT: U.S. BRANDS THAT ACTUALLY ARE COMING TO CANADA

Nordstrom The luxury department store chain will open in Toronto's Eaton Centre in 2016.

Chico's The figure-flattering women's wear chain will open its first three Canadian locations in the Greater Toronto Area later in 2014.

Designer Shoe Warehouse The U.S. discount shoe chain purchased a 44 per cent in Town Shoes earlier this year and is expected to open some of its big box style retail locations.

Saks Fifth Avenue Hudson Bay Co. has announced two Toronto locations for the high end U.S. retailer, one at the Eaton Centre in 2015 and the other at Sherway Gardens in 2016, but has said it may bring as many as seven to Canada. It will also bring as many as 75 more affordable Saks Fifth Avenue OFF 5th locations.

American Girl The doll store with a cult like following opened its first two Canadian stores inside Chapters/ Indigo stores in Toronto and Vancouver earlier this year and plans to roll out a cross-country expansion.

Dylan's Candy Bar The brightly-coloured candy retailer founded by Ralph Lauren's daughter Dylan is reportedly looking for retail space in Canada.

Jimmy Choo The American women's shoe designer is expected to open its first Canadian standalone store in Toronto's Yorkdale mall later this year.

Bloomingdale's Ok this one is speculation at this point, but several retail sources in Canada since 2012 have reported this could be in the works.

NEXT: 10 Things The Fast Food Industry Doesn't Want You To Know

McDonald's had higher sales growth in 2008 than in 2006 or 2007, opening nearly 600 stores that year, according to Slate. The chain was able to take advantage of Americans' recession tastes: Cheap, convenient food.

One Reddit user claiming to be an ex-McDonald's worker said he once left a bag of chicken nuggets out on the counter for too long and "they melted. Into a pool of liquid." That didn't stop him from loving the nuggets, "still delicious," he wrote.

More than 60 percent of low-wage workers are employed by big corporations, according to a July analysis by the National Employment Law Project. And more than 90 percent of those companies were profitable last year.

Fast food workers in New York City make an average of $9 per hour, according to the Village Voice. That comes to about $18,500 per year for full-time workers.

For 40 percent of private sector workers, taking a sick day and still getting paid isn't an option, according to the Baltimore Sun. Fast food workers are especially likely to be part of that 40 percent.

Many fast food workers saw their health benefits put at risk this year, if they even had them at all. Papa John's CEO John Schnatter said he would likely reduce some of his workers hours so that he wouldn't have to cover them in response to Obamacare. Jimmy John's founder, Jimmy John Liautaud told Fox News in October that he would "have to" cut workers' hours so that he wasn't forced to cover them under Obamacare.

The average hourly pay at McDonald's, Wendy's, Burger King and Taco Bell is less than $8 an hour, according to salary data cited by CNBC.

As more workers fight for limited jobs, many older employees are gravitating towards the fast food industry. The median age of a fast food worker is 28, according to Bureau of Labor Statistics data cited by the Atlantic. For women, who make up two-thirds of the industry's employees, that age is 32.

Fast food worker's went on strike in late November in New York City, showcasing a rare effort to organize the industry's workers. Labor leaders often don't make an effort to organize these workers because the high turnover makes the challenge daunting.

For all their work, fast food workers get very little dough. The lowest paid job category in New York City is "Combined Food Service and Preparation Workers, Including Fast Food," according to Bureau of Labor Department Statistics cited by Salon.