The Top Fantasy Books To Get Any Beginner Interested In The Genre
The fantasy genre can be daunting — magic, creatures, and unpronounceable names can seem, well, a bit weird to people who haven't read those kinds of books before. However, as millions upon millions of fans know, there's something to be said for the escapism and sense of wonder that a fantastical novel can provide.
There's also the question of size to consider. One glance at hefty high-fantasy series like Lord of the Rings (approximately 1,200 pages altogether) and Game of Thrones (4,228 pages and counting) can intimidate even the most avid of readers. But rest assured, not all fantasy novels are as massive and terrifying.
Whether you're new to fantasy, or even new to reading for pleasure, there is always a point A from which to start. In this hypothetical scenario, consider "Game of Thrones" point D.
Here are some fantasy trilogies, series and standalone novels that can get you to point B (or point D, if you're feeling ambitious).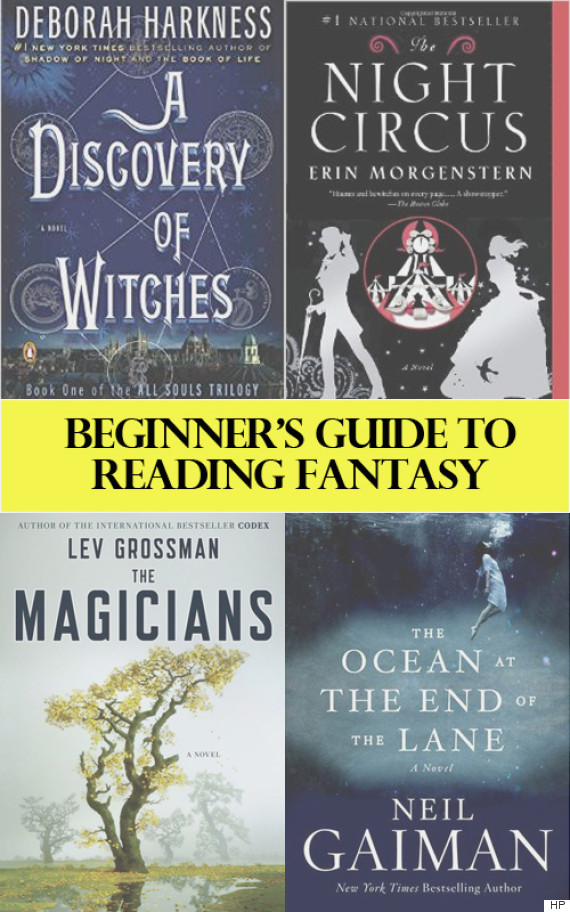 Ocean at the End of the Lane by Neil Gaiman

A Discovery of Witches by Deborah Harkness

The Magicians Trilogy by Lev Grossman

Stardust by Neil Gaiman

Throne of Glass by Sarah J. Maas

The Name of the Wind by Patrick Rothfuss

The False Prince by Jennifer A. Nielsen

Shadow and Bone by Leigh Bardugo

The Night Circus by Erin Morgenstern

The Lies Of Locke Lamora by Scott Lynch


ALSO ON HUFFPOST
A hauntingly beautiful novel that reads like a set of short stories, Egan's 2010 book follows a crew of loosely linked individuals as they negotiate the treacherous realms of the music industry, fame, and the uncertain future. Both thought-provoking and stylistically stunning.

For fans of historical fiction, Wolf Hall is the ultimate -- political intrigue, period detail, and outstanding writing. In fact, even those averse to historical fiction may find themselves seduced by Mantel's approach.

Bolaño's last book examines a series of unsolved murders of women in Santa Teresa, Mexico, though in his typical fashion he does so in five sprawling sections, through a huge cast of characters and in an array of narrative styles. It's considered the masterpiece of a truly great writer, though at over 900 pages it's no easy lift.

Diaz's only completed novel -- he's written two short story collections as well -- brims with personality and cultural insight. It's the story of a nerdy outsider caught between American culture and his Dominican family, interwoven with his ancestors' struggles under the dictator Rafael Trujillo. Diaz brings it all to life with cutting humor and vivid, energetic prose.

Set among the same characters as this year's Lila, Robinson's first Iowa-based novel takes the form of an elderly preacher writing the story of his life for his young son, in case he's not around to tell him when he's old enough. Robinson's meditations on faith and family, and the possibility of finding comfort and redemption, are delivered in golden, leisurely prose.

Jones' novel, which takes place in antebellum Virginia, powerfully explores American slaveholding from a nuanced, multi-layered perspective.

A heart-wrenching story of childish errors and the tragic consequences, this novel is guaranteed to make you cry. Even if you've already seen the weep-fest of a movie.

Lethem's bizarre and brilliant take on the detective novel genre features a gumshoe named Lionel Essrog, who must overcome his Tourettic difficulties with language to solve a heinous crime.

Munro's short stories, usually about the lives of women and the many small and large troubles and passions that pass through, stand among the greatest -- she was awarded the Nobel Prize for Literature in 2013 for her short fiction. Read all of her collections, including this one, which focuses on the changing lives of women in the second half of the 20th century, from Munro's usual quiet, domestic point of view.

Writing about genius is always an incredible challenge for a novelist, but few have executed it as well as Fitzgerald. This psychologically acute and thematically ambitious book brings to life the German Romantic poet, Novalis, and his romance with a 12-year-old girl named Sophie.

Like many Westerns, this novel lingers over the rugged landscape and traffics in the adventures of cowboys, but McCarthy's work possesses a poeticism and complexity that's entirely his own. All the Pretty Horses contains all the blood, guts, and action needed to keep you turning the pages of his dense prose.

Erdrich's fiction, which deals in issues and experiences of American Indians, spotlights a highly underrepresented culture in American literature. Love Medicine, her lyrical debut, which it follows a small group of Ojibwe over several decades, unsurprisingly marked her as a talent to watch.

John Updike's Rabbit series follows Rabbit Angstrom, a former high school basketball star trapped in a miserable job and joyless marriage, as he struggles with each stage of life's challenges. In this third novel, he's settled down in middle age but still dissatisfied. Updike's bold, flavorful prose is the perfect conduit for Rabbit's man-in-crisis story.

Few short story writers have achieved acclaim in that form, but Cheever is among them. His short fiction, usually set in his familiar WASPy milieu, never fails to be brutally profound, acutely written and truly revelatory.

Morrison's powerful, evocative writing about black life in America takes shape in this novel as the saga of a troubled black family, and the coming-of-age story of its central character, Macon "Milkman" Dead. Its touches of magical realism only enhance the deeper truth her poetic novel uncovers.