Phil Robertson, 'Duck Dynasty' Star, Delivers Speech About Atheist Family Getting Raped And Killed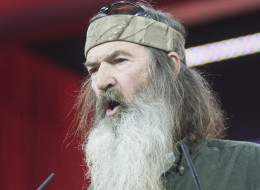 *** WARNING: This article contains offensive language, and will probably be disturbing to any and all readers. ***
Phil Robertson of "Duck Dynasty" fame hasn't gone anywhere, and now he's delivered a tirade against atheists.
Robertson was the keynote speaker at the Vero Beach Prayer Breakfast in Florida, where hundreds of attendees paid up to $100 a plate to hear him speak.
The "Duck Dynasty" dad posited a gruesome hypothetical situation in which an atheist family's home is broken into.
The story is meant to illustrate the importance of following God's laws, and here is Robertson's take on it:
"I'll make a bet with you. Two guys break into an atheist's home. He has a little atheist wife and two little atheist daughters. Two guys break into his home and tie him up in a chair and gag him. And then they take his two daughters in front of him and rape both of them and then shoot them and they take his wife and then decapitate her head off in front of him. And then they can look at him and say, 'Isn't it great that I don't have to worry about being judged? Isn't it great that there's nothing wrong with this? There's no right or wrong, now is it dude?'

Then you take a sharp knife and take his manhood and hold it in front of him and say, 'Wouldn't it be something if this [sic] was something wrong with this? But you're the one who says there is no God, there's no right, there's no wrong, so we're just having fun. We're sick in the head, have a nice day.'

If it happened to them, they probably would say, 'Something about this just ain't right.'"
The audio is available here, courtesy of RightWingWatch.org:
People on Twitter (religious, non-religious, and undeclared) were quick to express their outrage over the speech.
Phil Robertson puts the nasty in dynasty He needs fear of god not to rape others while I just use common sense to know its hurtful

— Jen (@KurliQJen) March 24, 2015
Hey, Phil Robertson, being devoid of religious belief doesn't mean a person is devoid of morality.

— Yusha McElgunn (@MahjongNucleus) March 24, 2015
Look, leave Phil Robertson alone. If an old man in a dirty beard can't fantasize about kid-rape without being criticized, we're not free.

— Popehat (@Popehat) March 24, 2015
ALSO ON HUFFPOST:
'Duck Dynasty' Stars Without Their Beards
Willie now. Previous slide: Willie is all business in the front and party in the back as a student at was then Northeast Louisiana University (it's now University of Louisiana at Monroe).

Jep now. Previous slide: Who knew Jep was such a studly high school senior?

Jase now. Previous slide: In this family photo from a few years ago, Jase only has the beginning of the beard he sports today.

Phil now. Previous slide: Who would have guessed that this young boy would grow up to become Phil Robertson: Duck Commander?

Uncle Si now. Previous slide: It's Uncle Si without the beard! Didn't he look dapper when he was in the military?

Recognize those fresh faces? Clockwise from left: Willie, Jep, and Jase.

From left to right: Jase, Uncle Si, Jep and Willie.

The beardless Robertson boys. From left to right: Willie, Jase, Alan (who is joining the show in Season 4), and Jep.