'X-Files' Returning To Fox For Six-Part Revival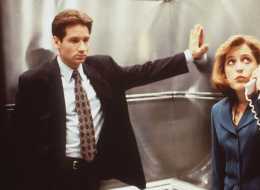 It's official: The truth is still out there, and Fox Mulder and Dana Scully are coming back to find it.
"The X-Files," which was shot in Vancouver during its nine-season run from 1993 to 2002, is coming back to Fox in six parts, series creator Chris Carter announced Tuesday.
"I think of it as a 13-year commercial break," Carter said in a statement. "The good news is the world has only gotten that much stranger, a perfect time to tell these six stories."
Original stars Gillian Anderson and David Duchovny are on board, said The Hollywood Reporter.
"The X-Files" revolved around FBI agents Mulder (Duchovny) and Scully (Anderson), who investigated supernatural phenomena. Mulder was an expert in the paranormal while Scully, his partner, was more skeptical.
Some of their more disturbing cases included the Peacocks, a family of deformed inbreds, and Flukeman, a frightening creature who lived in the New Jersey sewer system.
Check out our list of the most shocking episodes of "The X-Files":
'The X-Files': Most Shocking Episodes
This creepy-crawly episode saw three teenagers huffing drugs when one of them spotted a cockroach gnawing at his wrist. Soon the bug crawled under his skin, driving the teen insane and forcing him to cut it out with a razorblade. But was the cockroach real?

"Pusher" pondered what it's like to lose control over your own mind. Killer Robert Patrick Modell had a brain tumour that gave him the power to manipulate others' thoughts. Late in the episode he played Russian roulette with Mulder, convincing the agent to turn the gun on Scully. What happened next required quick thinking on the agent's part...

"Breaking Bad" creator Vince Gilligan wrote this episode, which was disturbing only because it was so funny. Mulder and Scully told alternate versions of the time they investigated a community of vampires. The reserved Mulder was wild and animated in Scully's version, at one point mouthing the words to "Shaft" as he woke from a daze.

"The Host" introduced audiences to the Flukeman, one of the scariest monsters ever to hit television screens. He was a hideous freak who lived in the New Jersey sewer system. His bite would infect people with flatworms. The scariest part? He didn't die at the end of the episode.

"Irresistible" related a case that took Scully to the brink of insanity. The FBI agents chased Donnie Pfaster, a creepy funeral director with a fetish for women's hair. The episode saw him cut hair off a corpse, steal it out of a trash bin and even cut the fingers off a prostitute. What made the episode so disturbing was that there was nothing paranormal about it.

Another attempt at comedy, as only "The X-Files" can do. "Humbug" told of a series of attacks within a group of circus sideshow performers. Among them was Dr. Blockhead, who rammed a spike through his chest and lived, and his sidekick The Conundrum, a grotesque man who would eat anything and say nothing. Scully revealed her strong stomach when she ate a bug out of a jar without a second thought.

"Home" told the story of the Peacocks, a family of deformed, reclusive inbreds who kept the family going by fornicating with their mother. The most disturbing moment came when Mulder and Scully discovered the mother herself: a quadruple amputee hidden under a bed. Episode writer James Wong would go on to direct "Final Destination."

NEXT: 20 Eerie TV Shows That Made Our Skin Crawl

The opening theme alone was enough to send a chill down most spines. Add to that, Robert Stack's ominous delivery and the dramatic reenactments of all things paranormal and inexplicable, and you've got one of the spookiest docu-series on television.

The enigmatic creation of J.J. Abrams, Damon Lindelof, and Jeffrey Lieber, ABC's supernatural serial about a group of survivors stranded on an island after a crash landing went way beyond any Gilligan's Island episode we ever saw. While heavy on drama, the cryptic sci-fi show introduced viewers to flash-forwards, flash-sideways, smoke monsters, dual timelines, and an endlessly intriguing mythology diehard fans have been picking apart ever since.

"The truth is out there," echos Chris Carter's sci-fi yarn of two FBI agents (David Duchovny and Gillian Anderson) who are assigned to solve the unsolvable. Fraught with horror, paranormal activity, sexual tension, and breeding a general mistrust of our government ever since, the Fox show spawned a spin-off, two films, and became one of the longest-running sci-fi programs in U.S. TV history.

Another crazy concoction from the mind of J.J. Abrams, this mindtrip follows the FBI's "Fringe Division" in its investigations of unexplained happenings and combined the best of procedural dramas with serial storytelling. In true Abrams fashion, alternate timelines, parallel universes and a deep mythology pervaded the cult-favorite, thus making "fringe" lunatics of even the most casual sci-fi fans.

Good versus evil, fate versus free will, Christianity and the supernatural, all collide in... a travelling carnival? HBO's drama about a young man and preacher each with their own unique powers set in the Dust Bowl of the 1930s may not have found a big audience in its two-season run, but between the sense of dread and highly cryptic (and sometimes frustrating) plot, the carnies were only the tip of the iceberg in this complex (freak)show.

Moving is always difficult, especially if you're a teenager. Also if your neighbors are Elvis and Bigfoot. Starring that boy known by Millennials as the hero from Hocus Pocus before he hit puberty, Eerie, Indiana was The Twilight Zone for kids, and one that was no less bizarre. Sure, the show qualifies on name basis alone, but we blame horror-meister Joe Dante (The Howling, Piranha) for turning a would-be kids' show into something akin to a David Lynch movie.

The Danny Elfman theme, the pun-spewing Cryptkeeper, the celebrity cameos! Literally everyone was on HBO's horror anthology based on the 1950s pulp comic. With a revolving door of names (Tom Hanks, Michael J. Fox, Daniel Craig, the list goes on), each week was a chance to be scared silly and see famous people killed off. The strangest of all? Arnold Schwarzenegger directed his own episode.

Before running his course on The X-Files, producer Chris Carter tapped into the pre-Y2K zeitgeist by casting Lance Henriksen as an ex-FBI agent part of an ambiguous organization who can see into the minds of criminals (think Will Graham of the Hannibal Lecter series with a dash of Se7en). It didn't live to see the actual turn of the millennium, but points to Carter for making use of a mustachioed Terry O'Quinn before his LOST days.

Spawned from his anthology horror feature film Creepshow, Zombie-master George A. Romero's precursor to Tales From the Crypt moved away from the EC comics inspiration of the 1950s and branched out into sci-fi, fantasy, and even dark humor. Which isn't to say it wasn't creepy to boot — especially when channeling the mad minds of Stephen King, Clive Barker, and Robert Bloch for inspiration.

It was a quirky show about normal life. If normal included human babies birthed from cows and mayors spontaneously combusted. Created by David E. Kelley, the CBS drama followed the residents of the all-American town of Rome, Wisconsin, whose bizarre nature was matched only by the show's willingness to pose thought-provoking questions about real life's heavy subjects — from abortion and LGBT issues, to polygamy and shoe fetishism. Laugh all you like; it picked up 14 Emmy Awards in its four-year run.

"Reader beware, you're in for a scare." In the 1990s, few could escape R.L. Stine's paperbacks. Those who could, however, were bombarded all the same when turning on their television sets, thanks to Canada's YTV, which adapted many of the books into 30-minute live-action episodes. Heavily edited and some outright banned by UK censors, tales of living dummies and haunted masks that turn kids into monsters did more than deliver on the show's titular promise.

Back in the day, no name spelled eerie better than Alfred Hitchcock. Three decades into his famed film career, the director opened the door to smaller, more intimate stories with this TV anthology of horror, mystery, crime that Time magazine hailed as one of "The 100 Best TV Shows of All-TIME." We're still unable to hear Gounod's "Funeral March of a Marionette" without thinking of Hitch's signature silhouette.

After he unleashed the Evil Dead and before he dragged us to hell, genre director Sam Raimi produced a short-lived tale about a small town sheriff, a teacher, and young boy that all seemed pleasant on paper but was anything but, once viewers discovered the sheriff is Satan who raped the young boy's mother and uses his powers for — what else — evil. It's a story about purity and corruption in the form of ghosts, the supernatural, and the devil himself masked in good ol' southern hospitality.

"There is nothing wrong with your television set.... You are about to participate in a great adventure. You are about to experience the awe and mystery which reaches from the inner mind to — The Outer Limits." Often seen as the Robin to The Twilight Zone's Batman, The Outer Limits was no less eerie and placed even greater emphasis on sci-fi, while also helping pioneer the twist ending now seen as customary to the genre by today's standards.

Drawing from classic horror and real-life tragedies alike and wrapping them all up with a creature in a latex suit, the FX series stacked with sex and scares is elevated in creep factor by its daring talent (notably Jessica Lange) who change up roles for each new season. With frankenstein babies, ripped-from-the-headlines school shootings, ax-murders, and aliens already ticked off the list, one can only wonder what skeletons the anthology series has left in its closet.

Helmed by Steven Spielberg, Amazing Stories was a show that could get away with its lofty title, even when the episodes were less than amazing. Mashing up elements of fantasy and horror, the NBC series featured an impressive roster of famous faces and gave big-name directors like Robert Zemeckis, Clint Eastwood, and Martin Scorsese a chance to appeal to larger audiences via the smaller screen.

The brainchild of director Mick Garris and his fearsome friends, Showtime's Masters of Horror pulled from the best in the business, featuring the work of horror heavyweights John Carpenter, David Cronenberg, Tobe Hooper, Dario Argento, Guillermo del Toro and other fan favorites. A scary movie buff's dream (er, nightmare?) come true.

"Submitted for the approval of the Midnight Society..." A co-op in creepiness developed by Canada's Cinar and America's Nickelodeon, this horror-fantasy anthology covered all the bases of children's scare-bait: ghastly-grinning clowns, demented dolls, and aliens without faces that live on the floor above you. Needless to say, this staple in SNICK's Saturday night lineup made bedtimes a nightmare for kids all over. Because staying up late on the weekend was the point, right?

Mark Frost and David Lynch's whodunnit melodrama about the mysterious death of a small town homecoming queen and its eccentric townsfolk is many things to many people, but all these things, much like the show's owls, are not what they seem. Earning critical acclaim as one of the greatest shows of the '90s and earning a rabid fanbase along the way, Twin Peaks is a surrealist soap opera as conceived only by David Lynch.

A marriage of pulp fiction and commentary on human nature, Serling's brainchild of an anthology remains to this day one of the creepiest (and most critical) programs exploring our darkest fears and anxieties. As a television show, film, radio program, magazine, and comic book, the series' influence is seen as much throughout pop culture as it is in our collective nightmares. CORRECTION: An earlier caption misspelled Rod Serling's last name.
Production of the new episodes will begin this summer, though an air date hasn't yet been settled upon, The Wrap reported.
Talks around a revival had persisted for nearly a year and Fox TV Group co-chair Gary Newman said in January that he was hopeful "The X-Files" could return, said Deadline.