22 Easy And Affordable Upgrades That Will Help Sell Your Home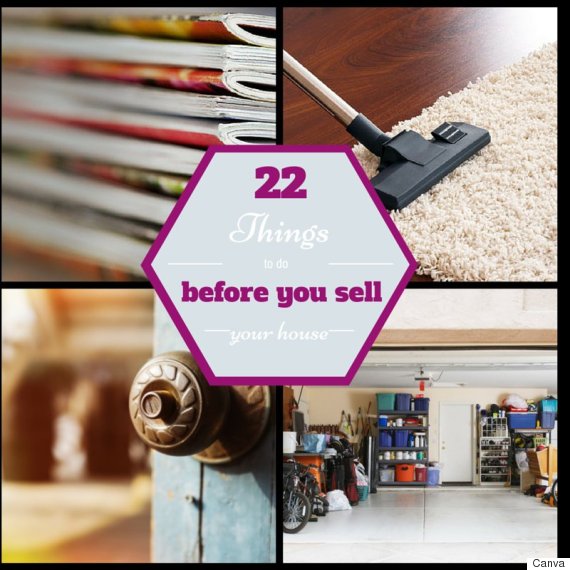 If you're planning to sell your home, you might want to take a good look at it first.
In the slideshow below, Suzanne Lewis, of Lewis + Company (working with Keller Williams Advantage Realty) shares 22 small-scale tips and tricks to get your home market ready this summer. From a fresh coat of paint to storing some of your sentimental items, these tips will make your space appear bigger and brighter to potential buyers.
"Even with rising values and reduced inventory in certain markets, selling a home remains challenging," says Lewis. Fortunately, there are simple and cost-efficient upgrades you can make that will help get your home market ready.
Just make sure not to overdo it with the upgrades. CNBC reports that remodeling rarely pays off. Instead, focus on staging your home, which the CBC says is a lot like giving your home a cosmetic makeover — and can even add 15 per cent to your home's value.
Check out the slideshow below for 22 tips that will help take your listing off the market in no time.
22 Easy And Affordable Upgrades That Will Help Sell Your Home
If you're thinking about selling your home this year, Suzanne Lewis, of Toronto-based realtors Lewis + Company, says you need to plan for it. "Take photos of [your] front and backyard in the summer, so if you decide to put your home on the market in the dead of winter, you have a nice visual to show the potential buyer."

Install outlets with USB ports to rooms like the living room, kitchen, office and bathroom. "Younger, more tech-savvy couples and individuals love them," says Lewis. They should cost $15 to $20 each.

Eliminate half-walls and exposed posts if you can, says Lewis, who explains that these fixtures simply take up too much space.

Dangling wires are distracting to the eye, so Lewis suggests hiding your cords while hosting an open house.

Clean carpets and floors, but don't replace them unless they are in really bad shape, says Lewis.

Make your small kitchen seem bigger with stainless steel and a mirrored backsplash. Even better if you can add in an island, which only requires a 30'' space between counters, says Lewis.

Give your garage a good scrub down, says Lewis, who explains that a big garage is a selling feature. Clear out your stuff so they can imagine the space holding theirs.

Giving your garden an upgrade could gain you seven to 15 per cent on your closing, says Lewis, who adds that you should focus on mowing the grass and removing weeds and dead plants, which are very distracting to buyers.

Replace outdated fixtures like doorknobs, especially if they are dented or corroded. Lewis says you don't have to spend a lot on these items, but they should look nice and clean. You can easily find doorknobs for $20 to $30.

Give your home a fresh coat of paint, inside and out, says Lewis, who adds that ceilings can be a fifth wall open to improvement with paint or metal tiles.

Stick with neutral solid colours and remove any outdated wallpaper, suggests Lewis.

Clean out the clutter, says Lewis. While you might be fond of the macaroni art your kids made for you in grade school, potential buyers will be distracted by the personal items.

Pre-inspect your place before you list it to spot issues that could derail future sales, Lewis warns. Even though your space looks safe, there could be issues in places that are difficult to see with an untrained eye.

Custom closets don't have to be expensive, says Lewis, who also notes that the extra storage will make your home seem larger and less cluttered.

This one's not just for those who are selling. All home owners should consider putting money and effort into making their home more energy efficient, Lewis says. Double paneled windows, sealed furnace ducts and energy-efficient appliances all reduce house costs and are considered a great feature for buyers.

Say goodbye to faded drapes and worn rugs, which make the home appear dated. "Leave windows and floors bare to avoid showing a lack of attention," says Lewis, who also recommends using slipcovers to hide older pieces of furniture.

Swap out old linens, says Lewis, who recommends picking up fresh and inexpensive bedding from Homesense and Winners.

Hanging on to your old magazines could result in you hanging on to your house a bit longer. According to Lewis, old magazines give off the impression that the homeowner doesn't care.

Open your windows to let in some fresh air, says Lewis, who explains that candles and air fresheners can be too strong. If the window isn't cutting it, however, Lewis says a light citrus spray is still a good option.

Good lighting is key, according to Lewis, who suggests warm 60-watt bulbs to make a space seem bigger and brighter.

Lewis suggests decorating with plants instead of flowers since they last longer. "But either choice can add vivacity to a room," she adds.

Pay attention to your bathrooms, warns Lewis. Be sure to wipe down mirrors, counters and mildew that may have accumulated around the tub. Then, before a showing, replace used towels with fresh ones and add new soap to your soap dish.

Interior designer Abigail Ahern advises families moving into their first home to consider "bullet-proof materials" when it comes to furniture. "Or at least kid-friendly ones," she says. "This doesn't have to mean compromising on glamour either, as leather is super easy to clean, and linens are durable."

From framed photos to your child's works of art, the quickest way to make a new home your own is by adorning the walls with your favourite artworks.

"When designing a nursery or child's room, opt for a colour palette of neutral tones as the base, which means you can add colourful accessories in the form of lampshades, cushions, bean bags and rugs – items that can easily be changed as the child grows up," advises Julie Hamon, founder of Bobo Kids. She recommends using plain fabrics and then customising the look with colourful accessories like decorative garlands, butterflies, bunting or wall stickers, which can be changed and easily removed. This is also a good way to add personality to the room on a budget.

One way to make the most of a family home? Embrace open-plan design, advises Ahern. While set rooms used to be designated for certain functions, modern living has embraced the shared space for living, cooking and eating, which is both functional and aesthetically appealing. "For a growing family, consider opening up your space.," says Ahern. "My sister turned her upstairs rooms into one large open-plan space for everyone to be able to spend time together."

Personalise your space with antique or vintage furniture and decorative items, which add an intimate feel to any room (and are a lot of fun to bargain hunt for!). Whether it's a family heirloom or retro chair you picked up at a car boot sale and repainted, retro items instantly add a unique flavour to your space, without breaking the bank.

Bobo Kids' Julie Hamon recommends investing in dimmable overhead lighting in your child's room, which is perfect for keeping lights low during the bedtime routine (and also useful for feeding in the night with young babies). "Strategically placed lamps around the room mean you can always control the level of lighting according to the need," she says.

If you're short on space, the last thing you want to do is clutter up your home with bulky and unnecessary furniture pieces - but you still need to find room for all of those toys, crafts, books and games. "Don't forget you can make use of bare walls with child-friendly bookcases and shelves," says Tracy Thomas, head of merchandising at the Great Little Trading Co.

Even if you don't want wall-to-wall carpet, think about padding out your home with soft rugs (and investing in non-slip flooring to protect running feet). "You and your little one will be spending a huge amount of time on the floor, so hunt down super comfy rugs that you can spend hours playing on! I love soft and shaggy vintage Moroccan rugs," says Abigail Ahern.

If more than one child is sharing a room, the best way to organise the space is to use coordinating furniture colours or personalised accessories, so that each child can make a section of the room their own, advises Hamon. Another idea is to use similar, complementary colours on bedding.

Multi-functional furniture ideas and hidden storage spaces (like a bench seat that doubles as storage space), are invaluable when it comes to minimising clutter and maximising the space in your home.

"Invest in an ottoman that doubles up as toy storage. Rounded edges and plush upholstery are completely kid-safe, and will also help out babies when they start trying to walk," says Ahern.

Moving into your new home with children means you'll prioritise the practical over the peculiar, but adding a quirky touch or two to both your child's space (and your own) will make you feel more at home. "Children will spend a lot of time in their rooms and their taste forms from an early age, so it's important to have a comfortable and appealing space that they will be happy in. It's also important not to forget that parents also spend a lot of time in their child's room and it should be in keeping with the rest of the house, with maybe a few more quirky and vintage items," says Hamon.