Canadian Consumer Insolvencies Are On The Rise Amid Record-High Debt Loads
For the first time since the Great Recession, the number of Canadians unable to keep up with their debt is on the rise.
"The damage from lower oil prices is starting to show," CIBC World Markets economist Benjamin Tal says in a new report, noting that the Prairie provinces are seeing the worst of it.
The total number of insolvencies in Manitoba and Saskatchewan jumped by 11 per cent in the six months ending in February 2015, the CIBC report said, while in Alberta they rose 6.5 per cent, "the worst showing since the recession." The province is likely to see "continued deterioration," CIBC predicts.
The oil price collapse has been better news for other parts of the country, where consumers have more spending cash in their pockets. Insolvencies in Ontario dropped by 7 per cent, while remaining flat in British Columbia, CIBC said. Quebec saw insolvencies rise by about 6 per cent.
Insolvencies include both personal bankruptcies and consumer proposals, an alternative to bankruptcy that involves the consumer renegotiating to pay only a portion of their debt.
Personal bankruptcies continue to decline in Canada, CIBC says, with the total number falling by 4.7 per cent in the six months to February. But consumer proposals have more than offset that, spiking by 9 per cent during the same period.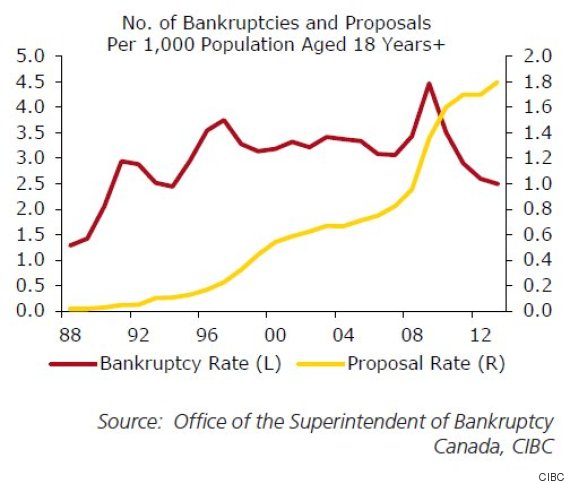 Most types of loans, including mortgages and car loans, continue to see declining delinquency rates, with one exception: personal lines of credit. Since those are often used to consolidate credit card debt, CIBC estimates it's credit card debt that Canadians are struggling with the most.
The rise in insolvencies comes as Canadians grapple with record levels of debt and uncertainty about the direction of interest rate changes.
Canadians now owe $1.63 of debt for every dollar of disposable income, up from around $1.00 of debt at the end of the 1990s.
That increase in debt has been manageable, so far, thanks to years of low interest rates that have lowered debt payments and allowed house prices, among other things, to grow faster than incomes.
The latest such stimulus came in the form of the Bank of Canada's surprise rate cut in January, which economists say helped push mortgage rates to below 3 per cent.
But many say the long-running trend of lower interest rates is coming to a close. Economists surveyed by Bloomberg see the Bank of Canada raising interest rates by the middle of next year.
But interest rates in the U.S. are expected to start rising sooner, and that will affect Canadian mortgage rates as well, as Canadian fixed-rate mortgages are linked to U.S. bond markets.
Still, many economists see another rate cut in Canada's future. In a report last week, Bank of America predicted the Bank of Canada would lower the key lending rate by another quarter percentage point at some point this year, even as the U.S. begins to raise rates.
"As the Fed hikes, the spillover effect of higher long-term rates in Canada will likely tighten financial conditions, reducing the need for any BoC policy tightening," BofA economist Emanuella Enenajor wrote.
Also on HuffPost:
Consumer Debt Per Person (2014)
Source: Equifax

Source: Equifax

Source: Equifax

Source: Equifax

Source: Equifax

Source: Equifax

Source: Equifax

Source: Equifax

Source: Equifax

Source: Equifax

Source: Equifax

How Canada's Debt Burden Compares

Canada hit a record high in the first quarter of 2011, reaching $1.5 trillion in household debt. If spread evenly across Canada, that means every family with two children has $176,461 in debt. In the U.S., household debt hit $11.5 trillion by the end of March this year. The average household debt in the U.S. for a family of four is $148,000.

Loans owed to Canada Student Loans amount to nearly $14 billion and rising. In the U.S., where tuitions are considerable higher, loans owed exceed $932 billion, including federal and private loans.

With their debt ceiling raised again, the U.S. has more than $14 trillion in government debt in the first quarter of 2011. Canada has more than $563 billion. That figure works out to 84 per cent of Canada's GDP, compared to 58.9 per cent for the U.S.

In the first quarter of 2011, the average Canadian had more than $3,500 in credit card debt, according to TransUnion Canada. In the U.S., the average American consumer owes more than $4,200 in credit card debt.

As of June 2011, the median cost of a home in Canada was $372,000. Vancouver, Victoria and Toronto are some of the most expensive places in the country to buy a house. Prices in the U.S. vary more than they do in Canada. As of June, the median price of a home in the Northeast was $261,000, while the median price in the Midwest was $147,000. The median in the South was $159,100 and in the West, it was $240,400. The average price of a home in the UK is £232,628 as reported by their first quarter in 2011, which converts to around CAD $371,000.

In 2010, there were more than 1.5 million non-business bankruptcy filings in the U.S. In the same year, there were only 92,694 personal bankruptcies in Canada. That means there were 48 bankruptcies per 10,000 people in the U.S., and 28 bankruptcies per 10,000 in Canada.