Oilsands Are Dying, Canada Should Become Food Superpower: Rubin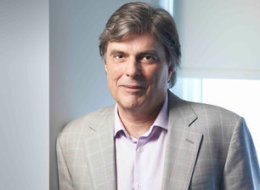 When it comes to the Harper government's newly announced carbon emissions targets, Jeff Rubin doesn't mince words.
"It's a greenwash," the former chief economist of CIBC World Markets said this week, referring to Harper's newly-announced plan to cut emissions by 30 per cent from 2005 levels, while omitting the oilsands.
"The whole reason why Prime Minister Harper has been in so much denial of climate change is he quite rightly recognizes the implications that [climate change regulations] would have on future world oil demand."
And what are those implications? A collapse in the value of oil prices and oil company stocks, making Canada's oilsands — some of the most expensive oil reserves in the world to exploit — economically unviable. Or, as Rubin puts it, "a stranded asset."
The world is shifting away from fossil fuels and towards renewable and green energy sources, and that means the value of Canada's oil reserves isn't nearly what we've been led to believe, Rubin argues in his new book, "The Carbon Bubble."
With oil prices collapsing due to oversupply, all the plans for the oilsands — from rapid expansion of production to the construction of pipelines like Keystone XL and Energy East — "no longer have any economic context," Rubin says. "The shipper agreements that (Energy East builder) Enbridge and (Keystone XL builder) TransCanada have signed aren't worth the paper they're printed on."
Goldman Sachs recently forecast that global oil prices will be around $55 a barrel in 2020, about $10 lower than they are trading this week, and well below the minimum of $80 a barrel needed for new oilsands projects coming online. If that prediction comes to pass, development of new oilsands projects will likely grind to a complete halt.
But never mind new projects coming online: Rubin doubts that even current levels of production in the oilsands will be sustainable for much longer.
"Right now they're [still producing] but they're losing money. That can only go on for so long before markets stop funding them."
The high prices that justified billions in investment in the oilsands are gone, Rubin argues, and though today's low oil prices are due to oversupply, in the future they'll be due to something else: Lack of demand, as the world shifts to less carbon-intensive forms of energy.
As a cautionary tale for Canada's oil producers, Rubin offers the example of coal. Four years ago, coal was trading at $140 a metric ton. Today, it's trading at around $70. What happened? Policy changes in the U.S. are prompting power plants to switch to less carbon-intensive natural gas, while extreme air pollution in China is prompting that country to put limits on coal use.
The result? Some of North America's largest coal companies have seen 85 to 90 per cent of their stock value wiped out in recent years, Rubin writes in his book. And that didn't require a global consensus on a climate deal.
"We don't have a consensus on climate but it's now virtually impossible to build a coal fired generating plant in the U.S. ... and for the first time last year coal consumption fell in the U.S."
Investors are now looking at Canada's oilsands the same way, Rubin argues. He notes that the Blackrock iShares Oil Sands Index exchange-traded fund -- which largely reflects the market value of the oilsands -- is trading some 70 per cent below its peak levels in 2008, and has seen negative returns in each of the past four years.
In other words, the "energy superpower" dream is over.
And Rubin should know something about that dream: He once subscribed to it, or at least parts of it, himself. Just half a decade ago, he predicted oil would hit $225 a barrel, and Canada's oilsands would be a crucial part of the world's energy supply.
So what happened to that prediction?
"That was a world in which the global economy grew at 5 per cent, not barely 3 per cent as it is today," Rubin says. If the economy was still growing as quickly as it was before the Great Recession, the world would be dependent on the oilsands today, he says.
But, as it turns out, the world can't grow that quickly when oil is above $100 a barrel, levels they were at for much of the past four years.
That leaves Canada's oilsands in a sort of Catch-22: "The triple digit oil prices that they require to make their economics work restrains growth," Rubin says, so that when oil prices are high enough to justify oilsands production, the world economy is too weak to need that oil.
And with the recent collapse in oil prices, people are beginning to wake up to the notion that Canada's oilsands may not be the country's economic saviour.
"That mythology is crumbling," Rubin says.
Making The Most Of A Warming Planet (i.e., Invest In Farmland)
So if not oil, then what should Canada do? Where will our wealth come from?
Rubin sees Canada's future in two commodities the country can exploit as the planet warms: water and food. Exporting water is a touchy subject and the source of endless controversy, but Rubin says Canada can export a "value-added" form of water that's far less touchy: Food, which, after all, requires water to grow.
In his book, he notes that with climate change, the temperature on the Prairies has already risen 1.6 degrees Celsius, lengthening the growing season.
At the same time, the U.S.'s midwestern breadbasket is threatened by climate change, meaning Canadian agricultural land could become even more valuable -- a fact not lost on companies such as seed manufacturer DuPont, which has been coming to Canada offering farmers lectures on growing corn -- something that would have been impossible on the Canadian Prairies before temperatures rose.
"Maybe Harper is in denial about climate change, but [these companies are] in the Prairies explaining to farmers how to grow corn," Rubin says.
He says it won't even take that much to become a food superpower — "climate change will do the heavily lifting." He suggests Canada could go from being a top-ten global food producer to a top-three food producer in the coming years.
"The Canadian Prairies are going to be in a position to be a breadbasket like they've never been before."
But to help make it happen, Canada will need new policies, Rubin argues — like a national carbon tax.
A National Carbon Tax?
Rubin doesn't have kind words for Canadian provinces' various climate change plans. Harper's national climate targets may be "farcical," but Ontario Premier Kathleen Wynne's plan is nothing more than a "cash grab," he argues, echoing the criticisms of others.
The only climate plan he praises is B.C.'s carbon tax, which he says the country should emulate at a national level.
"Unlike Premier Wynne's cash grab, [a national carbon tax] has to be totally offset by income tax cuts," he says, "so that we move the tax base from income, which is something good for our economy, to carbon, which is something bad for our economy."
A $30-a-metric-tonne carbon tax would translate into seven or eight more cents per litre at the pumps. But "by driving less, you will have more money to spend on everything else, because you have that income tax cut," Rubin argues.
But he sees little in the way of national leadership on the issue. The Harper government has long labeled a carbon tax a "job killer," and the Liberal Party under Trudeau has decided to leave the issue in the hands of the provinces.
"When Trudeau says 'I'll leave it to the provinces' … That's not an adequate response to the issue," Rubin says.
But where our politicians fear to tread, investors may be willing to go. As climate change forces the world's food producers to look for new places to grow, eyes will turn to Canada's fertile agricultural land.
Rubin notes that farmland has provided "very good financial returns in the last 30 or 40 years," and food prices have been climbing steadily since the start of the century.
But then, that's a similar argument to the one Rubin made, until not long ago, about oil prices and the importance of Canada's oilsands.
Which suggests, at a minimum, that Canada's economic future is still shaped by commodity prices, and any future status as a food superpower could only come to pass so long as food prices stay up, and oil prices stay low.
Also on HuffPost:
5 Things Canada Should Do To Be A Green Energy Power
Renewable energy projects require time and money to get off the ground. So if Canada intends to expand its green economy, says Robert Hornung, president of the Canadian Wind Energy Association, industry needs to have a sense of the size of the market for renewable for energy that governments want to create. In jurisdictions such as Ontario and Quebec, for instance, he says governments have done a good job of setting targets for the share of renewable energy to incorporate into the mix by 2015. But beyond that point, "the direction [...] is less clear." "It takes time to develop wind energy projects. If you're hoping that a wind energy project is going to be up and running in 2016 or 2017, you need to start working on that project in 2013," he said. "If there's no signal that there's actually going to be a market for these projects nobody is going to start doing that work."

With role models like Denmark and Germany, which have undertaken ambitious renewable energy policies with gusto, Canada needn't reinvent the wheel to become a leader in the green economy. But before looking overseas, environmentalists point to expanding what's already working within our own borders in provinces like Ontario, where the government has pledged to phase out coal energy by 2014 and create 50,000 green economy jobs by 2015. "We need more policies like in Ontario," said Tim Weis, director of renewable energy and efficiency policy at the Pembina Institute, a non-profit think tank based in Calgary. In Ontario, the sector is supported up by a feed-in tariff program that pays guaranteed prices for renewable energy, as well as subsidies for firms that manufacture renewable energy technologies in the province. But Weis says there is a need to develop a "broader and more consistent market" for green technologies. "Ontario is a big market and it's going to do well in terms of developing manufacturing capacity for wind and solar, but what we need is to expand that market to other parts of Canada so we have a bigger domestic market," he said.

What's one of the quickest ways to support the growth of Canada's green economy? Stop subsidizing the production of oil and gas, says Adam Scott, green energy project coordinator at Toronto-based Environmental Defence. At present, he says, subsidies for fossil fuel-producing sources of energy, particularly at the federal level, dwarf support for renewable energy -- which he sees as a major roadblock to advancement. "Everybody complains about why we are subsidizing green energy, but it's because we're trying to level the playing field with all these other subsidized forms of energy," he said. "Subsidizing fossil fuels really has a huge drag on the development of renewable energy." Putting a price on carbon that's consistent and country-wide would also help, says Tim Weis, director of renewable energy and efficiency policy at the Pembina Institute. "We need a market signal that levels the playing field and lets everyone know where we're going on this," he said. "It's pretty important that that happens at a national level so it's well coordinated across the country, and everyone is looking at the same picture."

Improving the energy efficiency of buildings and construction projects tends to be "the poor child" of efforts to grow the green economy, says Tim Weis, director of renewable energy and efficiency policy at the Pembina Institute. But if Canada wants to up game in the green economy arena, he says that must change. "[Improving energy efficiency] pays for itself, it has usually the fastest and the strongest bang for your buck in terms of actually reducing emissions and reducing energy, so it really needs to be at the top of the list," he said. That means developing more initiatives like the federal government's former ecoENERGY Retrofit program, which granted homeowners up to $5,000 to improve the energy efficiency of their homes by installing everything from better insulation to high-efficiency windows. The program expired at the end of last month. Though Weis says that particular program was "fairly successful," he estimates that 90 per cent of the homes in Canada could still benefit from an upgrade. "That's still a big area that we need to be working on nationally," he said.

"[The Conservative government] is always saying that Canada is an energy superpower, but they're very selective in what energy fits that bill," says Adam Scott, green energy project coordinator at Toronto-based Environmental Defence. As he sees it, getting serious about growing Canada's green economy will require federal support for renewable energy, and a national strategy for incorporating wind and solar into the overall energy mix. "Ontario is doing very well, Nova Scotia is developing renewable energy and some of the other provinces are looking at it, but without a national approach, Canadian companies are limited to [what] these local jurisdictions are doing," he said. This concern is shared by Ontario Energy Minister Chris Bentley, who says, "The world is going green." "I would have thought that every government that wants to support jobs and prosperity would want to participate in the green energy economy," he said. "I anxiously await their decision to be part of that in the future."