3 30-Somethings Are Building Up A Community In Nicaragua With 'Waves Of Hope'
Many people dream of giving it all up to live on a beach or to help make the world a better place. Earl Cahill managed to do both of those things, all by the age of 36.
Cahill, a Kingston, Ont. native, is a co-owner of Nicaragua's El Coco Loco Eco-Resort, as well as the president of its associated non-profit arm, Waves of Hope. In 2009, he and friends Jamie Collum and Ben Orton opened this vacation spot near Chinandega with one goal: to simplify their lives, while at the same time, working on a project that excited them.
The trio had travelled through Guatemala together in 2004 after university, and along the way had unsurprisingly decided they wanted to stay.
"We were adventurous and having the time of our lives, but were at a point where traditional careers in the corporate and/or public sector were imminent," Cahill tells the Huffington Post Canada. "The idea of pooling all of our money in order to purchase land, build a small eco-hotel, and establish a permanent life on the beach sounded much more exciting. As we were experiencing first-hand the difficulties associated with poverty and life in the developing world, the plan of including a development project along with our business venture seemed not only like a good idea, but a responsibility."
First, however, they had to get the start-up money together. They went back home to build the capital, with Cahill working at Corrections Canada and the others in their own office jobs. They continued to make plans, reconvening to find the ideal place to build their resort a few years later, eventually purchasing almost five acres of land in the small northwestern town of El Manzano Uno. They registered Waves of Hope as a Canadian non-profit in 2008, and from the beginning, made it a priority to include the community in their planning.
"We didn't want to come in too strongly with big ideas of how we could change their lives, but instead we wanted to learn from the local people and listen to what they hoped for their community and how we could support this," explains Cahill.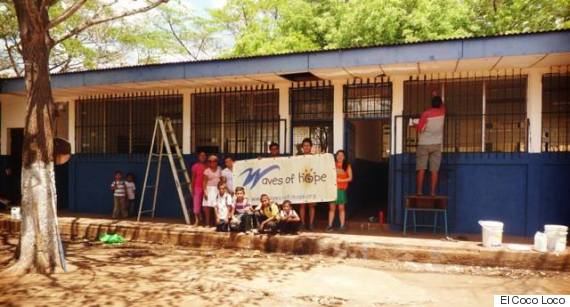 Waves of Hope, which was launched with goals that included alleviating poverty, educating the youth of the region and improving health care through initiatives like clean water, has raised over $250,000 since 2008. The organization has refurbished several elementary schools and built a high school from the ground up. Meanwhile, the resort is doing brisk business in yoga and surfing retreats, welcoming visitors from all over the world for their holidays.
For Cahill, who was the last of the co-owners to move to Nicaragua with his wife and two children, the transition from vacation to life on the beach was more difficult than he expected.
"We had gotten quite comfortable in our life in Kingston, and although trips of several weeks or even months made the transition gradual, the actual move and introduction into our new life took some courage," he recalls. "Cold-water showers, composting toilets, a steady diet of rice and beans are all regular parts of our daily life now."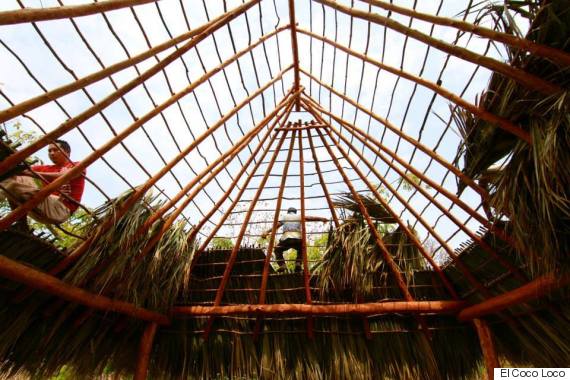 And of course, building a house on the beach in a foreign country was another challenge altogether.
"When we arrived in early August 2014, [our house] was livable, but still far from complete," he says. "We quickly realized that we must have built directly on top of a major anthill, as they seemed to be everywhere! With two small kids, keeping the floors free from crumbs and spills is nearly impossible. Ants would parade in under our doors, over our walls, and even out from our outlets. Regardless, we remained excited and continued to believe in our decisions. After all, what family home isn't in need of a little work?"
Though their families at home seemed initially dubious about the decision (and the distance from their grandchildren), Cahill credits them with truly helping to get the idea — especially Waves of Hope — off the ground.
"It was our friends and families who early on really made Waves of Hope work," he says. "They were the ones who came out to our early fundraisers, gave their time and donated their dinero. Without that initial support we would not have been able to offer any support to our community."
And as for their own journey, Cahill doesn't regret it for one moment, anthills or not.
"In a professional sense, I left an often thankless job of watching over hundreds of federal inmates and became a vendor of wellness, offering a fun-filled, relaxing change of pace where expressions of gratitude are plentiful and most people don't want to leave," says Cahill. "The deep connection we've been able to establish with our community through Waves of Hope also provides a strong sense of purpose and accomplishment."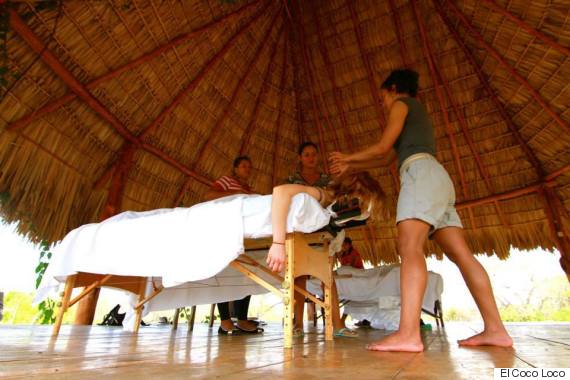 It's taken more than 10 years, but now the three families are living the life they planned out all those years ago.
"As the business and non-profit have both continued to develop and become successful, we have been able to devote more time to our families, and ourselves, and really have come to enjoy the life that we all dreamed of," says Cahill. "Ben, Jamie and I have developed a system where we all share in the administrative duties, regular maintenance and upkeep of our infrastructure, and guest relations. This allows us to start most days with our four dogs on the beach or even in the surf, catching waves."
If you know of someone committed to improving the lives of others by giving, we want to hear about it. To submit a Go Giver nomination, email canadaliving@huffingtonpost.com.


ALSO ON HUFFPOST
10 Amazing trips to add to your bucket list
As one the world's most beautiful places, a trip to any of the Philippines' 2,000 inhabited islands will instantly instill your love for this country. You can either choose to get active on the beach, go exploring nature's wonders – including the incredible Chocolate Hills – or retreat to a blissful spa resort. For more information click here.

The largest island in Asia offers a fantastically diverse range of holidays, from stunning beach holidays on the South China Sea, to extraordinary wildlife retreats. Adventures include climbing Mount Kinabalu, the highest point in South East Asia, cruising the Kinabatangan River in search of primates, and trekking deeply into the rainforest of the Danum Valley Conservation Area. For some fantastic examples of trips, click here.

If you haven't yet visited the world's next superpower, there's never been a better time to explore this vast, aspirational country. From vintage glamour in Shanghai to the epic sights of China's ancient history, such as the Great Wall and Terracotta Warriors, a tour of the MIddle Kingdom will take your breath away. For some incredible holidays ideas, click here.

There are few holidays landscapes that surprise travellers as much as Ireland's rural views. While the cities buzz with modern energy, the countryside remains untouched by change. Spend time enjoying Ireland's coastline, drinking in the views and the Guinness. Click here for more information.

Islands, mountains, valleys and fjords make Chile a south American country that needs to go on your bucket list. You'll never know quite what to expect, whether you're exploring the the world's driest desert in the north, the country's Mediterranean centre or the tropicals climes of the south. Expect to take some of your most spectacular holidays photos yet. For more information trying clicking here.

If you've yet to add Scandinavia to your bucket, Norway is a great place to start. The countryside is pristine, offering terrific skiing, walks and river holidays. You can hop on one of the world's best train rides between Oslo and Bergen, where you'll end up 1,222 metres above sea level, looking across a magical, snow-covered vista. Click here for more information.

Discover your mystical side and head to the stunning country of Nepal. With the Himalayas as a backdrop, landlocked Nepal has an ancient culture and a mystical air. To check out some truly inspirational holidays, click here.

While you might think that a holiday in America is a little dull, there's really nothing quite like a road trip along the country's West coast to awaken your romantic soul. You'll suddenly discover what inspired all of your favourite movies, as you drive past creepy motels, towards seemingly infinite desert horizons, and along authentic Americana high streets. Find out more about ways to take technicolour travels in Hollywood country here.

Of course you'll know it best from Lord Of The Rings, but just because you've seen the movie, that's no reason to cross it off your bucket list! With 14 national parks, spectacular mountain ranges such as Aoraki Mount Cook, as well as submarine trenches that are home to whales, dolphins and seals there, this is country that never fails to inspire visitors. Find out more here.

Possibly the most romantic place on the planet, St Lucia is a tropical island with a truly warm heart. Within minutes of checking into your hotel, you'll find it hard to work out why you were so stressed when you first touched down. Whether you love chilling out on the beach, watching sunsets or exploring the local flora and fauna, this island offers easy-going pleasure on tap. For more information on great holiday options, click here.