Obesity In Canada Is Growing Steadily Worse: Statistics Canada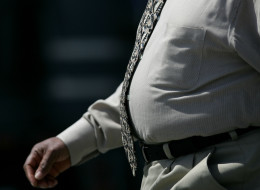 Hi there, Canada. Have you been carrying a few extra pounds lately?
The answer is a firm "yes" if you ask Statistics Canada (StatsCan). The data-gathering body released a report last week showing that the proportion of obese Canadians now sits at 20.2 per cent, up from just over 15 per cent in 2003.
StatsCan gathers its data using Body Mass Index (BMI), a measure that takes a person's height and weight into account.
Those who are 5'4", for example, are considered obese if they weigh over 174.4 pounds. People who are six feet tall are said to be obese if they tip the scales at over 220.7 pounds.
The number of men who report being obese sat at 21.8 per cent in 2014, up from just over 15 per cent in 2003. The proportion of obese women grew from 14.5 per cent to 18.7 per cent in the same time frame.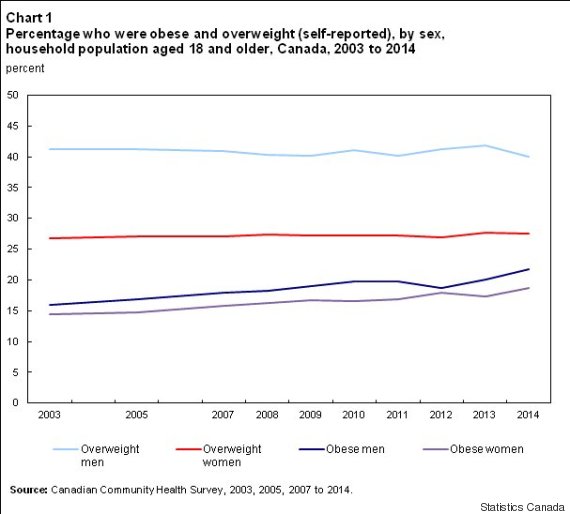 A growing trend was also witnessed when combining people who reported being obese and overweight.
Data cited in the report showed that the proportion of overweight and obese men jumped from 57.3 per cent in 2003 to 61.8 per cent in 2014, while for women, the number grew from 41.3 to 46.2 per cent in the same period.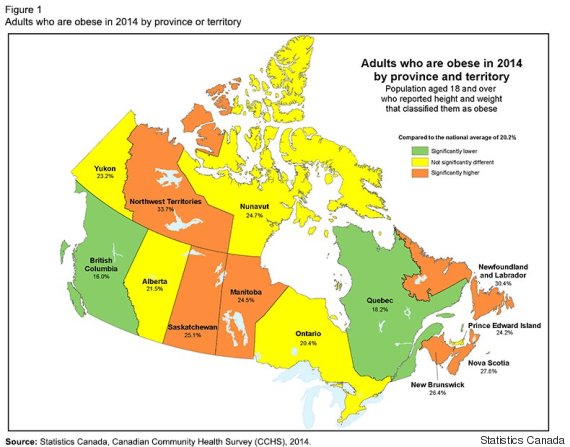 The highest proportion of obese people live in the Northwest Territories, at 33.7 per cent, according to StatsCan.
Obesity has been identified as a result of a lack of "food security," meaning access to nutritious and affordable meals.
At 13.7 per cent, the Northwest Territories had the second-worst food security rate in Canada in 2011-2012, behind Nunavut at 36.7 per cent, and ahead of Yukon at 12.4 per cent.
The high cost of food in Canada's north has long been a topic of discussion — cases of water have been known to cost as much as $105.
To help ease the pain in the grocery aisle, some people have been sending care packages of food from the south to the territories.
The higher rates of obesity in Atlantic Canada, meanwhile — 30.4 per cent of people in Newfounland and Labrador are considered obese — have been attributed to a lack of physical activity, The Canadian Press reported in 2013.
StatsCan found the lowest proportion of obese Canadians in British Columbia, at 16 per cent.
While BMI is trusted as an obesity measure by both Health Canada and the World Health Organization, there are questions about its efficacy.
The New York Times last year said that BMI doesn't take different fats into account, and that it was never intended to be used for people's weight, though it does get accurate results for sedentary people.
Like Us On Facebook

Follow Us On Twitter

ALSO ON HUFFPOST:
Facts About Childhood Obesity
These kids are even more likely to become obese adults.

According to the Center For Disease Control and Prevention (CDC), 17% (or 12.5 million) of kids and adolescents aged 2 - 19 years in the United States are now obese.

The rate among this age group increased from 5% to 10.4% in 1976-1980 and 2007-2008.

Obese kids are more likely to also be obese as adults, which puts them at risk for heart disease, diabetes, and more adult health problems.

CDC data shows that there was an increase in the pervasiveness of obesity in the American population between 1976-1980 and then again from 1999-2000, the prevalence of obesity increased.

Obesity in low-income 2- to 4-year-olds rose from 12.4% of the population in 1998 to 14.5% in 2003 but increased to 14.6% in 2008.

And only 25% of kids in this age group get the recommended three daily serving of vegetables. One way to make sure your child gets the amount of fruit and vegetables that they need is to serve them at every meal.

In 2011, only 29% of high-schoolers in a survey participated in 60 minutes of physical activity each day, which is the amount recommended by the CDC. It's best for kids to get three different types of exercise: aerobic activity, like walking or running, muscle strengthening activities like push-ups or pull-ups and bone strengthening activities like jumping rope.

High blood pressure, diabetes and other cardiovascular issues have been previously tied to obesity. But a 2013 study found that obesity also puts kids at risk for other health issues such as ADHD, allergies and ear infections.

This number was documented by the FTC in 2008. According to the APA, there are strong associations between the increase in junk food advertising to kids and the climbing rate of childhood obesity.