24 Things We Learned From Nigel Wright's Emails In The Mike Duffy Trial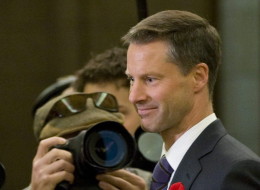 Nigel Wright, the former chief of staff for Prime Minister Stephen Harper, took the stand Wednesday as a Crown witness against former Conservative senator Mike Duffy.
Duffy has pleaded not guilty to 31 charges connected with his inappropriate Senate housing and living expenses, and a $90,000 payment Wright gave him to repay those costs.
On Wednesday, Wright testified he never told Harper who was paying Duffy's tab. But the lawyer's 426-page binder of emails released as part of the court proceeding revealed a lot more about what was happening in the Prime Minister's Office two years ago.
1. The prime minister's office — Wright and colleagues Chris Woodcock, Patrick Rogers and Benjamin Perrin, along with key senators and staff — drafted media lines that misled Canadians into believing Duffy had repaid his own expense claims.

2. Harper may not have known about the payment scheme but he took time to make several suggestions to a Senate audit subcommittee report that was heavily edited by his office.

3. Wright thought Duffy's expenses were outrageous. Like really outrageous.

4. Duffy and his lawyer seemed to be lobbying for some of his other questionable expenses to be declared appropriate. Wright was not happy.

5. Wright doesn't like to be misquoted.

6. Wright thought the office of Marjory LeBreton, the government's leader in the Senate, was somewhat incompetent. (Bonus: This thread also shows the PM wanted to stop all the embarrassing Senate stories. Make it stop!)

7. Conservative Sen. Carolyn Stewart Olsen is a suck-up.

8. Duffy needed constant babysitting.

9. Wright seems to think the NDP and the media are a bit dense.

10. Wright didn't think what Duffy did was fraudulent.

11. Duffy's lawyer, Janice Payne, makes $475 an hour.

12. The PMO may have told Duffy not to engage with the Deloitte audit. Even though it knew it shouldn't tell him that.

13. Conservative Sen. Vern White got in a heated argument with Duffy.

14. Two Senate staffers apparently threatened legal action if a Senate report wasn't released as planned.

15. The Duffy matter ranked higher in priority to Wright than discussions about the free trade agreement with Europe (CETA) — but not more important than a meeting with Ontario Premier Kathleen Wynne.

16. Wright didn't want to put anything in writing.

17. If the Conservative Party of Canada was going to pay Duffy's $12,000 in legal costs and $32,000 in inappropriate expenses, Wright didn't want anybody to know. And he didn't want Duffy to tell anyone either.

18. Officials in the PMO were going to make sure Duffy wouldn't be too forthcoming with a Senate committee process by vetting his diaries themselves.

19. Micro-managing annoys Wright. Also, he appears to ask Conservative Sen. Irwin Gerstein to work through his "senior contacts" at Deloitte to see if they would be amenable to what the PMO wanted their report to say.

20. Wright knew some of Conservative Sen. Pamela Wallin's expenses were inappropriate.

21. Duffy wanted the PMO to spare him from an RCMP investigation. (It had already begun at that time, unbeknownst to them).

The PMO thought this was a bad idea.

22. The PMO found it frustrating to work with the Senate "drama"...

... and back-stabbing senators.

23. Wright appears willing to mislead the public about how Conservative Party funds can be used.

24. He was right about things ending badly.