Adult Colouring Books: 17 Of Our Favourite Books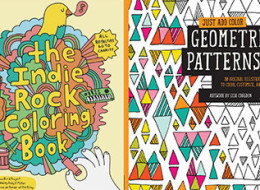 Mere months ago, adults who enjoyed colouring had to steal Sesame Street colouring books from children and probably felt a little embarrassed by it. But thanks in part to an explosion of colouring books aimed at the non-preschool set, colouring is now cool.
The trend inspired Carrie Wong and Witek Radomski to create Legendary Landscapes, a colouring book featuring the many varied and impressive landscapes of Canada.
"We are inspired by Johanna Basford's Secret Garden and Enchanted Forest," Wong told the Huffington Post Canada. "She has truly set the standard for adult colouring books. We were very impressed by the level of detail and intricacy in her work as well as the composition and design."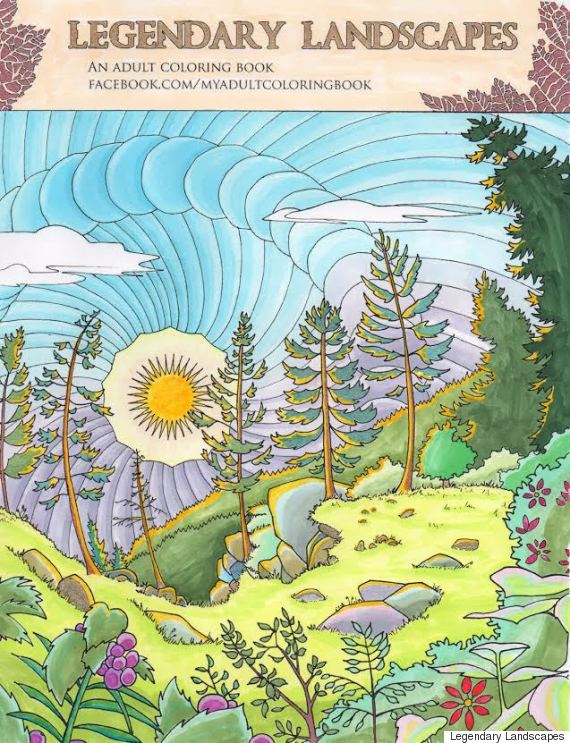 Wong became a fan of adult colouring herself and found a few Facebook colouring groups where fellow artists could share their work and get feedback from members.
"Everyday I would see personal posts from members who had significantly improved their lives with adult colouring books," she said. "It may seem surprising but many people with chronic pain, anxiety, or depression were helped by picking up colouring as a hobby." As an artist, she wanted to contribute to that sense of well being in others while also providing a creative outlet.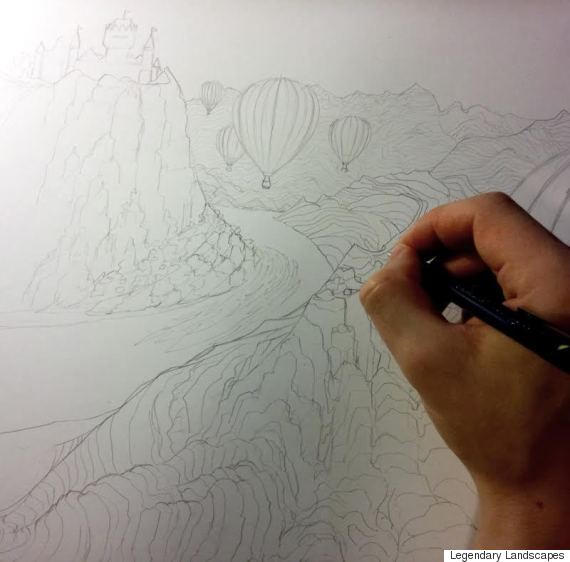 With that creativity in mind, Legendary Landscapes doesn't just stick to real scenes from Canada, the art also explores outer space and mysterious dimensions.
Previous studies have shown colouring can be relaxing, meditative and calming as a pastime. In July, colouring books also earned top spots on Amazon's best-selling books list.
Legendary Landscapes is currently available for pre-sale through a Kickstarter campaign, with plans to ship the completed books in early November. You can get a sneak peak of their pages here.
But in the meantime, here are 17 other great colouring books covering everything from nature to women's history.
17 Of The Best Adult Colouring Books
Travel the world with this adorable little cat. This is a great book if you're a fan of both cuteness and detailed colouring. Get it here.

Celebrate the beauty of Mexico's Day of the Dead festival with this book by Sarah Walsh. If you like her drawing style, look for her other colouring books featuring illustrations of circuses and Carnival. Get it here.

The Yellow Bird Project (team behind the book) was ahead of the game on colouring books, thanks to this title released in 2009. The book has pages featuring bands like the Shins, Rilo Kiley, and the National — a perfect gift for your favourite hipster. Get it here.

Yes, the same Abbi Jacobson who is one half of the team on Broad City. Earn some bonus creed with your ladies by gifting them wit this book or Jacobson's other title featuring San Francisco. Get it here.

Basford really sent the colouring trend into high gear with her beautiful and detailed book, Secret Garden. This one is its follow-up title, and it's no less lovely. Get it here.

Fans of Basford's illustration style will also like this book from artist Millie Marotta. But you'll want to be patient — these detailed drawings are meant for times when you can really focus, especially if you can't handle colouring outside the lines. Get it here.

Do you think you can improve on Beyonce's sartorial style? Well, you're wrong. But you can give it a go by choosing the colours for her amazing hair, makeup, and outfits in this colouring homage. Get it here.

This book is technically aimed at children, but we think the sophisticated line drawings of the City of Lights hold universal appeal. Get it here.

This book —NSFW, obviously — makes a great gift for bachelorettes and wedding showers. Inspire the lucky couple to get creative in more ways than one! Get it here.

Sometimes you just want to colour to relax, and not think about staying inside the lines or not missing a detail. This book of repetitive patterns is perfect for those times. Get it here.

This well-known illustrator has brought her talents to the colouring book arena, with this book of whimsical patterns. Check out her other books featuring botanicals, folk art, and flora and fauna. Get it here.

Colouring can be fun, relaxing, and educational at the same time, thanks to this book that celebrates impressive and accomplished women. Get it to remind yourself how awesome other women are, or give it to a young person to get them inspired. Get it here.

Visit cities both real and imagined with this book — it makes a great gift for wanderlusts, whether they get to travel often or not. Get it here.

Mandalas are intricate designs made with sand, painstaking care and then wiped away when done. The pages in this book will last a bit longer, and offer the same beauty and relaxing properties of mandala making. Get it here.

Harper's iconic illustrations are perfect for using brightly coloured markers — maybe those classic ones that smell like different foods. Get it here.

This South Korean book captures the fun and inventive style of the country's youth and is the perfect gift for your favourite fashionista. Get it here.

Not quite brave enough to get yourself inked? Do the next best thing by filling out your in-my-dreams designs with this colouring book. Get it here.