World's Oldest Newlyweds Tie The Knot After 27 Years
George Kirby and Doreen Luckie might have been together for 27 years, but the two lovebirds only tied the knot this past June.
Kirby, 103 and his new wife Luckie, 91, were officially named the world's oldest newlyweds by Guinness World Records — with a combined age of over 194 years!
"I didn't get down on one knee, because I don't think I would have been able to get back up," Kirby told Marie Claire UK. "I can definitely say we're going to spend the rest of our lives together."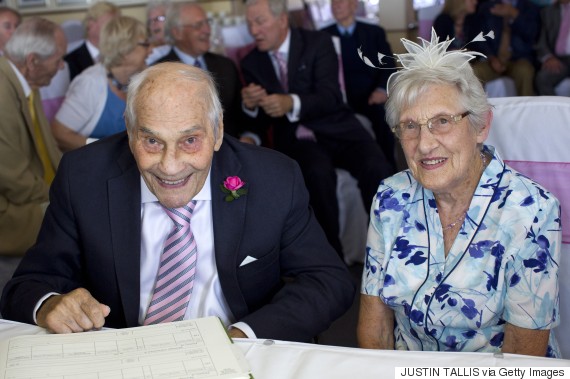 The couple had been living together since 1988, and after pressure from their seven children to get married, the two finally decided to take the plunge.
The summer wedding ceremony took in Eastbourne, southern England at the Langham Hotel, with 50 of the couple's closest family members and friends.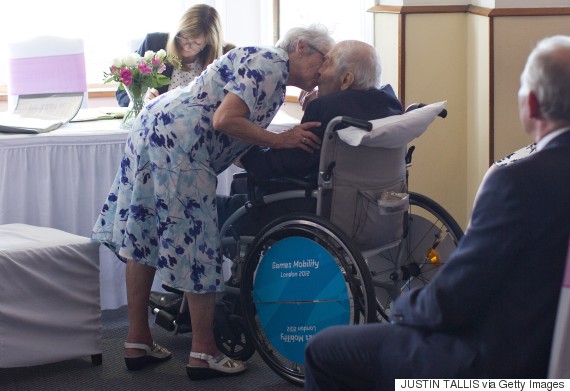 Previous record holders were French couple Francois Fernandez and Madeleine Francineau, the Telegraph notes, who were married at a combined age of 190 years.
And the world record for the longest marriage belongs to Herbert and Zelmyra Fisher of North Carolina — who were married for 86 years (Herbert passed away in 2011).
ALSO ON HUFFPOST:
Longtime Celebrity Marriages
Michael J. Fox & Tracy Pollan married in July 1988.

Tom Hanks & Rita Wilson got married in April 1988.

David Bowie & Iman got married in in April 1992.

Bono & Ali Hewson married in Aug. 1982.

Kevin Bacon & Kyra Sedgwick married in Sept. 1988.

Danny DeVito & Rhea Perlman married in Jan. 1982.

Ozzy & Sharon Osbourne married in July 1982.

John Travolta & Kelly Preston married in Sept. 1991.

Warren Beatty & Annette Bening married in March 1992.

Faith Hill & Tim McGraw married in Oct. 1996.

Melanie Griffith & Antonio Banderas married in May 1996.

Will Smith & Jada Pinkett Smith married in Dec. 1997.

Sarah Jessica Parker & Matthew Broderick in May 1997.

Gavin Rossdale & Gwen Stefani married in Sept. 2002.

Ben Stiller & Christine Taylor married in May 2000.

Michelle Pfeiffer & David E. Kelley married in Nov. 1993.

Kelly Ripa & Mark Consuelos married in May 1996.

Jamie Lee Curtis & Christopher Guest married in Dec. 1984.

Sting & Trudie Styler married in Aug. 1992.