University Of Calgary Students Invent 'WindChill' Fridge That Requires No Electricity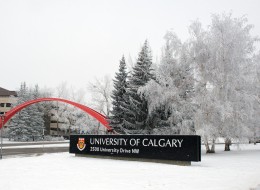 Four University of Calgary students have invented a fridge that doesn't require electricity to run.
Their project won an international competition that seeks nature-inspired solutions to sustainability problems.
The project, named WindChill, won the Biomimicry Global Design Challenge's student category.
The invention was inspired by how some animals regulate their body temperature. The team from U of C aimed to create an easy, inexpensive solution to food spoilage, which disproportionately affects people in hot climates.
Team members — Jorge Zapote, Mitchell Weber, Xi Cheng and Michelle Zhou — factored different ways animals cool themselves off into their design.
First, similar to an elephant's ear, the machine uses a funnel to catch air and bring it into a pipe immersed in fluid. The fluid around the coil evaporates, cooling the air inside. Then, it moves to a below ground refrigeration chamber to chill the food.
The last step was inspired by how meerkats burrow into the ground to avoid heat.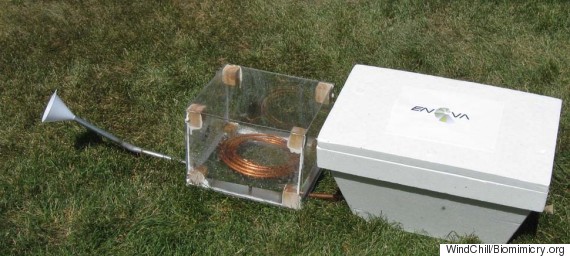 The WindChill fridge uses evaporation to keep food cool. (Photo: WindChill/Biomimicry.org)
"Anywhere from a quarter to half of the world's food goes to waste every year," said Zapote in a video pitch for the project.
It's a design that's easy to set up, and requires almost no instruction or maintenance.
Wind Chill: food preservation unit from ENOVA Calgary on Vimeo.
WindChill "is a tool for not only keeping food at low temperatures, but also for changing the lives of the people that use it," reads the project's description.
Evaporative fridges made of two clay pots nestled together are already common in Africa and the Middle East, but the WindChill project improves on the design in two ways — the air intake, and the below ground design which aids temperature maintenance.
The next step for the Calgary students is to create a prototype and to hit their temperature goal of 4.5 degrees Celsius to ensure food won't spoil.
Like Us On Facebook

Follow Us On Twitter

Also on HuffPost:
7 incredible solar powered houses designed by students
Stevens Institute of Technology started with a simple question when preparing for the U.S. Department of Energy Solar Decathlon 2015: "How can we design a home that both reduces energy use and adapts to the realities of a changing, more extreme climate?" The answer is the SURE (sustainable + resilient) HOUSE, a high-performance, solar-powered house that is armored against extreme weather and can provide emergency power in the aftermath of a storm—packaged as a comfortable, beautiful shore house.

For its first U.S. Department of Energy Solar Decathlon, University at Buffalo, The State University of New York, introduces the GRoW Home, which reconceptualizes sustainable urban living by pushing the conversation toward total self-sufficiency. This small but dynamic house adjusts to seasonal change through operable elements and a spatially flexible design that allows for adaptable living. The Growlarium—part greenhouse, part solarium—supports vegetation year-round and provides an extraordinary living space.

California Polytechnic State University, San Luis Obispo, returns to the U.S. Department of Energy Solar Decathlon in 2015 with a house designed for coastal California. As such, INhouse addresses the majority of its heating, cooling, and lighting needs architecturally. Its public and private "wings" are serviced by an active "core" that contains mechanical, electrical, plumbing, and monitoring systems. The private wing includes a master bedroom and a flexible library/office/second bedroom. The public wing contains entertainment and dining spaces that open to exterior areas and the views beyond.

Partnering across the world with Technische Universitaet Muenchen in Germany, The University of Texas at Austin returns to the U.S. Department of Energy Solar Decathlon in 2015 with a vision for its own backyard. One of the fastest growing cities in the U.S., Austin is facing strain on its water and electricity infrastructure. Compounding these issues is an increase in suburban poverty. The team's 784-ft2 NexusHaus offers a solution to these problems in a solar-powered house that can be deployed throughout Austin as an accessory dwelling unit. The house will collect most of its own water, provide vegetables and fish for consumption through a closed-loop aquaponics system, and increase density within Austin's single-family residential neighborhoods.

Just as birds use materials from their environment to build a nest, Missouri University of Science and Technology reused common materials to build its U.S. Department of Energy Solar Decathlon 2015 entry. Three refurbished shipping containers form the structure of the house. Innovative technologies such as greywater reclamation and a home automation system pair with passive design techniques to reduce overall energy consumption and improve efficiency. Collectively, these elements form a balanced blend of modern design, comfort, and sustainability.

Indigo Pine, the first U.S. Department of Energy Solar Decathlon entry from Clemson University, seeks to improve the sustainability of construction socially, economically, and environmentally. The Clemson team developed a new construction method to enable residents to construct their own homes efficiently and affordably.

For its first U.S. Department of Energy Solar Decathlon, the University of California, Davis, has created Aggie Sol, a prototype zero-net-energy home for the underserved farmworkers of America. The two-bedroom, one-bathroom Aggie Sol is factory-built for easy transportation and construction. Its contains a large common space with living, kitchen, and dining rooms that open onto the decks and sleeping and service rooms off a hallway. The house features in-line framing and an innovative radiant floor system that uses the night sky to reduce cooling loads.