Syrian Refugee Benefits To B.C. Economy Could Total $563 Million: Vancity
A Vancouver credit union is making a strong economic case for accepting Syrian refugees as B.C. prepares to welcome 2,500 of them by the end of February 2016.
Vancity's report says that the refugees are expected to contribute as much as $563 million in economic activity over the next two decades.
Syrian refugee Samer Albqerat sits with his wife Doaa and children in Irbid, Jordan on Dec. 1, 2015. The family is waiting for approval to immigrate to Canada. (Photo: Paul Chiasson/Canadian Press)
Assuming an influx of 2,500 refugees — with about half between the ages of 18 and 60 years old — the credit union estimates that their cumulative total economic activity could be $86.51 million by 2019, rising to $563 million by 2035.
That economic activity includes using goods and services, paying for housing, and contributing taxes.
Within 10 years of arriving, refugees are expected to earn an average annual income of $23,363. They're predicted to have income growth of 3.7 per cent per year, which is based on the rate seen by refugees who came to Canada from 1989 to 2004.
Experts have said that Syrians are coming from a country with a skilled workforce, and that could boost economic activity in some Canadian regions.
Vancity noted that immigrants are "highly entrepreneurial" people, who are approximately "30 per cent more likely to start a business than non-immigrants."
Self-employment is also higher among refugees than other immigrants and people who were born in Canada, it said.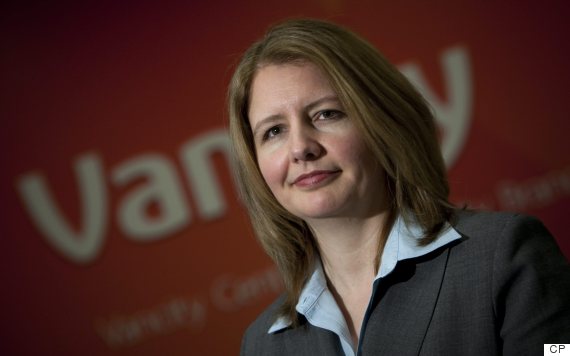 Vancity CEO Tamara Vrooman called on businesses to support refugees coming to B.C. (Photo: John Lehmann/The Globe and Mail via CP)
Vancity is supporting Syrian refugees through a number of measures including loans of up to $50,000 for people who are upgrading their homes to accommodate refugees.
The credit union is also donating money to the UN Refugee Agency through the Vancity Humanitarian Fund, which has received roughly $30,000 in donations since September.
"We're calling on all businesses to play a role in supporting refugees that are coming to our region," Vancity CEO Tamara Vrooman said in a media release.
Canada is expected to spend $1.2 billion resettling refugees over the coming six years.
Like Us On Facebook

Follow Us On Twitter

Also on HuffPost:
These Are The Terrifying Syrian Refugees Coming To The U.S.
Maaesa Alroustom, center, is kissed by her mother, Suha, as her father, Hussam, back, sits with her brother Wesam in their apartment in Jersey City, New Jersey, Sept. 16, 2015. The Alroustoms are refugees from war-stricken Syria.

Hajar, Amira and Nabiha Darbi pose in their new living room in New Jersey. The Darbi family is one of many Syrian refugee families already living in the U.S. Read more about their story here.

Syrian refugee Nujeen, 16, waits to be carried from the shoreline to the road after landing on the Greek island of Lesbos with her older sister Nisreen. They fled Aleppo with their parents over two years ago and had been living in Turkey before deciding to seek better medical care for Nujeen in Europe. After a rough crossing that left most of the passengers cold and terrified, Nujeen seemed calm and happy. Speaking fluent English, she described the journey: "I enjoyed it. I have never been on a boat before. It was very beautiful. I didn't know if I was going to live or die, but thanks to God we are here."Nujeen's resilience captured headlines around the world this year, and earned her a shoutout on HBO's "Last Week Tonight with John Oliver." It was more than just a mention for Nujeen, however, as Oliver got actors from her favorite American soap opera, "Days of Our Lives," to pay tribute to the teen. Nujeen has since arrived in Germany.

A refugee, using a plastic trash bag to protect himself from the rain, walks through the "New Jungle" migrant camp in Calais, France, where thousands of migrants live in the hope of crossing the Channel to Britain, on Oct. 21, 2015.

Mahmud, 28, and his bride, Firal, 25, both from the Syrian city of Kobane, show their rings as they arrive with other refugees and migrants on the Greek island of Lesbos, after crossing the Aegean Sea from Turkey on Oct. 8, 2015.

A elderly Syrian man holds his broken arm, an injury he received during his voyage from Syria, at a refugee reception center on Oct. 23, 2015, in Gevgelija, Macedonia.

A Syrian child holds a watermelon, one of several distributed near the Akcakale crossing gate between Turkey and Syria at Akcakale in Sanliurfa Province on June 16, 2015.

A man from the Syrian town of Aleppo poses with his child in front of a mound of life jackets on the Greek island of Lesbos after crossing the Aegean Sea from Turkey on an inflatable boat, Oct. 2, 2015.

Refugees who have just arrived by bus queue in the rain at a refugee transit camp on the border between Greece and Macedonia on Oct. 22, 2015, in Idomeni, Greece.

In this photo taken Oct. 2, 2015, Syrian refugee Ali Shaheen, 62, and his wife, Abeer, 52, who came from the countryside of Damascus, Syria, pose for a picture shortly after arriving on a dinghy from the Turkish coast to the northeastern Greek island of Lesbos.

Refugees from Afghanistan and Syria take selfies after arriving in boats on the shores of Lesbos on Nov. 2, 2015, near Molyvos, Greece.

Ibrahim Ahmad, wearing an inhaler mask, is seen in a Syrian family's room in the Reyhanli district of Hatay Province in southern Turkey, Oct. 28, 2015.

A Syrian family with 2-month-old triplets, and their relatives with more babies, wait for transportation after disembarking with other migrants and asylum seekers from two government-chartered ferries at the Greek port of Piraeus, about 7 miles from central Athens, on Oct. 21, 2015.

A Syrian family is seen inside their room in the Reyhanli district of Hatay Province in southern Turkey on Oct. 28, 2015.

A refugee from Syria, left, and a Kurdish man from Iraq wait to be registered at the central registration office for refugees in Greven, western Germany, on Sept. 22, 2015.

Halim Rasim, 6, a Syrian refugee boy who fled Idlib with his family, poses with his pet cat at a tent city in the Akcakale district of Sanliurfa, Turkey, on Sept. 24, 2015.

Refugees sit inside buses as they are transported to the Brezice refugee camp on Oct. 26, 2015, in Rigonce, Slovenia.

Syrian refugees sit in the back of a Jordanian army truck as they leave the al-Roqban makeshift camp, on the border with Syria, for the eastern town of Ruwaished, where they will be welcomed and checked by the Jordanian authorities, on Sept. 10, 2015.

A Syrian woman holds a child in her arms as they cross into Turkey via the border in the Akcakale district of Sanliurfa on June 6, 2015.

In this photo taken Oct. 3, 2015, Syrian refugee Alaaldeen Mohammed, 25, who came from Aleppo, Syria, poses for a picture shortly after arriving on a dinghy from the Turkish coast to the northeastern Greek island of Lesbos. Mohammed was injured in 2013 in a government bombing that burned his upper body and face.